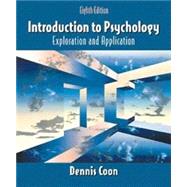 Introduction to Psychology Exploration and Application
by
Coon, Dennis
Questions About This Book?
What version or edition is this?
This is the 8th edition with a publication date of 11/20/1997.
What is included with this book?
The New copy of this book will include any supplemental materials advertised. Please check the title of the book to determine if it should include any CDs, lab manuals, study guides, etc.
The Used copy of this book is not guaranteed to include any supplemental materials. Typically, only the book itself is included.
Summary
This top-selling book always provides current information and research, examples, and abundant applications. Dennis Coon's writing style and short chapters make the book readable and enjoyable for students. The SQ3R format, a hallmark of the text, provides an active learning method that helps students learn and remember material. For this edition, the text has been reorganized to reduce the number of chapters from 26 to 22.
Table of Contents
Introduction: The Psychology of Studying
xxxvi

| | |
| --- | --- |
| | The Search for Understanding |

1
(26)

| | |
| --- | --- |
| | Critical Thinking---Uncommon Sense |

21
(2)

| | |
| --- | --- |
| | Pseudo-psychologies---Palms, Planets, and Personality |

23
(4)

| | |
| --- | --- |
| | Research Methods and Critical Thinking |

27
(24)

| | |
| --- | --- |
| | Psychology in the News---Separating Fact from Fiction |

43
(3)

| | |
| --- | --- |
| | Research Ethics---Smile, You're on Candid Camera! |

46
(5)

| | |
| --- | --- |
| | The Brain, Biology, and Behavior |

51
(34)

| | |
| --- | --- |
| | Handedness---If Your Brain Is Right, What's Left? |

75
(4)

| | |
| --- | --- |
| | Charting the Brain's Inner Realms |

79
(6)
85
(43)

| | |
| --- | --- |
| | Enriching Early Development---A Magic Time of Life |

119
(3)

| | |
| --- | --- |
| | The Brave New World of Genetics and Reproduction |

122
(6)

| | |
| --- | --- |
| | From Birth to Death: Life-Span Development |

128
(40)

| | |
| --- | --- |
| | Effective Parenting---Raising Healthy Children |

158
(5)

| | |
| --- | --- |
| | Approaching Death---New Pathways |

163
(5)
168
(34)

| | |
| --- | --- |
| | Controlling Pain---This Won't Hurt a Bit |

195
(2)

| | |
| --- | --- |
| | Sensation in Space---Adapting to an Alien Environment |

197
(5)
202
(34)

| | |
| --- | --- |
| | Perception and Objectivity---Believing Is Seeing |

227
(3)

| | |
| --- | --- |
| | Extrasensory Perception---Do You Believe in Magic? |

230
(6)
236
(40)

| | |
| --- | --- |
| | Exploring and Using Your Dreams |

268
(4)

| | |
| --- | --- |
| | Drug Abuse---Many Questions, Few Answers |

272
(4)

| | |
| --- | --- |
| | Conditioning and Learning |

276
(38)

| | |
| --- | --- |
| | Behavioral Self-Management |

306
(3)

| | |
| --- | --- |
| | Biological Constraints on Learning---Snakes, Spiders, and the Reluctant Raccoon |

309
(5)
314
(33)
339
(3)

| | |
| --- | --- |
| | The Recovered-Memory/False-Memory Debate |

342
(5)
347
(33)

| | |
| --- | --- |
| | Better Thinking and Problem Solving |

371
(4)
375
(5)
380
(26)

| | |
| --- | --- |
| | How Intelligent Are Intelligence Tests? |

398
(3)

| | |
| --- | --- |
| | The Larry P. Case---``Six-Hour Retardates'' |

401
(5)
406
(43)

| | |
| --- | --- |
| | Behavioral Dieting---Fat Chance for a Slim Future |

442
(2)

| | |
| --- | --- |
| | Love---Stalking an Elusive Emotion |

444
(5)

| | |
| --- | --- |
| | Health, Stress, and Coping |

449
(36)
476
(5)

| | |
| --- | --- |
| | Meditation---The 20-Minute Vacation |

481
(4)
485
(33)

| | |
| --- | --- |
| | Sexual Problems---When Pleasure Fades |

509
(6)

| | |
| --- | --- |
| | Touching---Does It Always Have Sexual Implications? |

515
(3)
518
(39)

| | |
| --- | --- |
| | Barriers and Bridges---Understanding Shyness |

551
(2)

| | |
| --- | --- |
| | Self-Monitoring---Which Me Do You See? |

553
(4)

| | |
| --- | --- |
| | Abnormal Behavior: Deviance and Disorder |

557
(27)

| | |
| --- | --- |
| | Psychiatric Labeling---On Being Sane in Insane Places |

579
(2)

| | |
| --- | --- |
| | Psychology and the Law---The ``Twinkie Defense'' |

581
(3)
584
(28)

| | |
| --- | --- |
| | Suicide---Lives on the Brink |

605
(3)

| | |
| --- | --- |
| | Who Is ``Crazy'' and What Should Be Done about It? |

608
(4)
612
(35)

| | |
| --- | --- |
| | Self-Management and Seeking Professional Help |

637
(6)

| | |
| --- | --- |
| | Cultural Issues in Counseling and Psychotherapy |

643
(4)
647
(29)

| | |
| --- | --- |
| | Assertiveness Training---Standing Up for Your Rights |

671
(2)

| | |
| --- | --- |
| | Social Traps---The Tragedy of the Commons |

673
(3)

| | |
| --- | --- |
| | Attitudes, Culture, and Human Relations |

676
(30)

| | |
| --- | --- |
| | Multiculturalism---Living with Diversity |

700
(2)

| | |
| --- | --- |
| | Sociobiology---Do Genes Guide Social Behavior? |

702
(4)
706

| | |
| --- | --- |
| | Improving Communication at Work |

727

| | |
| --- | --- |
| | Space Psychology---Life on the High Frontier |

729
Appendix A: Statistics
Appendix B: Using Electronic Media in Psychology
Glossary
References
Index
Credits