Note: Supplemental materials are not guaranteed with Rental or Used book purchases.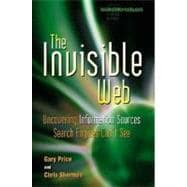 The Invisible Web; Uncovering Information Sources Search Engines Can't See
ISBN13:
9780910965514
by
Unknown
Questions About This Book?
What version or edition is this?
This is the edition with a publication date of 7/1/2001.
What is included with this book?
The eBook copy of this book is not guaranteed to include any supplemental materials. Typically only the book itself is included.
Summary
Enormous expanses of the Internet are unreachable with standard web search engines. This book provides the key to finding these hidden resources by identifying how to uncover and use invisible web resources. Mapping the invisible Web, when and how to use it, assessing the validity of the information, and the future of Web searching are topics covered in detail. Only 16 percent of Net-based information can be located using a general search engine. The other 84 percent is what is referred to as the invisible Webmade up of information stored in databases. Unlike pages on the visible Web, information in databases is generally inaccessible to the software spiders and crawlers that compile search engine indexes. As Web technology improves, more and more information is being stored in databases that feed into dynamically generated Web pages. The tips provided in this resource will ensure that those databases are exposed and Net-based research will be conducted in the most thorough and effective manner.
Author Biography
Gary Price is a reference librarian at George Washington University. He lives in Vienna, Virginia. Chris Sherman is the director of the guide to Web searching on About.com and president of Searchwise, a consulting firm. He is the author of the CD-ROM Handbook and a frequent contributor to Online magazine. He lives in Los Angeles. Danny Sullivan works for SearchEngineWatch.com.

Table of Contents
xiii
Foreword
xv
Acknowledgments
xix
Introduction
xxi
The Invisible Web in a Nutshell
xxii
What to Expect from This Book
xxiii
Boldly Go Where No Search Engine Has Gone Before
xxvi
About www.invisible-web.net
xxix

| | |
| --- | --- |
| | The Internet and the Visible Web |

1
(16)

| | |
| --- | --- |
| | How the Internet Came to Be |

2
(1)
3
(5)

| | |
| --- | --- |
| | Enquire Within Upon Everything |

8
(2)
10
(2)
12
(1)
13
(4)

| | |
| --- | --- |
| | Information Seeking on the Visible Web |

17
(20)
19
(3)
22
(4)
22
(2)

| | |
| --- | --- |
| | Issues with Web Directories |

24
(2)
26
(10)
26
(6)

| | |
| --- | --- |
| | Issues with Search Engines |

32
(4)

| | |
| --- | --- |
| | Search Engines vs. Directories |

36
(1)

| | |
| --- | --- |
| | Specialized and Hybrid Search Tools |

37
(18)

| | |
| --- | --- |
| | Targeted Directories and Focused Crawlers |

38
(5)
39
(2)
41
(2)

| | |
| --- | --- |
| | Vertical Portals (Vortals) |

43
(1)
44
(1)
44
(2)

| | |
| --- | --- |
| | Issues with Metasearch Engines |

45
(1)

| | |
| --- | --- |
| | Value-Added Search Services |

46
(2)
48
(4)
48
(2)

| | |
| --- | --- |
| | Client-Based Search Tools |

50
(1)
51
(1)

| | |
| --- | --- |
| | Fee-Based Web-Accessible Services |

52
(1)

| | |
| --- | --- |
| | Next Stop: The Invisible Web |

52
(3)
55
(22)
56
(6)

| | |
| --- | --- |
| | Why Search Engines Can't See the Invisible Web |

62
(8)

| | |
| --- | --- |
| | Four Types of Invisibility |

70
(7)
70
(3)
73
(1)
73
(1)
74
(3)
77
(14)

| | |
| --- | --- |
| | Navigation vs. Content Sites |

78
(1)
79
(3)
80
(2)

| | |
| --- | --- |
| | Specialized vs. Invisible |

82
(1)
83
(6)

| | |
| --- | --- |
| | The Library of Congress Web Site: Both Visible and Invisible |

86
(3)

| | |
| --- | --- |
| | The Robots Exclusion Protocol |

89
(2)
91
(24)

| | |
| --- | --- |
| | Why Use the Invisible Web? |

92
(4)

| | |
| --- | --- |
| | When to Use the Invisible Web |

95
(1)

| | |
| --- | --- |
| | Top 25 Invisible Web Categories |

96
(7)

| | |
| --- | --- |
| | What's NOT on the Web---Visible or Invisible |

103
(2)

| | |
| --- | --- |
| | Spider Traps, Damned Lies, and Other Chicanery |

105
(4)

| | |
| --- | --- |
| | Keeping Current with the Invisible Web |

109
(2)
111
(4)
115
(12)
115
(2)
117
(2)
119
(1)

| | |
| --- | --- |
| | Locating an Out of Print Book |

120
(1)

| | |
| --- | --- |
| | Telephone Numbers and Zip Codes |

121
(1)
122
(1)
123
(1)

| | |
| --- | --- |
| | The Invisible Web Fails to Deliver! |

124
(3)

| | |
| --- | --- |
| | The Future: Revealing the Invisible Web |

127
(8)
128
(1)

| | |
| --- | --- |
| | The Promise and Pitfalls of Metadata |

129
(1)
130
(1)
130
(2)

| | |
| --- | --- |
| | Hypertext Query Languages |

132
(1)
132
(1)

| | |
| --- | --- |
| | Long Live the Invisible Web |

133
(2)

| | |
| --- | --- |
| | The Best of the Invisible Web |

135
(10)

| | |
| --- | --- |
| | Invisible Web Pathfinders |

135
(2)

| | |
| --- | --- |
| | An Invisible Web Directory |

137
(1)

| | |
| --- | --- |
| | Frequently Asked Questions about the Directory |

138
(4)

| | |
| --- | --- |
| | In Summary: The Top 10 Concepts to Understand about the Invisible Web |

142
(3)
145
(8)
146
(1)
147
(1)
148
(3)

| | |
| --- | --- |
| | Gateways to Art and Architecture Resources |

151
(1)
152
(1)

| | |
| --- | --- |
| | Bibliographies and Library Catalogs |

153
(10)
154
(6)
160
(3)
163
(36)

| | |
| --- | --- |
| | Company Information and Research |

164
(5)
169
(1)

| | |
| --- | --- |
| | Economics---United States |

169
(4)
173
(2)
175
(1)

| | |
| --- | --- |
| | General Business Resources |

176
(1)
177
(1)

| | |
| --- | --- |
| | Industry-Specific Resources |

178
(4)
182
(3)

| | |
| --- | --- |
| | Jobs and Career Information |

185
(2)
187
(1)
188
(1)
189
(1)
190
(1)

| | |
| --- | --- |
| | Philanthropy and Non-Profit Resources |

190
(2)
192
(1)
193
(1)
194
(2)

| | |
| --- | --- |
| | Trade Shows and Conventions |

196
(3)
199
(8)
200
(3)
203
(4)
207
(10)

| | |
| --- | --- |
| | Classroom and Teacher Support |

208
(1)
209
(3)

| | |
| --- | --- |
| | Financial Information and Scholarships |

212
(1)

| | |
| --- | --- |
| | General Education Resources |

213
(2)
215
(2)
217
(10)
218
(1)

| | |
| --- | --- |
| | General Entertainment Resources |

218
(1)
219
(2)
221
(3)
224
(3)

| | |
| --- | --- |
| | Government Information and Data |

227
(14)
228
(2)

| | |
| --- | --- |
| | General Government Resources |

230
(1)
231
(3)
234
(1)
235
(1)

| | |
| --- | --- |
| | Politics, Policy, and International Relations |

236
(2)
238
(3)

| | |
| --- | --- |
| | Health and Medical Information |

241
(20)
242
(4)
246
(1)

| | |
| --- | --- |
| | Healthcare and Medical Information |

247
(2)

| | |
| --- | --- |
| | Healthcare Professional Resources |

249
(2)
251
(2)
253
(1)

| | |
| --- | --- |
| | Patient Information and Consumer Resources |

254
(2)
256
(1)
257
(2)

| | |
| --- | --- |
| | Workplace Health and Safety |

259
(2)
261
(10)
262
(5)
267
(4)

| | |
| --- | --- |
| | Legal and Criminal Resources |

271
(12)

| | |
| --- | --- |
| | Attorney and Law Firm Locators |

272
(1)
273
(1)
273
(1)
274
(1)
274
(2)
276
(2)

| | |
| --- | --- |
| | Laws, Codes, and Treaties |

278
(5)
283
(8)
284
(1)
284
(1)
285
(3)
288
(3)
291
(10)

| | |
| --- | --- |
| | Famous and Historical People |

292
(1)
293
(1)

| | |
| --- | --- |
| | Group and Affiliation Directories |

294
(3)

| | |
| --- | --- |
| | Online White Pages and Lookup Tools |

297
(2)

| | |
| --- | --- |
| | Veterans and Currently Serving Military |

299
(2)
301
(10)

| | |
| --- | --- |
| | General Public Records Resources |

302
(1)

| | |
| --- | --- |
| | Location-Specific Public Records |

303
(8)
311
(8)
312
(1)
313
(1)
314
(1)
314
(1)
315
(1)
315
(2)
317
(2)
319
(24)
320
(1)
321
(1)
322
(1)
323
(1)
324
(1)

| | |
| --- | --- |
| | Dictionaries, Glossaries, and Translation Resources |

325
(2)
327
(1)

| | |
| --- | --- |
| | General Reference Resources |

328
(3)
331
(1)
332
(1)
333
(2)
335
(3)
338
(1)
339
(2)
341
(2)
343
(26)
344
(1)
345
(2)
347
(1)
348
(2)
350
(3)
353
(2)
355
(1)
356
(5)

| | |
| --- | --- |
| | General Science Resources |

361
(1)
362
(1)
362
(1)
363
(2)
365
(2)
367
(2)
369
(12)
370
(1)
370
(1)
371
(2)
373
(1)
374
(1)
375
(1)
376
(1)
377
(1)
377
(1)
378
(1)
378
(3)
381
(8)
382
(2)
384
(1)

| | |
| --- | --- |
| | General Transportation Resources |

384
(2)
386
(1)
387
(2)
Glossary
389
(8)
References
397
(4)
About the Authors
401
(2)
Index
403