Note: Supplemental materials are not guaranteed with Rental or Used book purchases.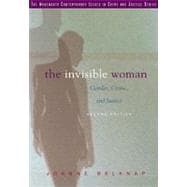 The Invisible Woman Gender, Crime, and Justice
ISBN13:
9780534542092
by
Belknap, Joanne
Questions About This Book?
What version or edition is this?
This is the 2nd edition with a publication date of 11/2/2000.
What is included with this book?
The New copy of this book will include any supplemental materials advertised. Please check the title of the book to determine if it should include any CDs, lab manuals, study guides, etc.
Related Products
Summary
Part One: Introduction. 1. The Emergence of Gender in Criminology. Part Two: Female Offending. 2. Critiquing Criminological Theories. 3. The Frequency and Nature of Female Offending. 4. Processing Women and Girls in the System. 5. Incarcerating, Punishing, and Treating Offending Women and Girls. Part Three: Female Victims Of Male Violence. 6. The Image of the Female Victim. 7. Sexual Victimization. 8. Woman Battering and Stalking. Part Four: Women Workers. 9. Working Women: Breaking the Barriers. 10. Working Women: On the Job. Part Five: Conclusions. 11. Effecting Change.
Table of Contents
Preface
xii
I INTRODUCTION

| | |
| --- | --- |
| | The Emergence of Gender in Criminology |

3
(30)

| | |
| --- | --- |
| | Invisibility of Women and Girls in Crime |

4
(7)
11
(4)
15
(4)
19
(2)

| | |
| --- | --- |
| | Effect of Societal Images on Women in Crime |

21
(3)
24
(2)
26
(7)
II FEMALE OFFENDING

| | |
| --- | --- |
| | Critiquing Criminological Theories |

33
(47)

| | |
| --- | --- |
| | The Traditional, Positivist Studies |

35
(5)

| | |
| --- | --- |
| | Strain and Subcultural Theories |

40
(3)

| | |
| --- | --- |
| | Differential Association Theory |

43
(2)
45
(2)
47
(5)
52
(2)

| | |
| --- | --- |
| | Women's Liberation/Emancipation Hypothesis |

54
(2)

| | |
| --- | --- |
| | Biosocial and Evolutionary Psychological Theories |

56
(2)

| | |
| --- | --- |
| | Feminist and Pro-Feminist Theories |

58
(13)
71
(9)

| | |
| --- | --- |
| | The Frequency and Nature of Female Offending |

80
(45)
81
(6)

| | |
| --- | --- |
| | The Importance of How Crime Rates Are Measured and the Roles of Gender, Age, Race, and Class |

87
(2)

| | |
| --- | --- |
| | Female Offending in Context |

89
(28)
117
(8)

| | |
| --- | --- |
| | Processing Women and Girls in the System |

125
(30)

| | |
| --- | --- |
| | Criminal Laws and Sex Discrimination |

126
(3)

| | |
| --- | --- |
| | Sentencing Laws and Sex Discrimination |

129
(2)

| | |
| --- | --- |
| | Three Hypotheses of Sex Discrimination in Crime Processing |

131
(1)
132
(1)

| | |
| --- | --- |
| | Empirical Findings on Gender Differences in Crime Processing |

133
(16)
149
(6)

| | |
| --- | --- |
| | Incarcerating, Punishing, and ``Treating'' Offending Women and Girls |

155
(50)

| | |
| --- | --- |
| | History of Institutionalizing Females |

156
(7)
163
(3)
166
(2)

| | |
| --- | --- |
| | Who Is in Women's Prisons and Delinquent Girls' Institutions? |

168
(3)

| | |
| --- | --- |
| | Girls' ``Correctional'' Institutions |

171
(2)

| | |
| --- | --- |
| | Psychological Aspects of Women's Imprisonment |

173
(3)

| | |
| --- | --- |
| | Parenthood: A Gender Difference among Prisoners |

176
(3)

| | |
| --- | --- |
| | Educational, Vocational, and Recreational Programs |

179
(3)
182
(4)
186
(5)
191
(3)

| | |
| --- | --- |
| | Women and the Death Penalty |

194
(1)
195
(10)
III FEMALE VICTIMS OF MALE VIOLENCE

| | |
| --- | --- |
| | The Image of the Female Victim |

205
(22)

| | |
| --- | --- |
| | The Link between Actual Victimizations and the Fear of Crime |

207
(3)

| | |
| --- | --- |
| | Effect of Culture on Gender Roles |

210
(2)

| | |
| --- | --- |
| | Gender Disparities in Power |

212
(1)
213
(2)
215
(3)

| | |
| --- | --- |
| | Victimization of Women and Girls of Color |

218
(2)

| | |
| --- | --- |
| | The Victimization of Women and Girls with Disabilities |

220
(1)
221
(6)
227
(40)

| | |
| --- | --- |
| | Defining Sexual Victimization |

227
(1)

| | |
| --- | --- |
| | Historical Issues in Defining Sexual Victimization |

228
(2)

| | |
| --- | --- |
| | Statistics on Sexual Victimization |

230
(2)
232
(1)
233
(2)

| | |
| --- | --- |
| | The Victim-Offender Relationship |

235
(1)

| | |
| --- | --- |
| | Child Sexual Victimization |

235
(5)
240
(6)
246
(3)
249
(4)

| | |
| --- | --- |
| | Sexual Victimization and the Crime-Processing System |

253
(5)
258
(9)

| | |
| --- | --- |
| | Woman Battering and Stalking |

267
(52)

| | |
| --- | --- |
| | Defining Battering and Stalking |

267
(3)

| | |
| --- | --- |
| | History of Identifying Battering as a Social Problem |

270
(2)

| | |
| --- | --- |
| | The Frequency of Battering and Stalking |

272
(4)

| | |
| --- | --- |
| | Walker's Cycle Theory of Violence |

276
(1)

| | |
| --- | --- |
| | Why Do (Some) Men Batter? |

277
(1)

| | |
| --- | --- |
| | Who Are the Batterers and Stalkers? |

278
(3)

| | |
| --- | --- |
| | Inhibitors to Leaving a Violent Relationship |

281
(8)

| | |
| --- | --- |
| | The Constant Threat of Danger |

289
(2)

| | |
| --- | --- |
| | Woman Battering and the Crime-Processing System |

291
(12)
303
(2)
305
(14)
IV WOMEN WORKERS

| | |
| --- | --- |
| | Working Women: Breaking The Barriers |

319
(37)

| | |
| --- | --- |
| | Movement from the Private to the Public Sphere |

320
(7)

| | |
| --- | --- |
| | Movement Toward Gender Equality |

327
(6)
333
(6)

| | |
| --- | --- |
| | The History of Women's Entry into Decision-Making Positions in the Criminal-Processing System |

339
(11)
350
(6)

| | |
| --- | --- |
| | Working Women: On the Job |

356
(45)

| | |
| --- | --- |
| | Legal Pressure for Women's Employment in Crime Processing |

357
(1)

| | |
| --- | --- |
| | The Current Rate of Women's Employment in the Criminal-Processing System |

358
(4)

| | |
| --- | --- |
| | Women as Tokens in the Workplace |

362
(4)

| | |
| --- | --- |
| | Women as Tokens in Crime-Processing Jobs since the 1970s |

366
(2)
368
(1)

| | |
| --- | --- |
| | Institutionalized Heterosexism |

369
(1)

| | |
| --- | --- |
| | Gender Similarities and Differences in Job Performances |

369
(2)

| | |
| --- | --- |
| | Organizational, Social, and Individual Resistance and Support Regarding Women's Work in Crime-Fighting Jobs |

371
(13)

| | |
| --- | --- |
| | Prisoner Privacy and Prison Safety: A Roadblock for Women Guards in Male Prisons |

384
(3)

| | |
| --- | --- |
| | Classifications of Women Employees in Male-Dominated Jobs |

387
(4)
391
(10)
V CONCLUSIONS
401
(26)
401
(1)

| | |
| --- | --- |
| | Changing the Treatment of Female Offenders |

402
(7)

| | |
| --- | --- |
| | Changing Responses to Male Violence Against Women |

409
(7)

| | |
| --- | --- |
| | Changes for Women Crime-Processing Professionals |

416
(3)
419
(8)
Name Index
427
(13)
Subject Index
440