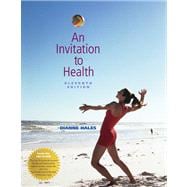 Questions About This Book?
What version or edition is this?
This is the 11th edition with a publication date of 4/7/2004.
What is included with this book?
The New copy of this book will include any supplemental materials advertised. Please check the title of the book to determine if it should include any CDs, lab manuals, study guides, etc.
The Used copy of this book is not guaranteed to include any supplemental materials. Typically, only the book itself is included.
Summary
Part I: TAKING CHARGE OF YOUR HEALTH. 1. An Invitation to Health for the 21st Century. 2. Psychological Health. 3. Personal Stress Management. Part II: HEALTHY LIFESTYLES. 4. The Joy of Fitness. 5. Personal Nutrition. 6. Eating Patterns and Problems. Part III: RESPONSIBLE SEXUALITY. 7. Communication and Relationships. 8. Personal Sexuality. 9. Reproductive Choices. Part IV: AVOIDING HEALTH RISKS. 10. Drug Use, Misuse, and Abuse. 11. Alcohol Use, Misuse, and Abuse. 12. Tobacco Use, Misuse, and Abuse. Part V: PROTECTING YOUR HEALTH. 13. Protecting Infectious Diseases. 14. Keeping Your Heart Healthy. 15. Lowering Your Risk of Cancer and Other Major Diseases. 16. Health-Care Consumerism and Complimentary/Alternative Medicine. Part VI: HEALTH IN CONTEXT. 17. A Lifetime of Health. 18. Staying Safe: Preventing Injury, Violence, and Victimization. 19. Working Toward a Healthy Environment. Hales Health Almanac. Health Information on the Internet. Your Health Directory. Emergency! A Consumer's Guide to Medical Tests. Counting Your Calories and Fat.
Author Biography
Dianne Hales, one of the most widely published and honored health journalists in the country, is a contributing editor for Parade and Ladies Home Journal and has written more than 1,000 articles for national publications
Table of Contents
| | |
| --- | --- |
| | SECTION I Taking Charge of Your Health |

1
(100)

| | |
| --- | --- |
| | An Invitation to Health for the Twenty-First Century |

2
(34)
4
(10)
5
(1)
5
(1)
6
(1)
6
(1)
7
(1)
7
(1)
7
(1)
7
(1)
8
(1)
8
(1)
8
(2)

| | |
| --- | --- |
| | Closing the Minority Health Gap |

10
(1)
11
(1)

| | |
| --- | --- |
| | Health Problems on Campus |

11
(2)

| | |
| --- | --- |
| | Health Benefits of Education |

13
(1)

| | |
| --- | --- |
| | Do Healthy Behaviors Have an Effect on Academic Performance? |

13
(1)
14
(5)

| | |
| --- | --- |
| | Understanding Health Behavior |

14
(1)
15
(2)
17
(1)

| | |
| --- | --- |
| | How Can I Change a Bad Health Habit? |

17
(1)
18
(1)
18
(1)

| | |
| --- | --- |
| | A New Era in Health Education |

19
(2)
19
(1)

| | |
| --- | --- |
| | The Potential of Protection |

20
(1)
20
(1)

| | |
| --- | --- |
| | The Bottom Line: Ten Small Changes to Improve Your Health |

21
(2)
23
(1)

| | |
| --- | --- |
| | Your Health Change Plan: How to Make a Change |

24
(12)

| | |
| --- | --- |
| | Making This Chapter Work for You |

32
(1)
33
(1)
33
(1)
33
(1)

| | |
| --- | --- |
| | Info Trac College Edition |

34
(1)
34
(1)
34
(2)
36
(38)

| | |
| --- | --- |
| | What Is Psychological Health? |

38
(2)
39
(1)
39
(1)

| | |
| --- | --- |
| | Could Prayer Be Good Medicine? |

39
(1)

| | |
| --- | --- |
| | The Science of Positive Psychology |

40
(7)
40
(1)
40
(3)
43
(1)
44
(1)

| | |
| --- | --- |
| | How Can I Find Happiness? |

45
(1)
45
(1)

| | |
| --- | --- |
| | Looking on The Light Side |

46
(1)
46
(1)
46
(1)
47
(1)
47
(1)
47
(1)
48
(1)
48
(1)
48
(1)

| | |
| --- | --- |
| | Understanding Mental Health |

49
(3)

| | |
| --- | --- |
| | What Is a Mental Disorder? |

49
(1)

| | |
| --- | --- |
| | Does Mental Health Affect Physical Health? |

50
(1)
50
(1)

| | |
| --- | --- |
| | Diversity and Mental Health on Campus |

51
(1)

| | |
| --- | --- |
| | The Brain: The Last Frontier |

52
(2)
52
(1)

| | |
| --- | --- |
| | Communication Within the Brain |

52
(2)
54
(1)
54
(1)

| | |
| --- | --- |
| | How Much Sleep Do I Need? |

55
(1)
55
(1)

| | |
| --- | --- |
| | Chronic Fatigue Syndrome (CFS) |

55
(1)
55
(2)
55
(1)

| | |
| --- | --- |
| | Panic Attacks and Panic Disorder |

56
(1)

| | |
| --- | --- |
| | Generalized Anxiety Disorder |

56
(1)

| | |
| --- | --- |
| | Obsessive-Compulsive Disorder |

56
(1)
57
(4)

| | |
| --- | --- |
| | Why Are So Many Young People Depressed? |

57
(1)
58
(1)
58
(1)

| | |
| --- | --- |
| | Bipolar Disorder (Manic Depression) |

59
(2)
61
(2)
63
(1)
63
(1)
64
(1)

| | |
| --- | --- |
| | Overcoming Problems of the Mind |

65
(3)

| | |
| --- | --- |
| | Where Can I Turn for Help? |

65
(1)
66
(1)
66
(1)

| | |
| --- | --- |
| | Alternative Mind-Mood Products |

67
(1)

| | |
| --- | --- |
| | The Bottom Line: The Keys to Psychological Wellness |

68
(6)

| | |
| --- | --- |
| | Making This Chapter Work for You |

69
(1)
70
(1)
70
(1)
70
(1)

| | |
| --- | --- |
| | Info Trac College Edition |

71
(1)
71
(1)
71
(3)

| | |
| --- | --- |
| | Personal Stress Management |

74
(27)
76
(1)
76
(1)

| | |
| --- | --- |
| | Is Stress Hazardous to Physical Health? |

77
(3)
79
(1)

| | |
| --- | --- |
| | Stress and the Immune System |

79
(1)

| | |
| --- | --- |
| | Stress and the Digestive System |

80
(1)
80
(1)
80
(6)
81
(1)
82
(2)
84
(2)
86
(2)

| | |
| --- | --- |
| | Why Is Everyone So Angry? |

86
(1)
87
(1)
88
(1)
88
(1)
89
(1)
89
(1)
89
(2)
91
(2)

| | |
| --- | --- |
| | Is Stress Hazardous to Psychological Health? |

93
(2)

| | |
| --- | --- |
| | Posttraumatic Stress Disorder |

93
(1)

| | |
| --- | --- |
| | Resilience: Bouncing Back from Adversity |

94
(1)
95
(1)
95
(1)

| | |
| --- | --- |
| | How Can I Better Manage My Time? |

95
(1)

| | |
| --- | --- |
| | Overcoming Procrastination |

96
(1)

| | |
| --- | --- |
| | The Bottom Line: De-stress Your Life |

96
(5)

| | |
| --- | --- |
| | Making This Chapter Work for You |

97
(1)
98
(1)
98
(1)
98
(1)

| | |
| --- | --- |
| | Info Trac College Edition |

99
(1)
99
(1)
99
(2)

| | |
| --- | --- |
| | SECTION II Healthy Lifestyles |

101
(108)
102
(38)

| | |
| --- | --- |
| | What Is Physical Fitness? |

104
(1)
105
(2)

| | |
| --- | --- |
| | The Campus Couch Potato Crisis |

105
(1)

| | |
| --- | --- |
| | How Can I Motivate Myself to Get Moving? |

105
(2)

| | |
| --- | --- |
| | Physical Activity and Health |

107
(5)
108
(1)

| | |
| --- | --- |
| | The Benefits of Physical Activity |

109
(3)

| | |
| --- | --- |
| | The Principles of Exercise |

112
(2)
112
(1)
112
(1)
113
(1)

| | |
| --- | --- |
| | How Much Exercise is Enough? |

113
(1)

| | |
| --- | --- |
| | Cardiorespiratory or Aerobic Fitness |

114
(5)

| | |
| --- | --- |
| | How Can I Tell If I'm Working Hard Enough? |

114
(1)

| | |
| --- | --- |
| | Designing an Aerobic Workout |

115
(2)
117
(2)

| | |
| --- | --- |
| | Muscular Strength and Endurance |

119
(5)
120
(1)

| | |
| --- | --- |
| | Designing a Muscle Workout |

121
(1)

| | |
| --- | --- |
| | What Should I Know About Performance-Boosting Drugs? |

122
(2)
124
(2)

| | |
| --- | --- |
| | The Benefits of Flexibility |

124
(1)
124
(2)

| | |
| --- | --- |
| | What Is the Difference Between Stretching and Warming Up? |

126
(1)
126
(3)
126
(1)

| | |
| --- | --- |
| | Body Composition Assessment |

126
(2)

| | |
| --- | --- |
| | Can a Person Be Fat and Fit? |

128
(1)

| | |
| --- | --- |
| | Nutrition for an Active Life |

129
(1)

| | |
| --- | --- |
| | How Much Water Should I Drink? |

129
(1)

| | |
| --- | --- |
| | Nutrition and Athletic Performance |

129
(1)
130
(2)

| | |
| --- | --- |
| | How Can I Prevent Sports Injuries? |

130
(1)
131
(1)
131
(1)
132
(1)
132
(1)

| | |
| --- | --- |
| | Evaluating Fitness Products and Programs |

132
(2)

| | |
| --- | --- |
| | How Do I Buy the Right Athletic Shoes? |

132
(1)
133
(1)

| | |
| --- | --- |
| | Fitness Centers and Trainers |

134
(1)

| | |
| --- | --- |
| | The Bottom Line: Fitness for Life |

134
(6)

| | |
| --- | --- |
| | Making This Chapter Work for You |

135
(1)
136
(1)
136
(1)
136
(1)

| | |
| --- | --- |
| | Info Trac College Edition |

136
(1)
137
(1)
137
(3)
140
(40)

| | |
| --- | --- |
| | What You Need to Know About Nutrients |

142
(12)
143
(1)
143
(2)
145
(1)
146
(2)
148
(6)
154
(1)
154
(9)
157
(1)

| | |
| --- | --- |
| | The USDA Food Guide Pyramid |

158
(1)

| | |
| --- | --- |
| | Grains Group (6--11 servings a day) |

159
(1)

| | |
| --- | --- |
| | Vegetables Group (3--5 servings a day) |

159
(1)

| | |
| --- | --- |
| | Fruits Group (2--4 servings a day) |

160
(1)

| | |
| --- | --- |
| | Meat and Beans Group (2--3 servings a day) |

161
(1)

| | |
| --- | --- |
| | Milk Group (2--3 servings a day) |

161
(1)

| | |
| --- | --- |
| | Fats, Oils, and Sweets (small amount each day) |

162
(1)

| | |
| --- | --- |
| | Does the Pyramid Need Rebuilding? |

162
(1)
162
(1)
163
(1)

| | |
| --- | --- |
| | Should I Take Vitamin Supplements? |

163
(1)
163
(5)

| | |
| --- | --- |
| | What Should I Look for on Nutrition Labels? |

163
(5)
168
(1)
168
(3)
168
(2)

| | |
| --- | --- |
| | What Should I Know About Vegetarian Diets? |

170
(1)

| | |
| --- | --- |
| | Fast Food: Nutrition on the Run |

171
(1)
171
(4)

| | |
| --- | --- |
| | Pesticides, Irradiation, and Genetic Engineering |

171
(1)

| | |
| --- | --- |
| | Additives: Risk Versus Benefits |

172
(1)

| | |
| --- | --- |
| | What Causes Food Poisoning? |

172
(3)
175
(1)
175
(1)

| | |
| --- | --- |
| | The Bottom Line: A Lifetime of Healthy Eating |

175
(5)

| | |
| --- | --- |
| | Making This Chapter Work for You |

176
(1)
176
(1)
177
(1)
177
(1)

| | |
| --- | --- |
| | Info Trac College Edition |

177
(1)
178
(1)
178
(2)

| | |
| --- | --- |
| | Eating Patterns and Problems |

180
(29)
182
(1)
182
(2)

| | |
| --- | --- |
| | How Many Calories Do I Need? |

184
(1)
184
(1)

| | |
| --- | --- |
| | Unhealthy Eating Behavior |

184
(4)

| | |
| --- | --- |
| | Disordered Eating in College Students |

186
(1)
187
(1)
187
(1)
188
(1)
188
(5)

| | |
| --- | --- |
| | Who Develops Eating Disorders? |

188
(1)
189
(2)
191
(2)

| | |
| --- | --- |
| | The Silent Epidemic: ``Globesity'' |

193
(3)
193
(1)

| | |
| --- | --- |
| | Health Dangers of Being Overweight or Obese |

194
(2)
196
(1)

| | |
| --- | --- |
| | Overcoming Weight Problems |

196
(2)

| | |
| --- | --- |
| | A Practical Guide to Weight Loss |

198
(4)

| | |
| --- | --- |
| | Which Diets Are Safe and Effective? |

199
(1)
200
(2)

| | |
| --- | --- |
| | The Psychology of Weight Loss |

202
(1)
203
(1)

| | |
| --- | --- |
| | The Bottom Line: Healthy Weight Management for Life |

203
(6)

| | |
| --- | --- |
| | Making This Chapter Work For You |

204
(1)
205
(1)
205
(1)
206
(1)

| | |
| --- | --- |
| | Info Trac College Edition |

206
(1)
206
(1)
206
(3)

| | |
| --- | --- |
| | SECTION III Responsible Sexuality |

209
(112)

| | |
| --- | --- |
| | Communication and Relationships |

210
(28)
212
(2)
212
(1)
212
(2)
214
(3)
214
(1)
214
(2)

| | |
| --- | --- |
| | Can Relationships Be Bad For You? |

216
(1)
216
(1)
217
(4)

| | |
| --- | --- |
| | What Causes Romantic Attraction? |

218
(1)

| | |
| --- | --- |
| | The Science of Romantic Love |

218
(2)
220
(1)
221
(1)
221
(3)
221
(1)
222
(1)
223
(1)
224
(5)
224
(1)
225
(1)
225
(3)

| | |
| --- | --- |
| | Why Do People Still Get Married? |

228
(1)
228
(1)

| | |
| --- | --- |
| | What Is the Current Divorce Rate? |

228
(1)
229
(3)

| | |
| --- | --- |
| | Diversity Within Families |

229
(1)
230
(1)
230
(1)
231
(1)

| | |
| --- | --- |
| | How Does Divorce Affect Children? |

231
(1)
231
(1)

| | |
| --- | --- |
| | Dysfunctional Relationships |

232
(1)
232
(1)
232
(1)

| | |
| --- | --- |
| | The Bottom Line: Building Better Relationships |

233
(5)

| | |
| --- | --- |
| | Making This Chapter Work For You |

234
(1)
235
(1)
235
(1)
235
(1)

| | |
| --- | --- |
| | Info Trac College Edition |

235
(1)
236
(1)
236
(2)
238
(36)
240
(2)
240
(1)
240
(1)
241
(1)
242
(5)
242
(2)

| | |
| --- | --- |
| | What Is The Menstrual Cycle? |

244
(3)
247
(1)
247
(1)
248
(1)
248
(3)

| | |
| --- | --- |
| | Sexually Healthy Relationships |

248
(3)
251
(3)
251
(1)

| | |
| --- | --- |
| | How Sexually Active Are College Students? |

252
(1)

| | |
| --- | --- |
| | Why Don't College Students Practice Safer Sex? |

253
(1)

| | |
| --- | --- |
| | The Sex Life of American Adults |

254
(1)
254
(2)
255
(1)
255
(1)
256
(5)
256
(1)
257
(1)

| | |
| --- | --- |
| | What Does It Mean to Abstain? |

257
(1)
258
(1)
258
(1)
259
(1)
259
(1)
260
(1)

| | |
| --- | --- |
| | Anal Stimulation and Intercourse |

260
(1)
260
(1)
261
(1)
262
(1)
262
(1)
262
(1)
262
(1)
262
(6)
263
(1)

| | |
| --- | --- |
| | What Are the Most Common Sexual Problems? |

263
(1)
264
(2)
266
(1)
266
(1)
266
(2)
268
(1)

| | |
| --- | --- |
| | The Bottom Line: Smarter Sex |

268
(6)

| | |
| --- | --- |
| | Making This Chapter Work for You |

268
(1)
269
(1)
270
(1)
270
(1)

| | |
| --- | --- |
| | Info Trac College Edition |

271
(1)
271
(1)
272
(2)
274
(47)
276
(1)
277
(1)

| | |
| --- | --- |
| | How Do I Choose a Birth Control Method? |

278
(3)

| | |
| --- | --- |
| | Abstinence and Outercourse |

281
(1)
282
(6)
282
(3)
285
(1)
286
(1)

| | |
| --- | --- |
| | Contraceptive Injectables |

286
(1)
287
(1)

| | |
| --- | --- |
| | Intrauterine Contraceptives |

288
(1)
288
(1)
288
(1)
289
(7)
289
(1)
290
(6)

| | |
| --- | --- |
| | Periodic Abstinence and Fertility Awareness Methods |

296
(3)
296
(1)
297
(1)

| | |
| --- | --- |
| | Basal-Body-Temperature Method |

297
(1)
297
(1)

| | |
| --- | --- |
| | What Is Emergency Contraception? |

298
(1)
299
(2)
299
(1)
300
(1)
301
(4)

| | |
| --- | --- |
| | Thinking Through the Options |

301
(1)
302
(1)
303
(1)

| | |
| --- | --- |
| | What Is the Psychological Impact of Abortion? |

304
(1)
304
(1)

| | |
| --- | --- |
| | A Cross--Cultural Perspective |

305
(1)
305
(1)
305
(5)

| | |
| --- | --- |
| | Preconception Care: A Preventive Approach |

305
(1)

| | |
| --- | --- |
| | How a Woman's Body Changes During Pregnancy |

306
(1)
306
(1)

| | |
| --- | --- |
| | Why Is Prenatal Care Important? |

306
(2)
308
(1)

| | |
| --- | --- |
| | Complications of Pregnancy |

309
(1)
310
(4)
310
(1)
311
(1)

| | |
| --- | --- |
| | Breast-Feeding Versus Bottle-Feeding |

312
(1)
313
(1)
314
(1)

| | |
| --- | --- |
| | What Are the Options for Infertile Couples? |

314
(1)
314
(1)

| | |
| --- | --- |
| | Assisted Reproductive Technology |

314
(1)
315
(1)

| | |
| --- | --- |
| | The Bottom Line: Reproductive Health |

316
(5)

| | |
| --- | --- |
| | Making This Chapter Work For You |

316
(1)
317
(1)
317
(1)
318
(1)
318
(1)
318
(1)
319
(2)

| | |
| --- | --- |
| | SECTION IV Avoiding Health Risks |

321
(100)

| | |
| --- | --- |
| | Drug Use, Misuse, and Abuse |

322
(38)

| | |
| --- | --- |
| | Understanding Drugs and Their Effects |

324
(1)
324
(1)
324
(1)
324
(1)
325
(1)
325
(1)
325
(4)

| | |
| --- | --- |
| | What Should I Know About Buying Over-the-Counter Drugs? |

325
(1)
326
(3)
329
(1)

| | |
| --- | --- |
| | Is It Possible to Overdose on Caffeine? |

330
(1)
330
(5)

| | |
| --- | --- |
| | Understanding Substance Use Disorders |

330
(1)
331
(2)

| | |
| --- | --- |
| | What Causes Drug Dependence and Abuse? |

333
(2)
335
(1)
335
(2)

| | |
| --- | --- |
| | How Common Is Drug Use on Campus? |

336
(1)
336
(1)
337
(1)
337
(15)
337
(5)

| | |
| --- | --- |
| | Club Drugs (Designer Drugs) |

342
(2)
344
(3)
347
(3)
350
(1)
351
(1)

| | |
| --- | --- |
| | Treating Drug Dependence and Abuse |

352
(2)
352
(1)
353
(1)
354
(1)
354
(1)

| | |
| --- | --- |
| | The Bottom Line: Living Drug-Free |

354
(6)

| | |
| --- | --- |
| | Making This Chapter Work For You |

355
(1)
356
(1)
356
(1)
357
(1)

| | |
| --- | --- |
| | Info Trac College Edition |

357
(1)
357
(1)
358
(2)

| | |
| --- | --- |
| | Alcohol Use, Misuse, and Abuse |

360
(34)
362
(6)

| | |
| --- | --- |
| | How Much Alcohol Can I Drink? |

362
(1)

| | |
| --- | --- |
| | Your Body's Response to Alcohol |

362
(2)

| | |
| --- | --- |
| | How Much Alcohol Is Too Much? |

364
(1)
364
(1)
364
(3)

| | |
| --- | --- |
| | Interaction with Other Drugs |

367
(1)
368
(2)
368
(1)
369
(1)
370
(1)
370
(6)

| | |
| --- | --- |
| | How Common Is Drinking on College Campuses? |

370
(1)

| | |
| --- | --- |
| | Why College Students Drink |

371
(1)
371
(2)

| | |
| --- | --- |
| | Underage Drinking on Campus |

373
(1)

| | |
| --- | --- |
| | The Toll of College Drinking |

373
(1)

| | |
| --- | --- |
| | Alcohol Problems on Campus |

374
(1)

| | |
| --- | --- |
| | Changing Drinking Patterns on Campus |

375
(1)
376
(1)
377
(1)

| | |
| --- | --- |
| | African-American Community |

377
(1)
377
(1)

| | |
| --- | --- |
| | Native American Community |

378
(1)
378
(1)
378
(1)
379
(5)
381
(1)

| | |
| --- | --- |
| | What Causes Alcohol Dependence and Abuse? |

381
(2)

| | |
| --- | --- |
| | Medical Complications of Alcohol Abuse and Dependence |

383
(1)
384
(2)
384
(1)

| | |
| --- | --- |
| | Are There Medications That Treat Alcoholism? |

385
(1)

| | |
| --- | --- |
| | Inpatient or Residential Treatment |

385
(1)
385
(1)
386
(1)

| | |
| --- | --- |
| | Alcoholism's Impact on Relationships |

386
(2)

| | |
| --- | --- |
| | Codependence and Enabling |

386
(1)

| | |
| --- | --- |
| | Growing Up with an Alcoholic Parent |

387
(1)

| | |
| --- | --- |
| | Adult Children of Alcoholics |

387
(1)

| | |
| --- | --- |
| | The Bottom Line: Taking Charge of Your Alcohol Use |

388
(6)

| | |
| --- | --- |
| | Making This Chapter Work for You |

388
(1)
389
(1)
390
(1)
390
(1)

| | |
| --- | --- |
| | Info Trac College Edition |

390
(1)
391
(1)
391
(3)

| | |
| --- | --- |
| | Tobacco Use, Misuse, and Abuse |

394
(27)

| | |
| --- | --- |
| | Tobacco's Immediate Effects |

396
(1)
396
(1)
396
(1)

| | |
| --- | --- |
| | Health Effects of Cigarette Smoking |

396
(3)
397
(1)
398
(1)
398
(1)

| | |
| --- | --- |
| | Other Smoking-Related Problems |

399
(1)
399
(1)
399
(3)

| | |
| --- | --- |
| | Financial Cost of Smoking |

400
(1)

| | |
| --- | --- |
| | Why Do People Start Smoking? |

400
(1)
401
(1)
402
(3)
404
(1)

| | |
| --- | --- |
| | College Tobacco-Control Policies |

405
(1)
405
(1)
406
(1)
407
(3)
408
(1)
408
(1)
408
(1)
409
(1)
409
(1)
410
(1)

| | |
| --- | --- |
| | Environmental Tobacco Smoke |

410
(1)

| | |
| --- | --- |
| | What Are the Risks of Secondhand Smoke? |

410
(1)

| | |
| --- | --- |
| | Families of Smokers: Living Dangerously |

410
(1)
411
(1)
411
(1)
411
(1)
412
(4)
413
(1)
413
(1)

| | |
| --- | --- |
| | Nicotine Replacement Therapy |

413
(2)
415
(1)
416
(1)

| | |
| --- | --- |
| | The Bottom Line: Living Smoke-Free |

416
(5)

| | |
| --- | --- |
| | Making This Chapter Work For You |

416
(1)
417
(1)
418
(1)
418
(1)

| | |
| --- | --- |
| | Info Trac College Edition |

418
(1)
418
(1)
419
(2)

| | |
| --- | --- |
| | SECTION V Protecting Your Health |

421
(146)

| | |
| --- | --- |
| | Preventing Infectious Diseases |

422
(46)
424
(2)
424
(1)

| | |
| --- | --- |
| | How Do You Catch an Infection? |

425
(1)
426
(1)

| | |
| --- | --- |
| | How Your Body Protects Itself |

426
(4)
429
(1)
429
(1)
429
(1)

| | |
| --- | --- |
| | Immunization: The Key to Prevention |

430
(3)

| | |
| --- | --- |
| | Immunizations for Children |

430
(2)

| | |
| --- | --- |
| | Immunizations for Adolescents and Young Adults |

432
(1)
433
(1)
433
(11)

| | |
| --- | --- |
| | Who Is at Highest Risk of Infectious Diseases? |

433
(1)
434
(2)
436
(1)
437
(1)
437
(1)
438
(1)

| | |
| --- | --- |
| | Chronic Fatigue Syndrome (CFS) |

438
(1)
438
(2)
440
(1)

| | |
| --- | --- |
| | Group A and Group B Strep Infection |

440
(1)
441
(1)

| | |
| --- | --- |
| | Insect and Animal Borne Infections |

441
(2)
443
(1)

| | |
| --- | --- |
| | Reproductive and Urinary Tract Infections |

444
(1)
444
(1)
445
(1)

| | |
| --- | --- |
| | Sexually Transmitted Infections |

445
(12)

| | |
| --- | --- |
| | STIs in Adolescents and Young Adults |

445
(2)

| | |
| --- | --- |
| | Prevention and Protection |

447
(5)
452
(1)

| | |
| --- | --- |
| | Pelvic Inflammatory Disease |

453
(1)
453
(1)
454
(1)
454
(1)
455
(1)

| | |
| --- | --- |
| | What Is Human Papilloma Virus? |

456
(1)
457
(1)
457
(1)
457
(4)
458
(1)

| | |
| --- | --- |
| | Reducing the Risk of HIV Transmission |

458
(1)
459
(1)
460
(1)
461
(1)
461
(1)

| | |
| --- | --- |
| | The Bottom Line: The Best Defense |

461
(7)

| | |
| --- | --- |
| | Making This Chapter Work for You |

462
(1)
463
(1)
463
(1)
463
(1)

| | |
| --- | --- |
| | Info Trac College Edition |

464
(1)
464
(1)
464
(4)

| | |
| --- | --- |
| | Keeping You Heart Healthy |

468
(34)
470
(1)

| | |
| --- | --- |
| | Preventing Heart Problems |

471
(3)

| | |
| --- | --- |
| | Why Should I Worry About Heart Disease? |

472
(1)
472
(1)
473
(1)

| | |
| --- | --- |
| | Risk Factors for Cardiovascular Disease |

474
(5)

| | |
| --- | --- |
| | Risk Factors You Can Control |

474
(4)

| | |
| --- | --- |
| | Risk Factors You Can't Control |

478
(1)

| | |
| --- | --- |
| | High Blood Pressure (Hypertension) |

479
(3)
481
(1)

| | |
| --- | --- |
| | What Is a Health Blood Pressure? |

481
(1)

| | |
| --- | --- |
| | Controlling High Blood Pressure |

482
(1)
482
(4)

| | |
| --- | --- |
| | What Is a Healthy Cholesterol Reading? |

483
(1)
484
(1)
485
(1)
486
(6)
486
(1)
487
(1)
487
(1)

| | |
| --- | --- |
| | Heart Attack (Myocardial Infarction) |

487
(3)

| | |
| --- | --- |
| | Arrhythmias (Heart Rate Abnormalities) |

490
(1)
491
(1)
492
(1)
492
(1)
492
(1)
492
(2)
492
(1)
493
(1)
494
(2)
494
(1)

| | |
| --- | --- |
| | Transient Ischemic Attacks (TIAs) |

495
(1)
495
(1)
495
(1)

| | |
| --- | --- |
| | The Bottom Line: Heart-Smart Strategies for Life |

496
(6)

| | |
| --- | --- |
| | Making This Chapter Work For You |

496
(1)
497
(1)
498
(1)
498
(1)

| | |
| --- | --- |
| | Info Trac College Edition |

498
(1)
499
(1)
499
(3)

| | |
| --- | --- |
| | Lowering Your Risk of Cancer and Other Major Diseases |

502
(32)
504
(1)
504
(1)
504
(1)
504
(1)

| | |
| --- | --- |
| | Who Is at Risk for Developing Cancer? |

504
(3)
506
(1)
506
(1)
506
(1)
507
(1)

| | |
| --- | --- |
| | How Can I Reduce My Cancer Risk? |

507
(1)
507
(1)
507
(1)
508
(1)
508
(1)
508
(1)
508
(10)
508
(4)
512
(3)
515
(1)
515
(1)
515
(1)
516
(1)
517
(1)
517
(1)
517
(1)
518
(1)
518
(2)

| | |
| --- | --- |
| | Using the Mind to Help the Body |

518
(1)
519
(1)
520
(2)
520
(1)

| | |
| --- | --- |
| | Who Is at Risk for Developing Diabetes? |

520
(1)
521
(1)

| | |
| --- | --- |
| | Diabetes and Ethnic Minorities |

521
(1)
521
(1)
522
(6)

| | |
| --- | --- |
| | Epilepsy and Seizure Disorders |

522
(1)
522
(1)
523
(1)
524
(1)
524
(1)
525
(1)

| | |
| --- | --- |
| | Disorders of the Muscles, Joints, and Bones |

526
(2)
528
(1)

| | |
| --- | --- |
| | Special Needs for Different Abilities |

528
(1)

| | |
| --- | --- |
| | The Bottom Line: Protecting Yourself from Cancer and Major Illnesses |

528
(6)

| | |
| --- | --- |
| | Making This Chapter Work for You |

529
(1)
530
(1)
530
(1)
531
(1)

| | |
| --- | --- |
| | Info Trac College Edition |

531
(1)
531
(1)
532
(2)

| | |
| --- | --- |
| | Health-Care Consumerism and Complementary/Alternative Medicine |

534
(33)

| | |
| --- | --- |
| | Becoming a Savvy Health-Care Consumer |

536
(6)

| | |
| --- | --- |
| | Health Care and the College Student |

536
(1)
536
(4)
540
(1)
540
(1)
541
(1)

| | |
| --- | --- |
| | Getting the Best Health Care |

542
(6)

| | |
| --- | --- |
| | How Good is American Health Care? |

542
(1)

| | |
| --- | --- |
| | The Doctor-Patient Partnership |

543
(4)
547
(1)
548
(4)

| | |
| --- | --- |
| | Your Right to Information |

548
(2)

| | |
| --- | --- |
| | Your Right to Privacy and Access to Medical Records |

550
(1)

| | |
| --- | --- |
| | Preventing Medical Errors |

550
(1)

| | |
| --- | --- |
| | Your Right to Good, Safe, Care |

550
(2)

| | |
| --- | --- |
| | Complementary and Alternative Medicine |

552
(5)

| | |
| --- | --- |
| | Why People Use CAM Therapies |

552
(1)
553
(1)

| | |
| --- | --- |
| | What Should I Know Before I Try CAM? |

553
(1)
554
(3)
557
(3)

| | |
| --- | --- |
| | Health-Care Practitioners |

557
(1)
558
(2)
560
(2)

| | |
| --- | --- |
| | Traditional Health Insurance |

560
(1)
560
(1)

| | |
| --- | --- |
| | Government-Financed Insurance Plans |

561
(1)
561
(1)

| | |
| --- | --- |
| | The Bottom Line: Taking Charge of Your Health Care |

562
(5)

| | |
| --- | --- |
| | Making This Chapter Work for You |

563
(1)
564
(1)
564
(1)
564
(1)

| | |
| --- | --- |
| | Info Trac College Edition |

565
(1)
565
(1)
565
(2)

| | |
| --- | --- |
| | SECTION VI Health in Context |

567
568
(34)

| | |
| --- | --- |
| | Living in an Aging Society |

570
(1)

| | |
| --- | --- |
| | How Long Can I Expect to Live? |

570
(1)
571
(9)

| | |
| --- | --- |
| | Exercise: An Antiaging Pill |

571
(2)

| | |
| --- | --- |
| | Changing Nutritional Needs |

573
(1)

| | |
| --- | --- |
| | Does Body Composition Change with Age? |

573
(1)
574
(1)
575
(3)
578
(2)
580
(1)
580
(4)
580
(2)
582
(1)

| | |
| --- | --- |
| | Substance Misuse and Abuse |

583
(1)

| | |
| --- | --- |
| | Is It Ever Too Late to Quit Smoking? |

583
(1)
583
(1)
584
(1)
584
(3)
584
(1)
585
(1)
585
(1)

| | |
| --- | --- |
| | Emotional Responses to Dying |

586
(1)

| | |
| --- | --- |
| | Preparing for Medical Crises and the End of Life |

587
(4)
587
(1)

| | |
| --- | --- |
| | What Are Advance Directives? |

587
(1)
587
(3)
590
(1)
590
(1)
590
(1)
591
(2)
591
(1)
592
(1)

| | |
| --- | --- |
| | Hospice: Caring When Curing Isn't Possible |

592
(1)

| | |
| --- | --- |
| | What Do We Know About Near-Death Experiences? |

592
(1)
593
(1)
593
(1)

| | |
| --- | --- |
| | Physician-Assisted Suicide |

593
(1)

| | |
| --- | --- |
| | The Practicalities of Death |

594
(1)
594
(1)
595
(1)
595
(2)

| | |
| --- | --- |
| | Grief's Effects on Health |

596
(1)
596
(1)

| | |
| --- | --- |
| | How Can You Help Survivors of a Loss? |

596
(1)

| | |
| --- | --- |
| | The Bottom Line: Living Long and Well |

597
(5)

| | |
| --- | --- |
| | Making This Chapter Work for You |

597
(1)
598
(1)
598
(1)
599
(1)

| | |
| --- | --- |
| | Info Trac College Edition |

599
(1)
599
(1)
600
(2)

| | |
| --- | --- |
| | Staying Safe: Preventing Injury, Violence, and Victimization |

602
(30)

| | |
| --- | --- |
| | Unintentional Injury: Why Accidents Happen |

604
(1)
604
(1)
604
(1)
604
(1)
604
(1)
604
(1)

| | |
| --- | --- |
| | What Should I Do in an Emergency Situation? |

604
(1)
605
(4)

| | |
| --- | --- |
| | Safe Drivers and Vehicles |

605
(4)
609
(1)
609
(1)

| | |
| --- | --- |
| | Can My Computer Be a Health Hazard? |

609
(1)
610
(1)
611
(1)
611
(1)
611
(2)
611
(1)
611
(1)
612
(1)

| | |
| --- | --- |
| | Intentional Injury: Living in a Dangerous World |

613
(6)

| | |
| --- | --- |
| | Coping with the Threat of Violence and Terrorism |

613
(1)

| | |
| --- | --- |
| | Violence in the United States |

613
(1)

| | |
| --- | --- |
| | The Roots of Aggression and Violence |

613
(2)
615
(1)
615
(1)
615
(1)
616
(3)

| | |
| --- | --- |
| | Sexual Victimization and Violence |

619
(2)

| | |
| --- | --- |
| | What Is Sexual Harassment? |

619
(1)

| | |
| --- | --- |
| | Sexual Harassment on the Job |

619
(1)

| | |
| --- | --- |
| | Sexual Harassment on Campus |

619
(1)

| | |
| --- | --- |
| | Sexual Victimization on Campus |

620
(1)

| | |
| --- | --- |
| | Sexual Violence on Campus |

621
(1)
621
(6)
622
(1)

| | |
| --- | --- |
| | Acquaintance or Date Rape |

622
(1)

| | |
| --- | --- |
| | How Can I Prevent Date Rape? |

623
(1)

| | |
| --- | --- |
| | Male Nonconsensual Sex and Rape |

623
(2)
625
(1)

| | |
| --- | --- |
| | What to Do in Case of Rape |

625
(1)
626
(1)

| | |
| --- | --- |
| | The Bottom Line: Helping the Victims of Violence |

627
(5)

| | |
| --- | --- |
| | Making This Chapter Work for You |

627
(1)
628
(1)
628
(1)
629
(1)

| | |
| --- | --- |
| | Info Trac College Edition |

629
(1)
629
(1)
629
(3)

| | |
| --- | --- |
| | Working Toward a Healthy Environment |

632

| | |
| --- | --- |
| | The State of the Environment |

634
(2)
634
(1)

| | |
| --- | --- |
| | Multiple Chemical Sensitivity |

634
(1)
635
(1)
636
(1)
636
(4)
637
(1)
638
(2)
640
(2)
640
(1)
640
(1)
641
(1)
641
(1)
642
(1)

| | |
| --- | --- |
| | Carbon Monoxide and Nitrogen Dioxide |

642
(1)
642
(1)
642
(2)
642
(1)
643
(1)

| | |
| --- | --- |
| | The Quality of Our Drinking Water |

644
(1)
644
(1)
645
(1)
645
(1)
645
(1)
645
(1)

| | |
| --- | --- |
| | What Health Risks Are Caused by Pesticides? |

645
(1)

| | |
| --- | --- |
| | Possible Invisible Dangers |

646
(2)
646
(1)
647
(1)

| | |
| --- | --- |
| | Are Cell Phones Safe to Use? |

647
(1)
647
(1)
647
(1)
648
(1)

| | |
| --- | --- |
| | The Bottom Line: Taking Care of Mother Earth |

648

| | |
| --- | --- |
| | Making This Chapter Work for You |

649
(1)
650
(1)
650
(1)
650
(1)

| | |
| --- | --- |
| | Info Trac College Edition |

650
(1)
651
(1)
651
Contract for Change
2
(1)
Health Information on the Internet
3
(3)
Your Health Directory
6
(11)
Emergency!
17
(4)
A Consumer's Guide to Medical Tests
21
(6)
Counting Calories and Fat Grams
27
Glossary
1
(1)
Photography Credits
1
(1)
Index
1