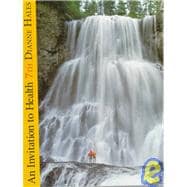 An Invitation to Health: The Power of Prevention
by
HALES
Summary
AN INVITATION TO HEALTH, 10th Edition introduces students to research, information, and recommendations related to health and healthy lifestyles. Reviewed by over 80 instructors, this informative text focuses on change and prevention and supplies students with the lessons they'll need to make responsible healthy decisions in their daily lives.
Author Biography
Dianne Hales, one of the most widely published and honored health journalists in the country, is a contributing editor for Parade and Ladies Home Journal and has written more than 1,000 articles for national publications
Table of Contents
Wellness Inventory: What Is Wellness?
p. 1
Taking Charge of Your Health
p. 11
An Invitation to Health for the Twenty-First Century
p. 12
Personal Stress Management
p. 38
Psychological Health
p. 66
Healthy Lifestyles
p. 103
The Joy of Fitness
p. 104
Personal Nutrition
p. 144
Eating Patterns and Problems
p. 188
Responsible Sexuality
p. 217
Communication and Relationships
p. 218
Personal Sexuality
p. 246
Reproductive Choices
p. 284
Personal Health Care
p. 331
Consumerism, Complementary and Alternative Medicine, and the Health-Care System
p. 332
Protecting Yourself from Infectious Diseases
p. 364
Keeping Your Heart Healthy
p. 408
Lowering Your Risk of Cancer and Other Major Diseases
p. 442
Avoiding Health Risks
p. 475
Drug Use, Misuse, and Abuse
p. 476
Alcohol Use, Misuse, and Abuse
p. 512
Tobacco Use, Misuse, and Abuse
p. 542
Health in Context
p. 567
Staying Safe: Preventing Injury, Violence, and Victimization
p. 568
When Life Ends
p. 598
Working Toward a Healthy Environment
p. 620
Glossary
p. G1
Photography Credits
PC1
Index
p. IN1
Table of Contents provided by Syndetics. All Rights Reserved.