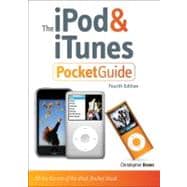 Summary
Here is your essential companion to the iPod nano, touch, classic, and shuffle and to iTunes.The iPod & iTunes Pocket Guide, Fourth Edition, steers you through how to: Import songs into iTunes, assemble playlists on your own or using the iTunes Genius, and burn CDs. Find music, movies, HD TV shows, videos, games, and audiobooks in the iTunes Store and see recommendations, discover new artists, and send gift certificates. Buy music from the iTunes Wi-Fi Music Store and sync songs with your computers. Use your iPod to keep contacts, view events, and store files. Make your iPod even more useful (and awe your friends) with fascinating tips and tricks. Fix common problems and learn what to do in you can't fix them yourself.
Author Biography
Christopher Breen has been writing about music and technology since the latter days of the Reagan Administration. Contributor to such publications as Macworld and PC Wor ld, he pens Macworl d's popular troubleshooting column, "Mac 911." He is also editor in chief of Playlistmag.com--a web site devoted to digital music.
Table of Contents
Meet the iPod
p. 1
Today's iPods
p. 2
Thinking Inside the Box
p. 8
Yesterday's iPods
p. 11
Touching the iPod touch
p. 17
Touring the Physical Controls and Ports
p. 18
Getting in Touch with the iPod touch
p. 20
Navigating the Home Screen
p. 24
Sideways: Cover Flow View
p. 29
Straight Up: Play-Screen View
p. 31
Pure Genius
p. 35
Organizing the iPod touch
p. 37
Playing Videos
p. 42
Viewing Photos
p. 47
Visiting iTunes
p. 53
Getting to Know More Applications
p. 53
Getting Settings
p. 73
The "Traditional" iPods
p. 89
On the Face of It
p. 90
Navigating the Screens
p. 102
iTunes and You
p. 147
Getting the Goods
p. 148
Creating and Configuring a Playlist
p. 154
Key iTunes Features
p. 160
Move Music and Video to the iPod (shuffle Excluded)
p. 166
Move Music to the iPod shuffle
p. 181
The iTunes Store
p. 189
Prepare to Shop
p. 190
Navigate The Store's Floors
p. 191
Get the Goods
p. 212
Play with Your Purchase
p. 215
Renting Movies
p. 217
The iTunes Wi-Fi and App Stores
p. 221
The iTunes Wi-Fi Music Store
p. 222
The App Store
p. 226
The Communicative iPod touch
p. 233
Going on Safari
p. 234
Using Mail
p. 248
Sending and Receiving Mail
p. 258
The Informational iPod
p. 273
Make iContact
p. 274
Make a Date
p. 285
Notes-worthy Feature
p. 293
YouTube
p. 295
Tips and more Troubleshooting
p. 301
Move Media off the iPod
p. 302
Get the Greatest Charge out of Your iPod
p. 305
Shift Your iTunes Library
p. 307
iPod shuffle, Autofill, Podcasts, and You
p. 308
iPod touch Text Tips
p. 309
Troubleshooting Your iPod
p. 314
Index
p. 323
Table of Contents provided by Blackwell. All Rights Reserved.