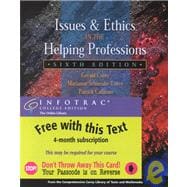 Issues and Ethics in the Helping Professions (with InfoTrac)
by
Corey, Gerald
Questions About This Book?
What version or edition is this?
This is the 6th edition with a publication date of 2/12/2002.
What is included with this book?
The Used copy of this book is not guaranteed to include any supplemental materials. Typically, only the book itself is included.
Summary
Up-to-date and challenging, this best-selling text is a practical manual that helps future and current professionals deal with ethical issues that they will confront at the various stages in their development. The authors provide readers with the basis for discovering their own guidelines within the broad limits of professional codes of ethics and divergent theoretical positions. They raise what they consider to be central issues, present a range of diverse views on these issues, discuss their position, and provide readers with many opportunities to refine their own thinking and to actively develop their own position. The authors explore such questions as: What role do the therapist's personal values play in the counseling relationship? What ethical responsibilities and rights do clients and therapists have? What considerations are involved in adapting counseling practice to diverse client populations?
Table of Contents
| | |
| --- | --- |
| | Introduction to Professional Ethics |

2
(32)
2
(1)

| | |
| --- | --- |
| | Some Suggestions for Using This Book |

3
(2)

| | |
| --- | --- |
| | Professional Codes of Ethics |

5
(6)
11
(7)

| | |
| --- | --- |
| | Steps in Making Ethical Decisions |

18
(4)

| | |
| --- | --- |
| | Self-Assessment: An Inventory of Your Attitudes and Beliefs About Professional and Ethical Issues |

22
(8)
30
(1)
30
(3)

| | |
| --- | --- |
| | Info Trac® College Edition Resources |

33
(1)

| | |
| --- | --- |
| | The Counselor as a Person and as a Professional |

34
(36)

| | |
| --- | --- |
| | Pre-Chapter Self-Inventory |

34
(2)
36
(1)

| | |
| --- | --- |
| | Self-Awareness and the Influence of the Therapist's Personality and Needs |

36
(4)

| | |
| --- | --- |
| | Personal Therapy for Counselors |

40
(6)

| | |
| --- | --- |
| | Transference and Countertransference |

46
(7)
53
(4)

| | |
| --- | --- |
| | Manipulation Versus Collaboration |

57
(1)

| | |
| --- | --- |
| | Stress in the Counseling Profession |

58
(4)
62
(3)
65
(2)
67
(1)
68
(1)

| | |
| --- | --- |
| | Info Trac® College Edition Resources |

69
(1)

| | |
| --- | --- |
| | Values and the Helping Relationship |

70
(38)

| | |
| --- | --- |
| | Pre-Chapter Self-Inventory |

70
(2)
72
(1)

| | |
| --- | --- |
| | Clarifying Your Values and Their Role in Your Work |

72
(3)

| | |
| --- | --- |
| | The Ethics of Imposing Your Values on Clients |

75
(10)

| | |
| --- | --- |
| | The Role of Spiritual and Religious Values in Counseling |

85
(9)
94
(7)

| | |
| --- | --- |
| | Values Pertaining to Sexuality |

101
(2)
103
(1)
104
(3)

| | |
| --- | --- |
| | Info Trac® College Edition Resources |

107
(1)

| | |
| --- | --- |
| | Multicultural Perspectives and Diversity Issues |

108
(38)

| | |
| --- | --- |
| | Pre-Chapter Self-Inventory |

108
(2)
110
(1)

| | |
| --- | --- |
| | The Need for a Multicultural Emphasis |

110
(5)

| | |
| --- | --- |
| | Ethics Codes in Multicultural Counseling |

115
(2)

| | |
| --- | --- |
| | Cultural Values and Assumptions in Therapy |

117
(8)

| | |
| --- | --- |
| | Addressing Sexual Orientation |

125
(6)

| | |
| --- | --- |
| | Matching Client and Counselor |

131
(5)

| | |
| --- | --- |
| | Multicultural Training for Counselors |

136
(6)
142
(1)
142
(3)

| | |
| --- | --- |
| | Info Trac® College Edition Resources |

145
(1)

| | |
| --- | --- |
| | Client Rights and Counselor Responsibilities |

146
(48)

| | |
| --- | --- |
| | Pre-Chapter Self-Inventory |

146
(2)
148
(1)

| | |
| --- | --- |
| | The Client's Right to Give Informed Consent |

149
(6)

| | |
| --- | --- |
| | The Content of Informed Consent |

155
(8)

| | |
| --- | --- |
| | The Counselor's Responsibilities in Record Keeping |

163
(5)

| | |
| --- | --- |
| | Ethical Issues in Online Counseling |

168
(6)

| | |
| --- | --- |
| | Counseling Children and Adolescents |

174
(4)

| | |
| --- | --- |
| | Involuntary Commitment and Human Rights |

178
(2)

| | |
| --- | --- |
| | Malpractice Liability in the Helping Professions |

180
(11)
191
(1)
191
(2)

| | |
| --- | --- |
| | Info Trac® College Edition Resources |

193
(1)

| | |
| --- | --- |
| | Confidentiality: Ethical and Legal Issues |

194
(50)

| | |
| --- | --- |
| | Pre-Chapter Self-Inventory |

194
(2)
196
(1)

| | |
| --- | --- |
| | Confidentiality, Privileged Communication, and Privacy |

196
(12)

| | |
| --- | --- |
| | The Duty to Warn and to Protect |

208
(20)

| | |
| --- | --- |
| | Protecting Children From Harm |

228
(5)

| | |
| --- | --- |
| | Confidentiality and HIV/AIDS-Related Issues |

233
(8)
241
(1)
242
(1)

| | |
| --- | --- |
| | Info Trac® College Edition Resources |

243
(1)

| | |
| --- | --- |
| | Managing Boundaries and Multiple Relationships |

244
(48)

| | |
| --- | --- |
| | Pre-Chapter Self-Inventory |

244
(2)
246
(1)

| | |
| --- | --- |
| | Dual and Multiple Relationships in Perspective |

247
(7)

| | |
| --- | --- |
| | Controversies on Boundary Issues |

254
(4)

| | |
| --- | --- |
| | Bartering for Professional Services |

258
(4)

| | |
| --- | --- |
| | Giving or Receiving Gifts |

262
(2)

| | |
| --- | --- |
| | Social Relationships With Clients |

264
(3)

| | |
| --- | --- |
| | Sexual Attractions in the Client-Therapist Relationship |

267
(5)

| | |
| --- | --- |
| | Sexual Relationships: Ethical and Legal Issues |

272
(11)

| | |
| --- | --- |
| | A Special Case: Nonerotic Physical Contact With Clients |

283
(3)

| | |
| --- | --- |
| | Dealing With Suspected Unethical Behavior in Dual Relationships |

286
(2)
288
(1)
289
(2)

| | |
| --- | --- |
| | Info Trac® College Edition Resources |

291
(1)

| | |
| --- | --- |
| | Professional Competence and Training |

292
(26)

| | |
| --- | --- |
| | Pre-Chapter Self-Inventory |

292
(2)
294
(1)

| | |
| --- | --- |
| | Therapist Competence: Ethical and Legal Aspects |

294
(4)

| | |
| --- | --- |
| | Ethical Issues in Training Therapists |

298
(10)

| | |
| --- | --- |
| | Professional Licensing and Credentialing |

308
(2)

| | |
| --- | --- |
| | Specialties Within the Mental Health Professions |

310
(1)

| | |
| --- | --- |
| | Continuing Education and Demonstration of Competence |

311
(3)

| | |
| --- | --- |
| | Review, Consultation, and Supervision by Peers |

314
(1)
315
(1)
315
(2)

| | |
| --- | --- |
| | Info Trac® College Edition Resources |

317
(1)

| | |
| --- | --- |
| | Issues in Supervision and Consultation |

318
(36)

| | |
| --- | --- |
| | Pre-Chapter Self-Inventory |

318
(2)
320
(1)

| | |
| --- | --- |
| | Ethical and Legal Issues in Clinical Supervision |

320
(11)

| | |
| --- | --- |
| | Multicultural Issues in Supervision |

331
(5)

| | |
| --- | --- |
| | Multiple Roles and Relationships in the Supervisory Process |

336
(8)

| | |
| --- | --- |
| | Ethical and Professional Issues in Consultation |

344
(7)
351
(1)
351
(2)

| | |
| --- | --- |
| | Info Trac® College Edition Resources |

353
(1)

| | |
| --- | --- |
| | Issues in Theory, Practice, and Research |

354
(40)

| | |
| --- | --- |
| | Pre-Chapter Self-Inventory |

354
(2)
356
(1)

| | |
| --- | --- |
| | Developing a Counseling Stance |

357
(2)

| | |
| --- | --- |
| | The Division of Responsibility in Therapy |

359
(1)

| | |
| --- | --- |
| | Deciding on the Goals of Counseling |

360
(2)

| | |
| --- | --- |
| | The Use of Techniques in Counseling |

362
(1)

| | |
| --- | --- |
| | Diagnosis as a Professional Issue |

363
(9)

| | |
| --- | --- |
| | Using Tests in Counseling |

372
(2)

| | |
| --- | --- |
| | Counseling in a Managed Care Environment |

374
(9)

| | |
| --- | --- |
| | Ethical Issues in Psychotherapeutic Research |

383
(7)
390
(1)
391
(2)

| | |
| --- | --- |
| | Info Trac® College Edition Resources |

393
(1)

| | |
| --- | --- |
| | Ethical Issues in Couples and Family Therapy |

394
(26)

| | |
| --- | --- |
| | Pre-Chapter Self-Inventory |

394
(2)
396
(1)

| | |
| --- | --- |
| | Ethical Standards in Couples and Family Therapy |

397
(3)

| | |
| --- | --- |
| | Contemporary Professional Issues |

400
(4)

| | |
| --- | --- |
| | Values in Couples and Family Therapy |

404
(3)

| | |
| --- | --- |
| | Gender-Sensitive Couples and Family Therapy |

407
(5)

| | |
| --- | --- |
| | Responsibilities of Couples and Family Therapists |

412
(1)

| | |
| --- | --- |
| | Confidentiality in Couples and Family Therapy |

413
(2)

| | |
| --- | --- |
| | Informed Consent in Couples and Family Therapy |

415
(1)
416
(1)
417
(1)

| | |
| --- | --- |
| | Info Trac® College Edition Resources |

418
(2)

| | |
| --- | --- |
| | Ethical Issues in Group Work |

420
(24)

| | |
| --- | --- |
| | Pre-Chapter Self-Inventory |

420
(2)
422
(1)

| | |
| --- | --- |
| | Training and Supervision of Group Leaders |

423
(3)
426
(1)

| | |
| --- | --- |
| | Ethical Issues in Group Membership |

426
(5)

| | |
| --- | --- |
| | Confidentiality in Groups |

431
(3)

| | |
| --- | --- |
| | Values in Group Conuseling |

434
(1)

| | |
| --- | --- |
| | Diversity Issues in Group Work |

435
(2)

| | |
| --- | --- |
| | Uses and Abuses of Group Techniques |

437
(2)

| | |
| --- | --- |
| | The Consultation and Referral Process |

439
(1)

| | |
| --- | --- |
| | Issues Concerning Termination |

440
(1)
441
(1)
442
(1)

| | |
| --- | --- |
| | Info Trac® College Edition Resources |

443
(1)

| | |
| --- | --- |
| | Ethical Issues in Community Work |

444
(30)

| | |
| --- | --- |
| | Pre-Chapter Self-Inventory |

444
(2)
446
(2)

| | |
| --- | --- |
| | The Community Mental Health Orientation |

448
(2)

| | |
| --- | --- |
| | Roles of Counselors Working in the Community |

450
(9)

| | |
| --- | --- |
| | The Value of Nonlicensed Workers |

459
(2)
461
(8)

| | |
| --- | --- |
| | Some Concluding Thoughts About Ethical Thinking |

469
(1)
470
(1)
471
(1)

| | |
| --- | --- |
| | Info Trac® College Edition Resources |

472
(2)
References and Suggested Readings
474
(25)
Name Index
499
(4)
Subject Index
503