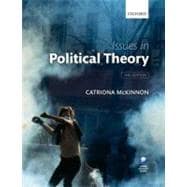 Summary
Issues in Political Theoryprovides a cutting-edge introduction to the key concepts in the field. Traditional issues, such as democracy and liberty are examined alongside contemporary 'hot topics', including multiculturalism and the environment. Each chapter includes an in-depth case study to highlight the relevance of theory to politics in practice and has been written by a leading thinker, at the forefront of the debate. Authoritative yet accessible, it is essential reading for students of political theory at any level. The second edition includes a new chapter on intergenerational justice and has been updated throughout. Issues in Political Theoryis accompanied by an Online Resource Centre with the following features for students and lecturers: For students: Additional case studies for each chapter Flash card glossary Key thinkers Links to OUP journal articles Annotated web links For registered adopters of the textbook: Class activities Essay questions
Author Biography

Catriona McKinnon is Professor of Political Theory at the School of Politics and International Relations in the University of Reading.

Table of Contents
Introduction
Political authority and obligation
Nation and state
War and intervention
Democracy
Liberty
Toleration
Equality and social justice
Human rights
Multiculturalism
Citizenship
Gender
Global justice
Environment
Generations
Table of Contents provided by Publisher. All Rights Reserved.