Note: Supplemental materials are not guaranteed with Rental or Used book purchases.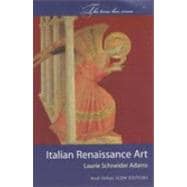 Questions About This Book?
What version or edition is this?
This is the edition with a publication date of 4/8/2001.
What is included with this book?
The Used copy of this book is not guaranteed to include any supplemental materials. Typically, only the book itself is included.
Summary
The most up-to-date and complete text on Italian Renaissance art and its artists yet published, with over 400 illustrations, 215 in color.
Author Biography
Laurie Schneider Adams teaches undergraduate and graduate students at John Jay College, CUNY and the Graduate Center. She has previously taught at Sarah Lawrence College, University of Florida, Columbia University, and Mount Holyoke College. She is the author of Art Across Time, The Methodologies of Art, A History of Western Art, Art and Psychoanalysis, Art on Trial, and editor of Giotto in Perspective. She is the editor or the quarterly journal Source: Notes in the History of Art.
Table of Contents
Preface
xi
PART ONE PRECURSORS OF THE RENAISSANCE
2
(23)
2
(2)
2
(2)

| | |
| --- | --- |
| | Box: Guelphs and Ghibellines |

4
(1)
4
(1)
4
(5)

| | |
| --- | --- |
| | Box: Early Christianity and the Life of Christ |

6
(3)

| | |
| --- | --- |
| | Vasari's Lives and the ``Framing'' of the Renaissance |

9
(1)
9
(4)

| | |
| --- | --- |
| | Box: Tempera Painting and the Bottega |

11
(2)

| | |
| --- | --- |
| | Saints Dominic and Francis: Mendicant Friars |

13
(1)
13
(1)

| | |
| --- | --- |
| | Nicola and Giovanni Pisano |

14
(4)

| | |
| --- | --- |
| | Duccio di Buoninsegna: The Rucellai Madonna |

18
(3)

| | |
| --- | --- |
| | Siena and Florence in 1300 |

21
(2)
22
(1)

| | |
| --- | --- |
| | Giotto: The Santa Maria Novella Crucifix |

23
(2)
25
(33)
25
(15)
25
(1)
25
(2)
27
(1)
28
(1)

| | |
| --- | --- |
| | Box: The Emergence of Humanism |

28
(11)

| | |
| --- | --- |
| | Controversy Box: Giotto and the Assisi Frescoes |

39
(1)

| | |
| --- | --- |
| | Sienese Painting in the Fourteenth Century |

40
(6)
40
(3)
43
(3)

| | |
| --- | --- |
| | Ambrogio Lorenzetti: Allegories of Good and Bad Government |

46
(4)
50
(1)

| | |
| --- | --- |
| | Controversy Box: the Impact of the Black Death |

50
(1)

| | |
| --- | --- |
| | Andrea da Firenze: Way of Salvation |

51
(2)

| | |
| --- | --- |
| | Andrea di Cione (Orcagna) |

53
(5)
53
(1)

| | |
| --- | --- |
| | The or San Michele Tabernacle |

54
(4)
PART TWO THE QUATTROCENTO

| | |
| --- | --- |
| | Architecture and Sculpture in Florence: 1400-1430 |

58
(25)
59
(1)
60
(4)
62
(2)
64
(1)

| | |
| --- | --- |
| | Public Sculpture: The Exterior of Florence Cathedral |

64
(1)
65
(1)

| | |
| --- | --- |
| | Donatello's John the Evangelist |

65
(1)

| | |
| --- | --- |
| | The Architecture of Brunelleschi |

66
(8)
66
(2)

| | |
| --- | --- |
| | The Hospital of the Innocents |

68
(2)

| | |
| --- | --- |
| | Box: The Medici in the Fifteenth Century |

70
(1)

| | |
| --- | --- |
| | The Church of San Lorenzo |

70
(1)

| | |
| --- | --- |
| | Box: The Orders of Architecture |

71
(1)

| | |
| --- | --- |
| | The Church of Santo Spirito |

72
(2)

| | |
| --- | --- |
| | Late Work: Santa Maria degli Angeli and the Ideal of the Circular Plan |

74
(1)

| | |
| --- | --- |
| | Controversy Box: Brunelleschi's Sources |

75
(1)

| | |
| --- | --- |
| | Or San Michele: The Exterior Niches |

75
(8)

| | |
| --- | --- |
| | Painting in Florence: 1400-1430 |

83
(21)

| | |
| --- | --- |
| | Lorenzo Monaco's Coronation of the Virgin |

83
(2)

| | |
| --- | --- |
| | Gentile da Fabriano's Adoration of the Magi: 1423 |

85
(2)
87
(5)

| | |
| --- | --- |
| | The Pisa Altarpiece: The Virgin and Child |

87
(2)

| | |
| --- | --- |
| | Box: Brunelleschi's Perspective System |

89
(1)
90
(2)

| | |
| --- | --- |
| | The Brancacci Chapel Frescoes |

92
(12)

| | |
| --- | --- |
| | The Disposition of the Scenes |

92
(4)

| | |
| --- | --- |
| | Temptation and Expulsion of Adam and Eve |

96
(2)
98
(1)

| | |
| --- | --- |
| | Controversy Box: The Restoration of the Brancacci Chapel Frescoes |

99
(1)

| | |
| --- | --- |
| | The Frescoes on the Altar Wall |

100
(4)

| | |
| --- | --- |
| | Painting in Florence: 1430-1460 |

104
(18)

| | |
| --- | --- |
| | Box: Women in the Italian Renaissance |

104
(1)

| | |
| --- | --- |
| | Leon Battista Alberti: On Painting |

105
(1)
106
(9)
115
(7)
115
(5)

| | |
| --- | --- |
| | Box: Jan van Eyck and the Renaissance in the Netherlands |

120
(2)

| | |
| --- | --- |
| | Painting in Florence, II: 1430-1460 |

122
(20)
122
(9)
125
(4)

| | |
| --- | --- |
| | Box: The Dignity of Man in the Renaissance |

129
(2)
131
(3)
134
(8)

| | |
| --- | --- |
| | Sculpture and Architecture in Florence: 1430s-1460s |

142
(19)
142
(2)

| | |
| --- | --- |
| | Alberti's Self-Portrait Plaque: An Iconographic Puzzle |

144
(2)

| | |
| --- | --- |
| | Box: The Renaissance Medal |

145
(1)

| | |
| --- | --- |
| | Donatello in the Mid-Fifteenth Century |

146
(5)
151
(3)

| | |
| --- | --- |
| | Box: Pisanello's Medal of John VIII Palaeologus |

153
(1)
154
(5)

| | |
| --- | --- |
| | The Medici Palace: 1444-1460 |

154
(3)

| | |
| --- | --- |
| | The Rucellai Palace: 1450s |

157
(1)

| | |
| --- | --- |
| | Box: Alberti's Architectural Metaphor |

158
(1)

| | |
| --- | --- |
| | The Facade of Santa Maria Novella |

159
(2)

| | |
| --- | --- |
| | Development in Siena, Rimini, and Pienza: 1400-1460 |

161
(18)
161
(10)
161
(3)

| | |
| --- | --- |
| | Box: San Bernardino of Siena |

164
(1)
164
(1)

| | |
| --- | --- |
| | The Ilaria del Carretto Tomb Monument |

164
(1)
165
(1)
166
(3)
169
(2)
171
(6)
171
(4)

| | |
| --- | --- |
| | Medals of Sigismondo and Isotta |

175
(2)
177
(2)

| | |
| --- | --- |
| | Developments in Umbria, the Marches, and Naples: 1400s-1460s |

179
(23)
179
(1)
180
(4)

| | |
| --- | --- |
| | Pisanello's Medal of Alfonso |

180
(1)
181
(3)
184
(8)
184
(2)
186
(1)
187
(1)
187
(3)

| | |
| --- | --- |
| | Box: The Legend of the True Cross |

190
(2)

| | |
| --- | --- |
| | The Montefeltro Court in Urbino |

192
(9)

| | |
| --- | --- |
| | Clemente's Medal of Federico da Montefeltro |

194
(2)
196
(2)

| | |
| --- | --- |
| | The Flagellation of Christ |

198
(1)

| | |
| --- | --- |
| | The Madonna and Child with Saints |

199
(1)

| | |
| --- | --- |
| | Controversy Box: The Question of the Egg |

199
(2)

| | |
| --- | --- |
| | Federico's Dynastic Iconography |

201
(1)

| | |
| --- | --- |
| | Sculpture and Architecture in Florence after 1450 |

202
(20)
202
(13)
202
(1)
202
(1)

| | |
| --- | --- |
| | The Bronze John the Baptist |

203
(1)
203
(3)
206
(2)

| | |
| --- | --- |
| | Antonio del Pollaiuolo's Hercules and Antaeus |

208
(1)
209
(1)
209
(1)
209
(2)

| | |
| --- | --- |
| | The Tomb of Piero and Giovanni de' Medici |

211
(2)
213
(2)
215
(1)
215
(7)
216
(1)
217
(1)

| | |
| --- | --- |
| | The Medici Villa: Poggio a Caiano |

218
(1)

| | |
| --- | --- |
| | Santa Maria delle Carceri |

219
(3)

| | |
| --- | --- |
| | Painting in Florence after 1450 |

222
(24)

| | |
| --- | --- |
| | Benozzo Gozzoli: The Medici Chapel Frescoes |

222
(4)
226
(3)
229
(9)

| | |
| --- | --- |
| | Box: The Platonic Academy |

233
(5)

| | |
| --- | --- |
| | Filippino Lippi: Vision of Saint Bernard |

238
(2)
240
(6)

| | |
| --- | --- |
| | Fifteenth-Century Developments in Verona, Ferrara, and Mantua |

246
(24)
246
(2)

| | |
| --- | --- |
| | Pisanello and the Este of Ferrara |

248
(6)
250
(4)
254
(6)

| | |
| --- | --- |
| | The Sala Pisanello Frescoes |

254
(1)

| | |
| --- | --- |
| | Box: The Gonzaga of Mantua |

255
(1)
256
(4)
260
(2)

| | |
| --- | --- |
| | Mantegna and the Gonzaga of Mantua |

262
(8)

| | |
| --- | --- |
| | Developments in Late Fifteenth- and Early Sixteenth-Century Venice |

270
(22)
272
(3)
272
(3)
275
(1)

| | |
| --- | --- |
| | Carpaccio's Miracle at the Rialto |

276
(2)
278
(2)
280
(12)

| | |
| --- | --- |
| | Box: Ovid and the Renaissance |

289
(3)
PART THREE THE CINQUECENTO

| | |
| --- | --- |
| | Leonardo and Bramante: Late Fifteenth- and Early Sixteenth-Century Developments in Florence and Milan |

292
(20)

| | |
| --- | --- |
| | Leonardo da Vinci: Florence |

292
(6)

| | |
| --- | --- |
| | Leonardo and Bramante in Milan |

298
(9)

| | |
| --- | --- |
| | Politics and Humanist Patronage |

298
(2)
300
(4)
304
(3)
307
(5)

| | |
| --- | --- |
| | Controversy Box: Freud, Leonardo, and Art History: A Methodological Squabble |

311
(1)

| | |
| --- | --- |
| | Michelangelo and Raphael: The Late Fifteenth Century to 1505 |

312
(18)

| | |
| --- | --- |
| | Michelangelo: Florence and Rome |

312
(9)

| | |
| --- | --- |
| | Controversy Box: Michelangelo and the ``Marble Breast'' |

317
(4)

| | |
| --- | --- |
| | Raphael: Urbino, Perugia, and Florence |

321
(9)

| | |
| --- | --- |
| | Box: Literary Figures at the Court of Guidobaldo da Montefeltro |

321
(9)

| | |
| --- | --- |
| | Bramante, Michelangelo, Raphael: Developments in Rome to 1520 |

330
(27)
330
(2)

| | |
| --- | --- |
| | The Patronage of Julius II |

332
(16)

| | |
| --- | --- |
| | Box: The Evolution of Saint Peter's |

334
(1)

| | |
| --- | --- |
| | Michelangelo: The Tomb of Julius II |

334
(2)
336
(8)

| | |
| --- | --- |
| | Raphael: The Stanza della Segnatura |

344
(1)

| | |
| --- | --- |
| | Disputation over the Sacrament (or Disputa) |

345
(1)
346
(2)
348
(5)
348
(1)
349
(1)

| | |
| --- | --- |
| | Pope Leo X with Cardinals Giulio de' Medici and Luigi de' Rossi |

350
(1)
351
(2)
353
(4)
353
(2)
355
(2)

| | |
| --- | --- |
| | Venice in the Sixteenth Century |

357
(22)

| | |
| --- | --- |
| | Giorgione da Castelfranco |

358
(6)

| | |
| --- | --- |
| | Enthroned Madonna with Saints Liberalis and Francis |

358
(3)
361
(1)
362
(1)
363
(1)

| | |
| --- | --- |
| | Portrait of an Old Woman (Col Tempo) |

363
(1)
364
(10)
364
(1)
365
(1)
365
(3)

| | |
| --- | --- |
| | Meeting of Bacchus and Ariadne |

368
(1)
369
(1)
370
(1)
371
(1)
372
(2)

| | |
| --- | --- |
| | Later Sixteenth-Century Developments and Mannerist Trends |

374
(5)
374
(1)

| | |
| --- | --- |
| | Veronese: Apotheosis of Venice |

374
(3)

| | |
| --- | --- |
| | Palladio: Developments in Architecture |

377
(2)

| | |
| --- | --- |
| | Michelangelo after 1520 and the Transition to Mannerism |

379
(21)
379
(1)

| | |
| --- | --- |
| | Michelangelo: The Medici Chapel |

380
(4)
384
(2)
386
(2)

| | |
| --- | --- |
| | Michelangelo's Later Architecture |

388
(4)

| | |
| --- | --- |
| | The Vestibule of the Laurentian Library |

388
(2)
390
(2)
392
(8)

| | |
| --- | --- |
| | Correggio and Parmigianino |

392
(2)
394
(2)
396
(1)

| | |
| --- | --- |
| | Florence under Cosimo I de' Medici |

397
(3)
Timeline
400
(4)
Glossary of Art-Historical and Stylistic Terms
404
(4)
Select Bibliography
408
(5)
Notes
413
(1)
Picture Credits
413
(2)
Index
415