Note: Supplemental materials are not guaranteed with Rental or Used book purchases.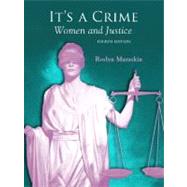 Questions About This Book?
What version or edition is this?
This is the 4th edition with a publication date of 1/1/2007.
What is included with this book?
The Used copy of this book is not guaranteed to include any supplemental materials. Typically, only the book itself is included.
Related Products
Summary
Itrs"s a Crime: Women and Justice, Fourth Edition,is an all-inclusive work on women and issues of justice. The most complete, up-to-date text available, it compiles over 50 essays that explore issues such as: the history of womenrs"s issues; women and the law; women and violence; women and health problems; gender and race, women and prison; women and criminal justice professions; women and terrorism; and girls and delinquency. Written by Rosalyn Muraskin and leading scholars in the field, this edition highlights over thirty new essays and presents a thought-provoking dialogue concerning the major tribulations women face in the criminal justice system.
Table of Contents
PREFACE
xi
ABOUT THE AUTHOR AND CONTRIBUTORS
xvii
ACKNOWLEDGMENTS
xxiii
SECTION I HISTORICAL DEVELOPMENT OF WOMEN'S ISSUES
1
(64)

| | |
| --- | --- |
| | Chapter 1 "Ain't I a Woman?" |

2
(11)

| | |
| --- | --- |
| | Chapter 2 Taming Women and Nature: The Criminal Justice System and the Creation of Crime in Salem Village |

13
(18)

| | |
| --- | --- |
| | Chapter 3 Feminist Theories: Are They Needed? |

31
(13)

| | |
| --- | --- |
| | Chapter 4 "Mule-Headed Slave Women Refusing to Take Foolishness from Anybody": A Prelude to Future Accommodation, Resistance, and Criminality |

44
(21)
SECTION II WOMEN AND THE LAW
65
(94)

| | |
| --- | --- |
| | Chapter 5 Perpetrators and Victims: Maternal Filicide and Mental Illness |

66
(37)

| | |
| --- | --- |
| | Chapter 6 Postpartum Syndrome and the Legal System |

| | |
| --- | --- |
| | Tara C. Proano-Raps and Cheryl L. Meyer |

103
(24)

| | |
| --- | --- |
| | Chapter 7 The Effects of Specialized Supervision on Women Probationers: An Evaluation of the POWER Program |

| | |
| --- | --- |
| | Arthur J. Lurigio, Loretta Stalans, Lorena Roque, Magnus Seng, and Jennifer Ritchie |

127
(19)

| | |
| --- | --- |
| | Chapter 8 Abortion: Is It a Right to Privacy or Compulsory Childbearing? |

146
(13)
SECTION III WOMEN: VICTIMS OF VIOLENCE
159
(186)

| | |
| --- | --- |
| | Chapter 9 Fatal Attraction in Arizona: Glenn Close on Trial? |

| | |
| --- | --- |
| | Mary Jackson and Cyndi Banks |

160
(21)

| | |
| --- | --- |
| | Chapter 10 The Crime of Rape |

181
(6)

| | |
| --- | --- |
| | Chapter 11 Forced Sexual Intercourse in Dating: Testing a Model |

| | |
| --- | --- |
| | Robert T. Sigler, Ida M. Johnson, and Etta F. Morgan |

187
(30)

| | |
| --- | --- |
| | Chapter 12 Guiding Philosophies for Rape Crisis Centers |

| | |
| --- | --- |
| | Stacy L. Mallicoat, Stephanie Amedeo Marquez, and Jill Leslie Rosenbaum |

217
(9)

| | |
| --- | --- |
| | Chapter 13 The Historical Role of and Views toward Victims and the Evolution of Prosecution Policies in Domestic Violence |

226
(12)

| | |
| --- | --- |
| | Chapter 14 The Impact of Law Enforcement Policies on Victims of Intimate Partner Violence |

| | |
| --- | --- |
| | Susan L. Miller and Elicka S.L. Peterson |

238
(23)

| | |
| --- | --- |
| | Chapter 15 The Limitations of Current Approaches to Domestic Violence |

261
(16)

| | |
| --- | --- |
| | Chapter 16 When the Victim Recants: The Impact of Expert Witness Testimony in Prosecution of Battering Cases |

| | |
| --- | --- |
| | Alisa Smith and Rose Marie Rotondi |

277
(13)

| | |
| --- | --- |
| | Chapter 17 Beyond Shelter: Expanding Spheres of Influence for Reducing Violence against WomenóA Case Study of Hubbard House in Jacksonville, Florida |

| | |
| --- | --- |
| | Michael Hallett and Suzanne Zahrly |

290
(9)

| | |
| --- | --- |
| | Chapter 18 Resistance, Compliance, and the Climate of Violence: Understanding Battered Women's Contacts with Police |

299
(15)

| | |
| --- | --- |
| | Chapter 19 Battered Immigrant Women's Domestic Violence Dynamics and Legal Protections |

| | |
| --- | --- |
| | Nawal Ammar and Leslye Orloff |

314
(19)

| | |
| --- | --- |
| | Chapter 20 Sexual Harassment and the Law: Violence against Women |

333
(12)
SECTION IV WOMEN AND HEALTH PROBLEMS
345
(48)

| | |
| --- | --- |
| | Chapter 21 Legal and Social Welfare Response to Substance Abuse during Pregnancy: Recent Developments |

346
(17)

| | |
| --- | --- |
| | Chapter 22 Living and Dying with HIV/AIDS: The "Inside" Experience of Women in Prison |

| | |
| --- | --- |
| | Mark. M. Lanier and Barbara H. Zaitzow |

363
(16)

| | |
| --- | --- |
| | Chapter 23 Women, AIDS, and the Criminal Justice System |

| | |
| --- | --- |
| | Joan Luxenburg and Thomas E. Guild |

379
(14)
SECTION V GENDER AND RACE
393
(90)

| | |
| --- | --- |
| | Chapter 24 Systemic White Racism and the Brutalization of Executed Black Women in the United States |

394
(50)

| | |
| --- | --- |
| | Chapter 25 African American Ph.D. Women in Criminal Justice Higher Education: Equal Impact or the Myth of Equality? |

| | |
| --- | --- |
| | Elvira M. White and Laura B. Myers |

444
(8)

| | |
| --- | --- |
| | Chapter 26 Factors Affecting the Internal and External Relationships of African-American Policewomen within an Urban Police Department |

| | |
| --- | --- |
| | Mark R. Pogrebin, Lyn Taylor, and Harold Chatman |

452
(18)

| | |
| --- | --- |
| | Chapter 27 Victims of Domestic Stalking: A Comparison of Black and White Females |

470
(13)
SECTION VI WOMEN AND PRISON
483
(142)

| | |
| --- | --- |
| | Chapter 28 The Daily Adult Interactive Learning Experience Program: Evaluating the Needs of Lower-Functional Female Adult Offenders in Prison |

| | |
| --- | --- |
| | Rosemary L. Gido and Danielle McDonald |

484
(9)

| | |
| --- | --- |
| | Chapter 29 Disparate Treatment in Correctional Facilities: Women Incarcerated |

493
(14)

| | |
| --- | --- |
| | Chapter 30 From the Inside: Patterns of Coping and Adjustment among Women in Prison |

| | |
| --- | --- |
| | Zina T. McGee, Ebone' Joseph, Ina Allicott, Trudy-Ann Gayle, Asha Barber, and Ashley Smith |

507
(21)

| | |
| --- | --- |
| | Chapter 31 "Love Doesn't Solve All Problems": Incarcerated Women and Their Significant Others |

528
(14)

| | |
| --- | --- |
| | Chapter 32 Women in Prison: Vengeful Equity |

| | |
| --- | --- |
| | Barbara Bloom and Meda Chesney-Lind |

542
(22)

| | |
| --- | --- |
| | Chapter 33 The Reentry Process for Women |

564
(8)

| | |
| --- | --- |
| | Chapter 34 Dying to Get Out: The Execution of Females in the Post-Furman Era of the Death Penalty in the United States |

572
(20)

| | |
| --- | --- |
| | Chapter 35 Women on Death Row |

592
(16)

| | |
| --- | --- |
| | Chapter 36 Home Confinement and Intensive Supervision as Unsafe Havens: The Unintended Consequences for Women |

| | |
| --- | --- |
| | Courtney A. Franklin and Faith E. Lutze |

608
(17)
SECTION VII WOMEN AND PROFESSIONS
625
(110)

| | |
| --- | --- |
| | Chapter 37 The Impact of Women on the Police Subculture |

| | |
| --- | --- |
| | Kim M. Lersch and Thomas Bazley |

626
(11)

| | |
| --- | --- |
| | Chapter 38 Women in State Policing: An Assessment |

| | |
| --- | --- |
| | Trina Rose and N. Prabha Unnithan |

637
(14)

| | |
| --- | --- |
| | Chapter 39 Early Policing in the United States: "Help WantedóWomen Need Not Apply!" |

651
(10)

| | |
| --- | --- |
| | Chapter 40 Who's Afraid of Johnny Rotten? Assessing Female Correctional Staff's Perceived Fear and Risk of Victimization in a Juvenile Male Institution |

| | |
| --- | --- |
| | Jill A. Gordon and Laura J. Moriarty |

661
(18)

| | |
| --- | --- |
| | Chapter 41 From the Bassinet to the Bar: The Effect of Motherhood on Women's Advancement in the Legal Profession |

| | |
| --- | --- |
| | Jody Clay-Warner and Jennifer McMahon |

679
(10)

| | |
| --- | --- |
| | Chapter 42 The Dislike of Female Offenders among Correctional Officers: A Need for Specialized Training |

689
(18)

| | |
| --- | --- |
| | Chapter 43 Women on the Bench: Mavericks, Peacemakers, or Something Else? Research Questions, Issues, and Suggestions |

| | |
| --- | --- |
| | Susan L. Miller and Michelle L. Meloy |

707
(16)

| | |
| --- | --- |
| | Chapter 44 Three Strikes and It's Women Who Are Out: The Hidden Consequences for Women of Criminal Justice Policy Reforms |

723
(12)
SECTION VIII WOMEN, TERRORISM, AND BEYOND
735
(46)

| | |
| --- | --- |
| | Chapter 45 Femmes Fatales: The Evolution and Significance of Female Involvement in Terrorist Networks and Suicide Bombings |

| | |
| --- | --- |
| | Elizabeth Schafluetzel-Iles and Jeffrey P. Rush |

736
(22)

| | |
| --- | --- |
| | Chapter 46 Women's Attitudes toward the Threat of Terror |

| | |
| --- | --- |
| | Ramona Brockett, Jonathan C. Odo. and Peter C. Ezekwenna |

758
(7)

| | |
| --- | --- |
| | Chapter 47 Images of Serial Murderers among College Students |

| | |
| --- | --- |
| | Druann Maria Heckert, Daniel Alex Heckeri and Mark A. Ferraiolo |

765
(16)
SECTION IX GIRLS AND DELINQUENCY
781
(66)

| | |
| --- | --- |
| | Chapter 48 The Impact of Gender on Juvenile Justice Decisions |

782
(10)

| | |
| --- | --- |
| | Chapter 49 Developing Gender-Specific Services for Delinquency Prevention: Understanding Risk and Resiliency |

| | |
| --- | --- |
| | Barbara Bloom, Barbara Owen, Elizabeth Piper Deschenes, and Jill Rosenbaum |

792
(28)

| | |
| --- | --- |
| | Chapter 50 Gender Differences in Delinquency Career Types and the Transition to Adult Crime |

| | |
| --- | --- |
| | Kimberly Kempf-Leonard and Paul E. Tracy |

820
(27)
SECTION X CONCLUSIONS
847
(6)
INDEX
853