Note: Supplemental materials are not guaranteed with Rental or Used book purchases.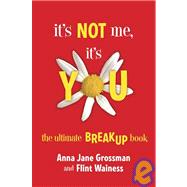 It's Not Me, It's You : The Ultimate Breakup Book
ISBN13:
9780738210513
by
GROSSMAN ANNA JANE
Summary
Sick and tired of married people getting all the attention and the gifts while the brokenhearted are left with nothing but that hideous bridesmaid dress or, worse, that hideous bridesmaid? This indispensable guide to the modern breakup is for you! Engagements and weddings have their own elaborate etiquette, even lavish gift-giving rituals, but married people already have the thing they need more than that fondue set and trip to Aruba: They have each other. And what do people going through the breakup have at the moment when they're most lacking attention, not to mention gifts and trips? Nada. Enter the anti-Cupids, Anna Jane Grossman and Flint Wainess, here to lend the breakup its ceremonial due, here to break down the breakup. Whether you're thinking about dumping someone, suspect you're about to be dumped yourself, or have recently been shown the proverbial door, Grossman and Wainess offer clear-eyed, commonsense advice to get you through this confusing period. Do you have a plan of attack (or defense) in mind? If you've just been sent packing, do you know the best way to get your stuff back? Do you understand the full range of options at your disposal for exorcising your ex from memory? Do you have the right vocabulary to make a clean breakup, or to explain your lust for revenge to your friends? Yes,It's Not Me, It's Youtells you everything you need to know about the breakup: how to do it . . . where to do it . . . when to do it . . . whether to do it . . . whether you can have a friend do it for you. And perhaps most important: what to do after it's over (hint-it's never really over). Laugh-out-loud funny,It's Not Me, It's Youreminds us all that just because your relationship was an unmitigated disaster, it doesn't mean your breakup can't be a smashing success.
Author Biography
Anna Jane Grossman is a journalist who has written wedding and engagement announcements for the New York Post, New York Observer, and New York Times. She lives in New York City. Flint Wainess is a television and screenwriter living in Los Angeles. Together Grossman and Wainess founded the website breakupnews.com.
Table of Contents
Introduction
A Note from Flint and Anna Jane
p. 11
A Brief History of Modern Heartbreak: A Rich Past of Pain
p. 17
A Timeline of Divorce, Heartbreak, and Infidelity
p. 24
Getting Ready for Good-bye (a.k.a. the Relationship)
Do You Know This Couple? Common Types of Relationships and Why They Won't Last
p. 36
Stages of Relationship Death
p. 45
Is Your Relationship Kaput? Take This Quiz and Find Out
p. 53
He's Not Cheating, He just Works a Lot: The Cheaty McCheats a Lot Chart
p. 56
The Relationship Survey Results
p. 58
From the Trenches: I Knew It Was Over When...
p. 64
Everything Else You Ever Wanted to Know about Relationships (but Were Afraid to Ask Dr. Phil)
p. 70
The Breakup
The Breakup Glossary
p. 84
Breaking Down Breakup Styles
p. 92
Fifty Ways to Get Your Lover to Leave You
p. 106
Lost in Translation: What Men and Women Really Mean When They're Breaking Up with You
p. 109
The Perfect Breakup Medium for You
p. 111
The Breakup Pocket Guide
p. 120
It's Mine! It's All Mine! A Guide to Splitting Up the Postbreakup Booty
p. 127
Breakup Survey Results
p. 135
From the Trenches: Best Breakup Lines
p. 140
Everything Else You Ever Wanted to Know about Breakups (but Were Afraid to Ask Dr. Phil)
p. 144
Get Over It
Facts and Fictions about Your Terrible, Horrible, No Good, Very Bad Breakup
p. 156
The Grossman-Wainess Guide to Rock Bottom...It's Cheaper than Frommer's!
p. 158
Stages of (Good) Grief, Charlie Brown
p. 161
Web Stalking for Beginners
p. 169
The Single Guy: Flint's Guide for the Newly Single Male
p. 178
The Single Girl: Anna Jane's Guide for the Newly Single Lady
p. 185
Breakup Trees
p. 191
Get Over It Survey Results
p. 202
From the Trenches: What's the Best Thing about Being Single Again?
p. 204
Everything Else You Ever Wanted to Know about Getting Over It (but Were Afraid to Ask Dr. Phil)
p. 209
Epilogue
P.S.: A Final Note from Flint and Anna Jane
p. 219
The Breakup Songbook
p. 222
The Burn Book
p. 228
Table of Contents provided by Ingram. All Rights Reserved.