Note: Supplemental materials are not guaranteed with Rental or Used book purchases.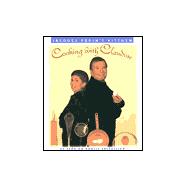 Jacques Pepin's Kitchen : Cooking with Claudine
ISBN13:
9780912333847
by
Pepin, Jacques
Summary
Best known for his award-winning Today's Gourmet television series, Jacques Pepin is now introducing a new, 26-part PBS series called Jacques Pepin's Kitchen: Cooking with Claudine. In the new format, Jacques shares with his 28-year-old daughter, Claudine, all the the hallmarks of his cuisine: healthful, tasty food, prepared simply yet elegantly. This companion volume to the series features more than 75 of Jacques' wonderful recipes, plus menu suggestions. 70 color photos.
Table of Contents
Recipes by Course
x
Acknowledgments
xiii
A Conversation with Jacques and Claudine
xv
On Menus and Wines
xx
The Busy Single
3
(10)
6
(1)

| | |
| --- | --- |
| | Shoulder Steak with Herbs |

7
(1)

| | |
| --- | --- |
| | Roasted Potatoes and Onions |

8
(2)
10
(2)
12
(1)
13
(8)

| | |
| --- | --- |
| | Cooked Turkey Carcass Soup |

16
(2)

| | |
| --- | --- |
| | Cumin Lamb Breast and Potatoes |

18
(1)
19
(1)
20
(1)
21
(8)

| | |
| --- | --- |
| | Collard Greens and Yellow Grits Soup |

25
(1)

| | |
| --- | --- |
| | Carrot, Zucchini, and Radish Salad |

26
(1)
27
(1)
28
(1)
29
(8)
32
(1)

| | |
| --- | --- |
| | Spicy Ginger and Lemon Chicken |

33
(2)
35
(1)
36
(1)
37
(8)

| | |
| --- | --- |
| | Turkey Roulade en Cocotte |

40
(2)

| | |
| --- | --- |
| | Hard-Cooked Eggs in Mustard Sauce |

42
(1)
43
(1)

| | |
| --- | --- |
| | Old-fashioned Rice Pudding with Dried Fruit |

44
(1)

| | |
| --- | --- |
| | The Sorcerer's Apprentice |

45
(10)
48
(1)
49
(1)
50
(2)

| | |
| --- | --- |
| | Melon and Strawberries in Honey Sauce |

52
(3)
Basic Techniques from a Pro
55
(10)

| | |
| --- | --- |
| | Scotch Barley and Mushroom Soup |

58
(1)
59
(2)

| | |
| --- | --- |
| | Lamb Steaks in Vinegar Sauce |

61
(1)
62
(2)
64
(1)
65
(10)
68
(2)

| | |
| --- | --- |
| | Monkfish and Salmon Mousse in Crust with Tomato-Butter Sauce |

70
(3)

| | |
| --- | --- |
| | Raspberry Cookie Dough Galette |

73
(2)
75
(10)

| | |
| --- | --- |
| | Poached Swordfish with Lemon-Parsley Sauce |

79
(1)
80
(2)

| | |
| --- | --- |
| | Breaded and Broiled Red Snapper |

82
(2)
84
(1)
85
(10)

| | |
| --- | --- |
| | Fusilli with Escarole, Eggplant, and Olive Sauce |

88
(2)

| | |
| --- | --- |
| | Sole and Scallop Ensemble |

90
(2)

| | |
| --- | --- |
| | Potato Slabs with Tapenade |

92
(2)

| | |
| --- | --- |
| | Warm Chocolate Fondue Souffle |

94
(1)
95
(14)

| | |
| --- | --- |
| | Sauteed Duck in Vinegar Sauce |

99
(1)
100
(2)
102
(2)
104
(1)

| | |
| --- | --- |
| | Rhubarb and Strawberry Coulis |

105
(4)
Cooking Light
109
(8)

| | |
| --- | --- |
| | Steamed Scallops on Spinach with Walnut Sauce |

112
(2)
114
(2)
116
(1)
117
(10)
121
(1)

| | |
| --- | --- |
| | Swiss Chard-Stuffed Onions |

122
(2)
124
(1)
125
(2)
127
(8)
130
(1)
131
(1)

| | |
| --- | --- |
| | Mixed Vegetable Salad with Toasted Bread Cubes |

132
(2)
134
(1)
135
(10)

| | |
| --- | --- |
| | Apple and Carrot Salad with Yogurt |

138
(1)
139
(1)

| | |
| --- | --- |
| | Tomato Chowder with Mollet Eggs and Croutons |

140
(2)
142
(3)
Menus for Special Occasions
145
(10)

| | |
| --- | --- |
| | Polenta and Vegetable Gateau |

148
(2)

| | |
| --- | --- |
| | Escalopes of Veal in Mushroom and Cognac Sauce |

150
(3)
153
(1)
154
(1)
155
(10)

| | |
| --- | --- |
| | Artichoke and Tomato Stew |

158
(2)

| | |
| --- | --- |
| | Poached Salmon in Ravigote Sauce |

160
(1)
161
(1)
162
(3)
165
(10)
168
(2)
170
(2)

| | |
| --- | --- |
| | Corn and Scallion Spoonbread |

172
(1)

| | |
| --- | --- |
| | Chocolate, Walnut, and Apricot Cookies |

173
(2)
175
(12)
178
(1)
179
(6)
185
(1)
186
(1)
187
(10)

| | |
| --- | --- |
| | Ricotta Dumplings with Red Pepper Sauce |

190
(2)
192
(2)

| | |
| --- | --- |
| | Spinach Salad with Garlic Dressing |

194
(1)
195
(2)
197
(12)

| | |
| --- | --- |
| | Herb and Goat Cheese Souffle |

200
(2)
202
(1)
203
(1)

| | |
| --- | --- |
| | Flan a la Vanille with Caramel-Cognac Sauce |

204
(5)
Pepin Family Favorites
209
(10)
212
(1)

| | |
| --- | --- |
| | Potato and Watercress Salad |

213
(1)

| | |
| --- | --- |
| | Broiled Lobster with Bread Stuffing |

214
(2)
216
(1)

| | |
| --- | --- |
| | Patissiere with Winter Fruit |

217
(2)
219
(10)
221
(1)
222
(2)
224
(2)
226
(3)
229
(8)
232
(1)
233
(1)

| | |
| --- | --- |
| | Ziti with Sausage and Vegetables |

234
(2)

| | |
| --- | --- |
| | Cream of Raspberries and Yogurt |

236
(1)
237
(10)

| | |
| --- | --- |
| | Black Bean Soup with Bananas |

240
(2)
242
(2)
244
(1)
245
(1)

| | |
| --- | --- |
| | Broiled Bananas with Lemon and Sugar |

246
(1)
247
(10)
250
(1)
251
(3)
254
(1)
255
(1)
256
(1)
About Jacques Pepin
257
(1)
Producer's Acknowledgments
258
(2)
Index
260