Note: Supplemental materials are not guaranteed with Rental or Used book purchases.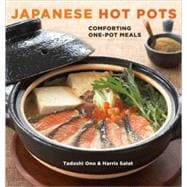 Japanese Hot Pots: Comforting One-Pot Meals
ISBN13:
9781580089814
by
Ono, Tadashi
Questions About This Book?
What version or edition is this?
This is the Original edition with a publication date of 9/22/2009.
What is included with this book?
The New copy of this book will include any supplemental materials advertised. Please check the title of the book to determine if it should include any CDs, lab manuals, study guides, etc.
Summary
Wholesome, delicious Japanese comfort food, hot pot cooking satisfies the universal desire for steaming, gratifying and hearty meals the whole family can enjoy. InJapanese Hot Pots, chef Tadashi Ono and food journalist Harris Salat demystify this communal eating tradition for American home cooks with belly-warming dishes from all corners of Japan. Using savory broths and healthy, easy-to-find ingredients such as seafood, poultry, greens, roots, mushrooms, and noodles, these classic one-pot dishes require minimal fuss and preparation, and no special equipment-they're simple, fast recipes to whip up either on the stove or on a tableside portable burner, like they do in Japan.
Author Biography
TADASHI ONO is the executive chef of Matsuri in New York City. He has been featured in the New York Times, Gourmet, Food & Wine, and other prestigious publications.

HARRIS SALAT writes about food and culture for the New York Times, Gourmet, Saveur, and other publications. He is the coauthor of Takashi's Noodles. He lives in New York City.
Table of Contents
Acknowledgments
p. vii
Introduction
p. 1
The Basics
p. 5
Basic Recipes
p. 29
Dashi
p. 30
Japanese Chicken Stock
p. 32
Napa Cabbage-Spinach Rolls
p. 33
Ponzu
p. 34
Momiji Oroshi
p. 35
Japanese Rice for Shime
p. 36
Vegetables and Tofu
p. 37
Mushroom Hot Pot
p. 39
"Needle" Hot Pot
p. 40
Kyoto Vegetable Hot Pot
p. 42
Tofu Hot Pot
p. 45
Kabocha Pumpkin Hot Pot
p. 47
Rustic Soba Noodle Hot Pot
p. 48
Hand-Pulled Noodle Hot Pot
p. 51
Fish and other Seafood
p. 53
Salmon Hot Pot
p. 55
Monkfish Hot Pot
p. 56
Halibut Hot Pot
p. 59
Sea Bass Shabu-Shabu
p. 62
Whole Fish Hot Pot
p. 64
Yellowtail and Daikon Hot Pot
p. 66
Black Cod and Soy Milk Hot Pot
p. 67
Kyoto Mackerel-Miso Hot Pot
p. 69
Old Tokyo Tuna-Belly Hot Pot
p. 71
Sardine Dumplings Hot Pot
p. 72
Hiroshima Oyster Hot Pot
p. 75
"Sleet" Hot Pot
p. 77
"Snow" Hot Pot
p. 78
"Strawberry" Hot Pot
p. 81
Squid Hot Pot
p. 82
Fukagawa Clam Hot Pot
p. 83
Crab Hot Pot
p. 85
Pirate Hot Pot
p. 86
Bay Scallops and Sea Urchin Hot Pot
p. 87
"Anything Goes" Hot Pot
p. 89
Oden
p. 91
Chicken and Duck
p. 93
Hakata Chicken Hot Pot
p. 95
Nagoya Chicken Sukiyaki
p. 96
Old Tokyo Chicken Hot Pot
p. 98
Akita Hunter Hot Pot
p. 101
Chicken and Milk Hot Pot
p. 103
Sumo Wrestler Hot Pot
p. 105
Chicken Curry Hot Pot
p. 107
Duck and Duck Dumpling Hot Pot
p. 108
Duck Gyoza Hot Pot
p. 111
Beef, Pork, Lamb, and Venison
p. 113
Beef Sukiyaki
p. 114
Beef Shabu-Shabu
p. 117
Shabu-Suki
p. 120
Yokohama Beef Hot Pot
p. 123
Beef and Taro Root Hot Pot
p. 124
Pork Shabu-Shabu
p. 126
Pork Miso Hot Pot
p. 127
Pork and Greens Hot Pot
p. 128
Hakata Pork Intestines Hot Pot
p. 130
Pork Kimchi Hot Pot
p. 131
Sake Brewer Hot Pot
p. 133
Lamb Shabu-Shabu
p. 134
Venison Hot Pot
p. 136
Resources
p. 139
Index
p. 143
Table of Contents provided by Ingram. All Rights Reserved.
Excerpts
Hot pots,
what the Japanese call
nabe
(nah-beh), are a fundamental style of Japanese home cooking, which means, by definition, they're simple, fast, and easy to prepare. Many of us, though, have almost no point of reference for Japanese food beyond the local sushi bar, so cooking this cuisine can sometimes seem exotic and intimidating. But here's a secret: with a little know-how, Japanese food is a cinch to make, especially these comforting dishes. In the pages that follow, we'll walk you though everything you need to know, from understanding essential ingredients and seasonings to choosing the right cookware to learning basic techniques. So very soon, whipping up a gorgeous hot pot will become as second nature as roasting a chicken.
What is a Japanese Hot Pot?


Japanese hot pots are a delicious medley of foods poached in broth inside a single cooking vessel, a tempting combination of vegetables, tofu, noodles, seafood, poultry, or meat. They're usually enjoyed in the colder months, but many of these dishes are also eaten year round. They evolved in Japan as wholesome, economical, and complete one-pot meals, especially with rice or noodles added at the finish as is customary. Compared to Western foods, they're heartier than soup but not as dense as stew.
Think of hot pots as a mingling of tasty layers: broth, foundation ingredients (basic foods found in every dish), main ingredients, natural flavorings like soy sauce and miso, and accents and garnishes like wasabi. Each of these enhances the others and together they create the dish. And because the ingredients and flavorings cook in broth, they impart their essence to the liquid as well as to the other foods in the pot. So everything is nuancing everything else all the time--which is why these dishes produce such delightfully vibrant tastes even though they're so easy to make.
Let's take a peek at each of the layers to understand them better.
Broth (and Dashi)
Japanese hot pots come in three basic styles, based on the broth--water and kombu, flavored stock, or a thick broth. In the first, water simmers with kombu, a remarkable kelp (see "The Power of Kombu," page 6). Foods poached in this liquid are then dipped into a sauce to add taste. In the second, stock is combined with flavorings like soy sauce or miso (a fermented paste) to create a complex broth that infuses the foods simmering in it. No need to dip. Finally, there's a thick broth closer to a sauce than a stock, substantial enough to stand up to boldly flavored foods like beef, venison, or oysters.
Japanese-style chicken stock (page 32), mushroom stock, or even sake can form the basis of a hot pot broth, but dashi is the most common. For good reason. The Japanese word for "stock,"
dashi
is both a generic term and one synonymous with the classic stock made from kombu and dried, shaved bonito (a variety of tuna). This is the dashi we refer to throughout the book.
Kombu and bonito are both naturally preserved ingredients, and both remarkable. Giant kelp that can grow several yards long, kombu is dried into ribbons the thickness of cardboard. Bonito undergoes a more extensive transformation, the fish first filleted and boiled, then smoked, covered in mold, and sun-dried to the hardness of oak, a technique dating from the 1600s. All this culinary alchemy concentrates the ample umami naturally found in both ingredients (see "The Umm in Umami," opposite page). And when they combine in dashi--incredibly--their flavor compounds synergize and pack an even greater palate-pleasing wallop.
Making dashi is straightforward: You soak and heat the kombu in water to extract its essence, remove it, then steep the bonito flakes in the liquid, like tea (see Dashi, page 30). Compared to a traditional Western stock, where bones, roots, and herbs are slow-simmered to tease
---

Excerpted from Japanese Hot Pots by Tadashi Ono, Harris Salat
All rights reserved by the original copyright owners. Excerpts are provided for display purposes only and may not be reproduced, reprinted or distributed without the written permission of the publisher.