Note: Supplemental materials are not guaranteed with Rental or Used book purchases.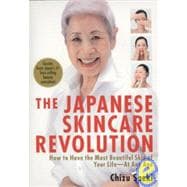 Related Products
Summary
Japanese women are renowned for their beautiful skin, but until now there have been no books in English that reveal the secrets of the successful Japanese beauty routine. The Japanese Skincare Revolution is the first guide for women of all ages and races who want to have beautiful skin like the Japanese but don't want to spend lots of money on cosmetics and treatments to achieve it.Author Chizu Saeki is a practicing esthetician and beauty consultant whose dream is to teach ordinary women how to become more beautiful. To achieve this, she writes books, teaches, and tours Japan, giving demonstrations of the techniques she developed over a career spent in the beauty industry. Her books have sold more than 3 million copies, and the revolutionary ideas presented in this volume have won the approval of Japanese and international skin doctors.The Japanese Skincare Revolutionis the distillation of all of Saeki's most essential techniques. Here, readers are introduced to a unique lotion mask-a moisturizing treatment for keeping the skin fresh and lustrous; massages for toning the muscles of the face; natural, no-nonsense remedies for wrinkles, sagging, oiliness, pimples, and blackheads; "warm care" and "cool care" for soothing the mind and body; water massages to energize the skin; and much, much more.With photos and step-by-step instructions, Saeki shows you how to use your own hands to massage your face like a professional esthetician. She teaches you to use your eyes to judge what your skin needs, and not to overfeed it with too many cosmetics. She leads you toward a well-rounded, sustainable skincare routine, the results of which will amaze you. By following her advice, you'll discover that it's possible to have beautiful skin at any age-without spending a fortune.Proven beauty techniques for people of all ages and skin types!The Japanese Skincare Revolutionis the Japanese woman's skincare bible. In this groundbreaking volume, author and beauty guru Chizu Saeki shares with the world-for the first time-the natural, low-cost techniques she developed over a career spent in the beauty industry. With it, you'll learn what today's Japanese women do to keep their skin looking young and healthy.6 unique massages for toning the muscles of your face and smoothing out wrinklesDo-it-yourself lymph massages for a beautiful neck and chin Sensible instructions for cleansing and washing3-minute moisturizing "lotion mask" to make your skin look fresh and lustrousRemedies for wrinkles, sagging, oiliness, pimples, and blackheadsAnd much, much more
Author Biography

Chizu Saeki has worked in the beauty industry all her life, entering Guerlain at 24 and retiring from Parfums Christian Dior at 60, where she worked for 15 years. She has written more than 30 skincare books, memoirs, and self-help titles-- all bestsellers. She is president of Chizu Corp., which runs an esthetic salon and beauty school in Tokyo. Saeki writes columns for several womens magazines in Japan and regularly appears on Japanese television.