Note: Supplemental materials are not guaranteed with Rental or Used book purchases.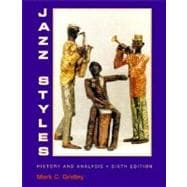 Jazz Styles : History and Analysis
ISBN13:
9780132609852
by
Mark C. Gridley
Prentice Hall Professional Technical Reference
Summary
'Teaching students how to listen and what to listen for in jazz... a highly effective textbook for students who have had little or no exposure to jazz... a broad, penetrating view of jazz history... luminously clear.' - Down Beat
Author Biography
Mark C. Gridley is an active jazz musician and educator. He has done field research in Africa, the Caribbean, and all the jazz centers of America. His books have been translated into five foreign languages. His articles appear in the Grove Dictionaries of Music, Encyclopaedia Britannica, The Musical Quarterly, The Black Perspective in Music, The Instrumentalist, and Jazz Educators Journal.
Table of Contents
Preface
p. v
Acknowledgements
p. xii
A Small Basic CD Collection
p. 1
Introduction
p. 2
Basics of Jazz
What is Jazz?
p. 4
Appreciating Jazz Improvisation
p. 10
Premodern Jazz
Origins of Jazz
p. 28
Early Jazz: Combo Jazz Prior to the Middle 1930s
p. 48
Swing: The Early 1930s to the Late 1940s
p. 80
Duke Ellington
p. 104
The Count Basie Bands
p. 122
Modern Jazz: The Early 1940s to the Early 1960s
Bop: The Early 1940s to the Middle 1950s
p. 133
Cool Jazz
p. 166
Hard Bop
p. 187
Miles Davis, His Groups & Sidemen
p. 214
John Coltrane
p. 240
Modern Jazz: The Early 1960s to the Early 1990s
1960s and 1970s Avant-Garde & "Free" Jazz
p. 256
Bill Evans, Herbie Hancock, Chick Corea, & Keith Jarret
p. 282
Jazz-Rock Fusion
p. 303
1980-2005
p. 328
Appendices
Brief Outline of Jazz Styles
p. 355
Elements of Music
p. 356
Strategies for Album Buying
p. 380
A Small Basic Collection of Jazz Videos
p. 387
Glossary
p. 388
Supplementary Reading
p. 392
Sources for Solo Transcriptions
p. 397
For Musicians
p. 399
Index
p. 410
Table of Contents provided by Ingram. All Rights Reserved.