Note: Supplemental materials are not guaranteed with Rental or Used book purchases.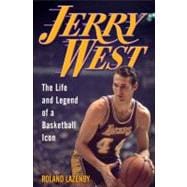 Jerry West : The Life and Legend of a Basketball Icon
ISBN13:
9780345510839
by
Lazenby, Roland
Summary
When in 1969 the NBA sought an emblem for the league, one man was chosen above all as the icon of his sport: Jerry West. Silhouetted in white against a red-and-blue backdrop, West's signature gait and left-handed dribble are still the NBA logo, seen on merchandise around the world. In this marvelous book - the first biography of the basketball legend - award-winning reporter and author Roland Lazenby traces Jerry West's brilliant career from the coalfields near Cabin Creek, West Virginia, to the bare-knuckled pre-expansion era of the NBA, from the Lakers' Riley-Magic-Kareem Showtime era to Jackson-Kobe-Shaq teams of the early twenty-first century, and beyond. But fame was not all glory. Called "Mr. Clutch" West was an incomparable talent-flawless on defense, possessing unmatched court vision, and the perfect jumper, unstoppable when the game was on the line. Beloved and respected by fans and fellow players alike, West was the centerpiece of Lakers teams that starred such players as Elgin Baylor and Wilt Chamberlain, and he went on to nine NBA Finals. Yet in losing eight of those series, including six in a row to the detested Boston Celtics, West became as famous for his failures as for his triumphs. And that notoriety cast long shadows over West's life on and off the court. Yet as the author discovered through scores of exclusive interviews with West's teammates, colleagues, and family members, West channeled the frustration of his darkest moments into a driving force that propelled his years as an executive. And in this capacity, the success that often eluded West on the court has enabled him to reach out to successive generations of players to enrich and shape the sport in immeasurable ways. Though sometimes overshadowed by flashier peers on the court, Jerry West nevertheless stands out as the heart and soul of a league that, in fifty years, has metamorphosed from a regional sideshow into a global phenomenon. And in Jerry West, Roland Lazenby provides the ultimate story of a man who has done more to shape basketball than anyone on the planet.
Author Biography
Roland Lazenby has taught journalism at Virginia Tech and Radford University for two decades and is the author of Mindgames: The Long, Strange Journey of Phil Jackson and The Show: The Inside Story of the Los Angeles Lakers, among other books. He is a frequent contributor to sports documentaries, including ESPN's "Sports Century," and a regular guest on television and radio programs. Lazenby's work has been cited in numerous publications and websites, including Sports Illustrated, the Washington Post, and NBA.com.
Table of Contents
Introduction
p. xiii
Saga
p. 2
West, by God, Virginia
p. 18
Heartbreak
p. 38
The Locomotive
p. 76
The Discovery
p. 112
The Mountaineer
p. 142
The Hopeful
p. 170
The Laker
p. 188
The Horror
p. 212
Misery
p. 246
The Logo
p. 280
The Last Chance
p. 298
A "Wearing Thing"
p. 332
The After Life
p. 362
Acknowledgments
p. 389
Notes
p. 391
Bibliography
p. 401
Index
p. 405
Table of Contents provided by Ingram. All Rights Reserved.
Excerpts
Chapter One

Our grandfather wasn't much of a man.
-Charles West
SAGA
Roane County, West Virginia, December 1910
The small boy placed everything that was his, mostly a few tattered clothes, in a paper bag and set out over the hill for the long walk in the cold to a neighbor's farm. It was Christmas 1910, and his mother had just died. There had been a pine coffin and a hurried funeral, and now he was all alone. Fear and confusion welled up in his ten-year-old heart as he trudged along, holding tightly to that bag.
For the rest of his life, Howard West would think back to that frightful day and his trek over that hill. His mother, Salena Kile West, had slipped away at age forty-one, worn down by a succession of troubled maternities amidst a world of toil. She had birthed nine children in fourteen years, a succession of labors that defined the wretchedness of subsistence farm life in rural West Virginia in the late nineteenth and early twentieth centuries. It was a life wrought with unrelenting difficulty for women in that age before rural electrification. Pregnant year after year, all the while faced with the staggering work load of a farm woman: the cooking, washing, cleaning, cutting wood, and tending stove fires seven days a week. Salena had somehow raised the brood of children needed to scratch out a life from the thin soil of the West Virginia hills in rural Roane County, northeast of Charleston. Like so many women of the period, her life had been an act played out in drudgery and isolation. Her first six pregnancies had brought the supposed blessing of six boys to help with her husband's work, but that also meant that for much of her life, she had been the only female to support a family of seven farming males.
The troubled life of Salena Kile West sprung from circumstances all too familiar for generations of rural women. "Living was just drudgery then," a farm wife from that era recalled. "Living-just living-was a problem. No lights. No plumbing. Nothing. Just living on the edge of starvation. That was the farm life for us."
Without electricity, all of a family's water had to be drawn by hand from either a deep well or a nearby creek. A joke of the times was that farm families had "runnin' water"-you had to run back and forth to get it. An extensive federal study of farm family life of that era said each person used an average of 40 gallons per day. That would have been 440 gallons daily for Salena Kile West's family as she neared her end. Water for cooking. Water for scrubbing the unrelenting farm dirt from clothing. Water for working those washboards that left her hands raw. Water for cleaning the small domicile that housed Salena, her husband, Maxwell "Maxie" West, and their nine children. Water for cooking to feed them all.
Yet hauling water and cutting wood, however difficult, weren't the worst of her plight. That would have been the woodstove itself, which had to be kept roaring hot all day long, seven days a week, summer, fall, winter, and spring. Farm life-and a farm woman's exhaustion- centered on that woodstove. When it went out, the cook fire was infernally difficult to restart, thus it required constant fuel and attention, a welcome enough distraction in winter but a pitiless necessity in summer. And with no electricity and no refrigeration, the preparing and canning of vegetables and produce had to be done as they came ripe and were harvested in the heat of summer and early fall. Farm women had to get things preserved and into jars before they spoiled, just another exhaustion in farming's relentless agenda.
In a speech before Congress, Representative John Rankin of Mississippi recalled the era and his mother "burning up in a hot kitchen and bowing down over the washtub or boiling the clothes over a flaming fire in the summer heat." Everything had to be ironed by heavy irons heated on those woodstoves, and Rankin told of seeing his
---

Excerpted from Jerry West: The Life and Legend of a Basketball Icon by Roland Lazenby
All rights reserved by the original copyright owners. Excerpts are provided for display purposes only and may not be reproduced, reprinted or distributed without the written permission of the publisher.