Note: Supplemental materials are not guaranteed with Rental or Used book purchases.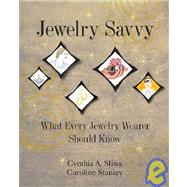 Summary
Are YOU Jewelry Savvy? Intimidated by the seemingly endless choices available in jewelry? Never sure what jewelry pieces look best on you? Own lots of jewelry but never seem to have just the right piece? This guide was created just for you, to answer all your questions. This is the jewelry education you should have received but probably didn't. Use this book to develop your own personal "jewelry savvy"! In this practical, comprehensive guide you will discover how to: Select jewelry that complements your face, figure and personality, Build a jewelry wardrobe or rediscover the one you have, Utilize solid product knowledge when making a purchase, Store, clean and care for your jewelry, from fine to vintage to costume, Buy and sell jewelry using safe, smart methods, Determine whether to restyle, recycle or retire your jewelry, Get the most from the jewelry you own, and so much more! LEARN HOW TO SELECT JEWELRY YOU'LL LOVE, AND HOW TO LOVE THE JEWELRY YOU HAVE! Jewelry Savvy: What Every Jewelry Wearer Should Know is arranged into five parts: I - Your Jewelry Wardrobe is an introduction to the basic categories of jewelry (earrings, necklaces, bracelets, etc.) and a discussion of the physical features of the wearer that might be considered in choosing jewelry. The authors also share smart solutions for jewelry that needs a bit of troubleshooting to work well and fit comfortably. II - Understanding Your Personal Style discusses the additional considerations of personality, face shape and personal color palette; wearing jewelry with eyeglasses; adorning specific body types, and putting it all together for a look that jewelry wearers will find flattering. III - All That Glitters provides a primer on metals, gemstones (with specific chapters on diamonds and pearls) and costume jewelry. IV - Special Interests explores jewelry for men and brides-to-be. V - Now That You're An Aficionado investigates how to acquire the pieces you really want; provides useful recommendations for the care and maintenance, storage and security, and creative recycling of jewelry; and discusses jewelers and appraisals. Jewelry Savvy is written to appeal to those who are just beginning their jewelry collections as well as those who already have a jewelry wardrobe and the book contains a number of Savvy Tips, offering the reader small tidbits of a smart jewelry education throughout its pages.
Author Biography
Cynthia Sliwa, The Image Counselor Cynthia Sliwa approaches jewelry with the passion of a collector. A longtime aficionado of vintage costume jewelry, she left corporate law to study image consulting and to utilize the principles of image consulting in creating a line of fine jewelry for the plus-size market, Apprecia Fine Jewelry. As The Image Counselor(TM), Cynthia is now a certified image consultant who coaches clients on matters of personal and professional style. She provides workshops and presentations on image-related subjects to businesses and works individually with their employees or customers. She especially enjoys working one-on-one with individuals to help them achieve their full potential. Cynthia also writes regular columns on style. She was awarded the Rising Star Award by the Association of Image Consultants International (AICI) in 2005.Caroline Stanley, Red Jewel, Inc.Caroline is a third-generation jeweler who developed her skills in her family's retail jewelry store in Arkansas, Stanley Jewelers Gemologists, now celebrating their 70th anniversary. After a decade in retail sales and management, she moved on to serve the industry in a variety of trade positions, focusing on marketing, communications and education, working with PGI, JA and the JVC. In 2002, Caroline opened her own firm, Red Jewel, Inc., providing industry-savvy marketing, communications and consulting to the jewelry industry.With her varied background, Caroline knows the jewelry industry inside and out, and is considered a marketor and an educator in the industry as well as a creative soul. Today she works with a variety of clients in the jewelry industry and consults internationally, assisting all her clients to achieve their diverse goals.