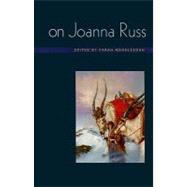 Summary
Joanna Russ, a feminist writer best known for The Female Man (1975), has produced a fierce, intense body of fiction and essays whose influence has been wide-ranging and complex. Her many publications include How to Suppress Women's Writing (1983), and she has won both of science fiction's most prestigious awards, the Nebula and the Hugo. The essays in this volume examine every aspect of Russ's body of work and provide a critical assessment that is long overdue. The first part of the book, "Criticism and Community," gives readers a context for and overview of Russ's works, and includes discussions of Russ's role in the creation of a feminist science fiction tradition. The second part, "Fiction," offers detailed analyses of some of Russ's writing. Contributors include: Andrew M. Butler, Brian Charles Clark, Samuel R. Delany, Edward James , Sandra Lindow, Keridwen Luis, Paul March-Russell, Helen Merrick, Dianne Newell, Graham Sleight, Jenea Tallentire, Jason Vest, Sherryl Vint, Pat Wheeler, Tess Williams, Gary K. Wolfe, and Lisa Yaszek.
Author Biography
FARAH MENDELSOHN teaches at Middlesex University, London. She is the author of Rhetorics of Fantasy (2008) and co-editor of The Cambridge Companion to Science Fiction (2006), winner of a Hugo Award.
Table of Contents
Criricism and Community
Alyx Among the Genres
Russ of Writing Science Fiction, and Reviewing It
A History of One's Own: Joanna Russ and the Creation of a Feminist Science Fiction Tradition
The Female 'Atlas' of Science Fiction? Russ, feminist and the SF community
Learning the 'Prophet Business': The Merrill-Russ Intersection
Fiction
Joanna Russ's The Two of Them in an Age of Third Wave Feminism
Assassin or Avenger-Vandal or Vigilante?
Escape Strategies in Joanna Russ's The Two of Them
Les human beans? Alienation, Humanity and Community in Joabba Russ's On Strike Against God
Kittens Who Run With Wolves: Healthy Girl Development in Joanna Russ's Kittatiny
Medusa Laughs: Birds, Thieves, and Other Unruly Women
Violent Women, Womanly Violence: Joanna Russ's Femmes Fatales
The 'Opposed Aesthetic' in Mina Loy and Joanna Russ
Joanna Russ and D.W. Griffith
Extraordinary People
Castaway: Carnival and Sociobiological Satire in We Who Are About To...
The Narrative Topology of Resistance in the Fiction of Joanna Russ
Table of Contents provided by Publisher. All Rights Reserved.