Note: Supplemental materials are not guaranteed with Rental or Used book purchases.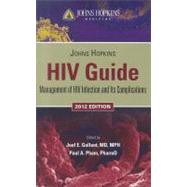 Summary
This handbook from the Director of the Gary Lambert Research Center at John Hopkins University School of Medicine provides comprehensive information on the diagnosis and treatment of HIV/AIDS.
Table of Contents
Foreword
p. viii
Preface
p. ix
Drug Administration and General Abbreviations
p. x
Commonly Used Drug Name Abbreviations
p. xii
Diagnosis
Complications of Therapy
p. 2
Malignancies
p. 13
Miscellaneous: Primary HIV Infection
p. 20
Opportunistic Infections: Bacterial
p. 22
Opportunistic Infections: Fungal
p. 37
Opportunistic Infections: Parasitic
p. 51
Opportunistic Infections: Viral
p. 57
Musculoskeletal Complications
p. 77
Organ System: Cardiac Manifestations of HIV Infection
p. 81
Dermatologic
p. 84
Gastrointestinal and Hepatobiliary
p. 90
HEENT
p. 101
Hematologic
p. 108
Neurologic
p. 115
Psychiatric
p. 119
Pulmonary
p. 130
Renal
p. 132
Drugs
Analgesics
p. 136
Androgens, Anabolic Steroids, and Drugs for Wasting
p. 148
Antimicrobial Agents
p. 165
Antiretrovirals
p. 263
Chemotherapeutic Agents
p. 329
Lipid-Lowering Agents
p. 335
Miscellaneous
p. 346
Psychiatric
p. 365
Management
Antiretroviral Therapy
p. 378
Laboratory Testing
p. 414
Miscellaneous
p. 424
Pathogens
Bacteria
p. 428
Fungi
p. 451
Parasites
p. 459
Viruses
p. 470
Drug-Drug Interaction Tables
p. 479
Index
p. 637
Table of Contents provided by Ingram. All Rights Reserved.