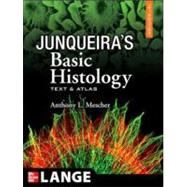 Junqueira's Basic Histology: Text and Atlas, 12th Edition Text and Atlas
by
Mescher, Anthony
Questions About This Book?
What version or edition is this?
This is the 12th edition with a publication date of 8/28/2009.
What is included with this book?
The Used copy of this book is not guaranteed to include any supplemental materials. Typically, only the book itself is included.
Related Products
Summary
With a full-color design and over 600 photomicrographs and illustrations, this classic reigns supreme as the most authoritative and visually striking histology text on the market.
Author Biography
Anthony L. Mescher, Ph.D. is a Professor of Anatomy and Cell Biology at the Indiana University School of Medicine.
.
Table of Contents
Key Features
Preface
Acknowledgments
1.Histology and Its Methods of Study
Preparation of Tissues for Study
Light Microscopy
Electron Microscopy
Autoradiography
Cell & Tissue Culture
Histochemistry & Cytochemistry
Detection Methods Using Specific Interactions Between Molecules
Problems in the Study of Tissue Sections
2.The Cytoplasm
Cell Differentiation
Cytoplasmic Organelles
The Cytoskeleteon
Inclusions
3.The Cell Nucleus
Components of the Nucleus
Cell Division
The Cell Cycle
Stem Cells and Tissue Renewal
Meiosis
Apoptosis
4. Epithelial Tissue
Characteristic Features of Epithelial Cells
Specializations of the Apical Cell Surface
Types of Epithelia
Transport Across Epithelia
Renewal of Epithelial Cells
5.Connective Tissue
Cells of Connective Tissue
Fibers
Ground Substance
Types of Connective Tissue
6.Adipose Tissue
White Adipose Tissue
Brown Adipose Tissue
7.Cartilage
Hyaline Cartilage
Elastic Cartilage
Fibrocartilage
Cartilage Formation, Growth and Repair
8. Bone
Bone Cells
Bone Matrix
Periosteum & Endostreum
Types of Bone
Osteogenesis
Bone Growth, Remodeling, & Repair
Metabolic Role of Bone
Joints
9.Nerve Tissue & The Nervous System
Development of Nerve Tissue
Neurons
Glial Cells & Neuronal Activity
Central Nervous System
Peripheral Nervous System
Neural Plasticity & Regeneration
10. Muscle Tissue
Skeletal Muscle
Cardiac Muscle
Smooth Muscle
Rengeneration of Muscle Tissue
11. The Circulatory System
Heart
Tissues of the Vascular Wall
Structural Plan of Blood Vessels
Vasculature
Lymphatic Vascular System
12. Blood
Composition of Plasma
Blood Cells
13. Hemopoiesis
Stem Cells, Growth Factors, & Differentiation
Bone Marrow
Maturation of Erythrocytes
Maturation of Granulocytes
Maturation of Agranulocytes
Origin of Platelets
14. The Immune System & Lymphoid Organs
Antigens
Antibodies
Cytokines
Cells of the Immune System
Types of Immune Responses
Lymphoid Tissues
Thymus
Musoca-Associated Lymphoid Tissue (MALT)
Lymph Nodes
Spleen
15. Digestive Tract
General Structure of the Digestive Tract
Oral Cavity
Esophagus
Stomach
Small Intestine
Large Intestine
16. Organs Associated with the Digestive Tract
Salivary Glands
Pancreas
Liver
Hepatic Lobule Structure & Function
Biliary Tract & Gallbladder
17. The Respiratory System
Respiratory Epithelium
Nasal Cavities
Sinuses & Nasopharynx
Larynx
Trachea
Bronchial Tree & Lung
Pulmonary Vasculature & Nerves
Pleura
Respiratory Movements
18. Skin
Epidermis
Dermis
Subcutaneous Tissue
Vessels & Sensory Receptors
Hair
Nails
Glands of the Skin
19. The Urinary System
Kidneys
Blood Circulation
Ureters, Bladder, & Urethra
20. Endocrine Glands
Pituitary Gland (Hypophysis)
Adrenal Glands
Pancreatic Islets
Diffuse Neuroendocrine System
Thyroid Gland
Parathyroid Gland
Pineal Gland
21. The Male Reproductive System
Testes
Intratesticular Ducts
Excretory Genital Ducts
Accessory Glands
Penis
22. The Female Reproductive System
Ovaries
Uterine Tubes
Uterus
Vagina
Mammary Glands
23. The Eye and Ear: Special Sense Organs
Eyes: The Photoreceptor System
Ears: The Vestibuloauditory System
Appendix: Light Microscopy Stains
Figure Credits
Index