Note: Supplemental materials are not guaranteed with Rental or Used book purchases.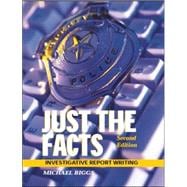 Just the Facts : Investigative Report Writing
ISBN13:
9780131123830
by
Biggs, Michael
Related Products
Summary
Being a good investigator is only half the battle; you must be able to tell your story in writing. Using this text will help you become a better report writer. Just The Facts: Investigative Report Writing, Second Edition is designed to perfectly match the needs of your student. This workbook now has perforated pages that can be easily torn out and turned into the instructor for grading. Each chapter is devoted to a major component of the report writing process and builds on the knowledge gained in the preceding chapter.
Table of Contents
Investigation Basics
Note Taking
The Rules of Narrative Writing
Describing Persons and Property
Crime Reports
Arrest Reports
Issues in Writing
Writing Warrants
Dictating Reports
Index
Table of Contents provided by Publisher. All Rights Reserved.
Excerpts
I am glad I have friends and colleagues who care as much about helping investigators develop and improve their report writing skills as I do. Shortly after the first edition was published in 2001, I started receiving feedback about the text, not only kind words and support, but also a lot of ideas to make it better. These suggestions not only covered a wide variety of areas but also supported the basic premise of the first edition--that there is a need for an entry-level report writing guide that combines some of the basics of investigation with how to write about them. The second edition ofJust the Factsbrings together the good points of the first edition with several new pieces of information that were developed based on the feedback of many people. More than two decades of practice with the rules of writing and exercises--with continual feedback from students, police officers who have attended the class and put these techniques into practice, and other report writing instructors--have convinced me that this system works. This workbook is an attempt to meet the needs of report writing students by establishing fundamental guidelines for investigative reports through a set of rules that are easy to understand and apply in any situation. By following these rules, each major component of investigative report writing can be broken down to its simplest form and examined for weaknesses. These weak points can then be corrected, with immediate improvements made. Each chapter is devoted to a major component of the report writing process and builds on the previous learnings. The chapters provide an overview of what will be discussed and then offer a list of key terms that will be covered in the text. Each chapter concludes with a summary of the chapter, followed by a short review, a set of exercises to build on the material that was covered, and a ten-question quiz. The exercises are designed to build confidence and reinforce the topics just covered. This edition includes some expanded chapters and a reorganization. Chapter 1 covers the basics of investigation, including key definitions, the goal of an investigation, and what steps to take in initiating an investigation. The chapter also offers a list of qualities that superior investigators demonstrate, and provides the reader with the opportunity to compare their traits to them. Chapter 2 is all about note taking, field notebooks, and what the desired outcome is of note taking opportunities. The discussion of notebook types and which one is right for each investigator should prove helpful to those new to the business. Chapter 3 provides the framework for writing good investigative narratives and how to overcome spelling problems. This chapter will give any investigator the skills to write effective reports. Chapter 4 clearly defines the players in a report, including the reporting party, victim, suspect, and witnesses. The chapter not only identifies the people in a report but it also provides some basic guidelines for describing suspects and property. Chapter 5 covers the purpose and uses of crime reports and how to effectively complete the face sheet and a complete narrative. Chapter 6 addresses when an arrest report is needed and how to complete one. It offers suggestions for completing a report when no set format is available. Chapter 7 provides the fundamentals of writing search warrants and begins with an understanding of the parts of a search warrant and the process to be followed in obtaining one. Chapter 8 discusses automated report writing from two perspectives. It reviews the use of computers and technology in police report writing and then addresses the use of dictation. The pros and cons of both systems are discussed. Chapter 9 acts as a summary and brings to the forefront several report writing problems and how to solve them.