Note: Supplemental materials are not guaranteed with Rental or Used book purchases.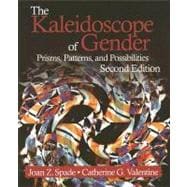 Questions About This Book?
What version or edition is this?
This is the 2nd edition with a publication date of 12/10/2007.
What is included with this book?
The Used copy of this book is not guaranteed to include any supplemental materials. Typically, only the book itself is included.
Summary
'úI have found Spade and Valentine's Kaleidoscope of Gender to be the most effective reader that I have used in my undergraduate Sociology of Gender class, and I was delighted to see what promises to be an even better second edition that recently arrived.'Ě -Linda Grant, University of Georgia 'úIn a substantial theoretical introduction, Spade and Valentine move their discussion forward by introducing their kaleidoscope metaphor which is comprised of the 'úprisms'Ě of culture'¶that intersect to produce patterns of difference and systems of privilege. Because it captures the fluidity and uniqueness of the intricate patterns, the kaleidoscope is a valuable analytical tool. Though it enters a terrain already littered with terminology, this 'úprismatic'Ě understanding of gender has great potential for transforming current conceptualizations.'Ě -Jennifer Keys, North Central College Examining the elusive, evolving construct of gender in a unique text/ reader format An accessible, timely, and stimulating introduction to the sociology of gender, The Kaleidoscope of Gender: Prisms, Patterns, and Possibilities, Second Edition , provides a comprehensive analysis of key ideas, theories, and applications in this field as viewed through the metaphor of a kaleidoscope. This collection of creative articles by top scholars explains how the complex, evolving pattern of gender is constructed interpersonally, institutionally, and culturally and challenges students to question how gender shapes their daily lives. Like the prior edition, the Second Edition maintains a focus on contemporary contributions to the field while incorporating classical and theoretical arguments to provide a broad framework. Integrating a cross-cultural focus and intersectional inquiry, this unique text/reader vividly illustrates that gender is a malleable continuum of prisms, patterns, and possibilities. New to the Second Edition + 27 new readings, including interdisciplinary research articles as well as articles from the popular media, complement the 23 readings retained from the prior edition ¬∑ Updated extensive introductions to each chapter provide a helpful framework for the readings to follow and include the most recent statistics, new concepts, and references ¬∑ Increased emphasis on readings about social movements for equality (Chapter 10), a sharper focus on work (7), and new readings on domestic violence such as an article on rape on college campuses (8) ¬∑ An even greater emphasis on intersectional analysis and a deeper understanding of masculinities Instructor's Resources on CD-ROM : Available to qualified instructors (contact info@sagepub.com), the CD includes ideas for class exercises, video suggestions, assignments, and more. Intended Audience This text/ reader is ideal for undergraduate courses such as the Sociology of Sex and Gender, Gender and Sexuality, Race, Class, Gender, and Sexuality; and related courses in departments of sociology, women's studies, and gender studies.
Table of Contents
Prisms
The Prism Of Gender
Gender as a Social Structure
What it Means to be Gendered Me
Beyond Pink and Blue
The Trouble with Testosterone
Multiple Genders among North American Indians
The Interaction Of Gender With Other Socially Constructed Prisms
Inequality on the Shopping Floor
Toward a New Vision: Race, Class, and Gender as Categories of Analysis and Connection
Asian American Women and Racialized Femininities: "Doing" Gender across Cultural Worlds
"Not all Differences are Created Equal:" Multiple Jeopardy in a Gendered Organization
Gender And The Prism Of Culture
"It's Only a Penis": Rape, Feminism, and Difference
Female Circumcision: Muslim Identities and Zero Tolerance Policies in Rural West Java
Revisiting "Woman-Woman Marriage"
Reinventing Honorable Masculinity: Discourses from a Working-Class Indian Community
Gender and Power
Patterns
Learning And Doing Gender
Playing in the Gender Transgression Zone: Race, Class, and Hegemonic Masculinity in Middle Childhood
"No Way My Boys are Going to be Like That!" Parents' Responses to Children's Gender Nonconformity
The Pervasiveness and Persistence of the Feminine Beauty Ideal in Children's Fairy Tales
Between a "Soft" and a "Hard" Place: Gender, Ethnicity, and Culture in the School and at Home
My Life as a Man
Slut! Growing Up Female with a Bad Reputation
Buying And Selling Gender
The Pink Dragon is Female: Halloween Costumes and Gender Markers
The Anthropometry of Barbie: Unsettling Ideals of the Feminine Body in Popular Culture
Firming the Floppy Penis: Age, Class, and Gender Relations in the Lives of Old Men
Consuming Orientalism: Images of Asian/American Women in Multicultural Advertising
Is He Boyfriend Material? Representation of Males in Teenage Girls' Magazines
Tracing Gender's Mark On Bodies, Sexualities, And Emotions
Size 6: The Western Woman's Harem
Bear Bodies, Bear Masculinity: Recuperation, Resistance, or Retreat?
Doing Gender, Doing Class: The Performance of Sexuality in Exotic Dance Clubs
"If It's Not On, It's Not On" - Or Is It?
Gender and Emotion Management in the Stages of Edgework
Gender At Work
Inequality Regimes: Gender, Class, and Race in Organizations
Selling Women Short on Wall Street: The Myth of Meritocracy
Emerging Theories of Care Work
Hard Drives and Glass Ceilings: Gender Stratification in High Tech Production
Mommies and Daddies on the Fast Track in Other Wealthy Nations
Moral Dilemmas, Moral Strategies, and the Transformation of Gender: Lessons from Two Generations of Work and Family Change
Gender In Intimate Relationships
Thinking about Gender and Power in Marriage - V
Table of Contents provided by Publisher. All Rights Reserved.