Note: Supplemental materials are not guaranteed with Rental or Used book purchases.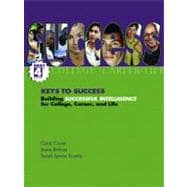 Summary
Since itsrs" publication,Keys to Successhas set the standard for helping readers understand how to be successful in College, Career, and Life. This brief version of the best-selling book builds on this strength, while adding the new dimension of successful intelligence. Through building their ability to think analytically, creatively, and practically, readers can understand their own power to choose and to act as they proceed through life and the world of work. Because this book shows readers how what helps them succeed in college will also serve them on the job and in life,Keys to Successappeals to every age (traditional and older) and stage (full-time, part-time, working, parenting) of reader.All new stories have been introduced to address the current challenges todayrs"s student facese.g., values, goal setting, time management, basic stress management, test taking strategies, balancing school with work, returning to school as an older student, dealing with financial needs, parenting, supporting various lifestyles and schedules, etc.Learning Stylescoverage shows a clearer delineation of the two learning styles assessments and makes them more useful: how you learn (Gardner's Multiple-Intelligences-based assessment) and how you interact with others (Myers-Briggs-based assessment). Provides specific strategies to play to strengths, compensate for weaknesses, and build study skills. This edition contains extensive coverage of common Freshman pitfallsAcademic integrity; choosing a major; stress management; and credit card debt.For students of college and life.
Table of Contents
Defining Yourself and Your Goals
Welcome to College: Opening Doors to Success
Values, Goals, Time, and Stress: Managing Yourself
Learning Styles, Majors, and Careers: Knowing Your Talents and Finding Your Direction
Developing Your Learning Skills
Critical, Creative, and Practical Thinking: Solving Problems and Making Decisions
Reading and Studying: Focusing on Content
Listening, Note Taking, and Memory: Taking in, Recording, and Remembering Information
Test Taking: Showing What You Know
Creating Success
Relating to Others: Communicating in a Diverse World
Wellness, Career, and Money: Building Skills for Life Success
Table of Contents provided by Publisher. All Rights Reserved.