Note: Supplemental materials are not guaranteed with Rental or Used book purchases.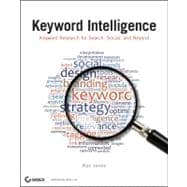 Keyword Intelligence : Keyword Research for Search, Social, and Beyond
ISBN13:
9781118061831
by
Jones, Ron
Summary
This book is the ultimate guide to the crucial, foundational practice of keyword research. Packed with detailed how-to info from one of the world's leading keyword research experts, it will help readers master the fascinating art and science of keyword research. The book begins with a brief introduction to keyword research that explores how the practice has grown and evolved, and that's followed by an overview of how to best develop a keyword research strategy tailored to businesses of different sizes. Keyword research expert Ron Jones then has readers roll up their sleeves learn how to best use the available tools to get keyword suggestions, forecast website traffic, perform competitive research, and analyze results. Readers then are walked step-by-step through how to find the initial set of keywords, refine them using categorization and themes, and filter them with scoring and weighting techniques to determine the best keywords. Ron then walks readers through how to best apply the resultant keywords to SEO and PPC campaigns. Then, in keeping with how the role of keywords is expanding to inform other internet marketing disciplines, Ron shows readers how to use keywords to monitor and engage in conversations in the social media sphere, gain visibility with mobile marketing, and integrate with traditional marketing efforts like press releases. Finally, Ron details the important last step: metrics. He shows readers how to measure keyword performance in SEO, PPC, social, mobile, and video marketing channels using Google Analytics and other tools. This unique, detailed guide to keyword research also features case studies, examples, tutorials, tips, and previously undocumented techniques drawn from Ron Jones' extensive professional experience. Keyword Intelligence is destined to be the resource the entire internet marketing community turns to when they want to know how to best leverage keyword research. The book will also be supported by a frequently updated website that will feature tool overviews and tips, additional articles, and such community features as forums and a blog.
Author Biography
Ron Jones is an Internet marketing expert who speaks regularly on the topic of keyword research at Search Engine Strategies and other international conferences. He conducts keyword research training seminars for organizations including SES, has served on the Board of Directors for the Search Engine Marketing Professionals Organization (SEMPO), and authored SEMPO's keyword research courses. He writes about keyword research for Search Engine Watch and ClickZ. Ron is President and CEO of Symetri Internet Marketing and has consulted with large brands as well as traditional agencies on how to use keyword research and Internet marketing to the fullest potential.
Table of Contents
Introduction xvi
Chapter 1 Keyword Research History and Its Evolving Role in Marketing 1
How Keyword Research Has Evolved 2
Why Keywords and Keyword Research Are Vital for Success 4
Online Searching Begins with a Search Query or Keyword Link 4
Keyword Research Is a Strategic Function 4
Form the Foundation for All Marketing Campaigns 5
Picking the Wrong Keywords Can Waste Time and Money 8
The Six Principles of Keyword Research 9
1. The Secret Formula of Success 9
2. Keyword Relevance 10
3. Keywords and the Buying Cycle 11
4. Broad Keywords vs.Specific Keywords 13
5. The Long Tail 15
6. Keyword Interpretation 22
In Summary 23
Chapter 2 How to Develop a Successful Keyword Strategy 25
Develop Your Marketing Strategy, Plan, and Goals 26
Decide Which Marketing Channels You Will Use 27
How Will You Measure Success? 29
Setting Up SMART Goals 31
Benchmarking 32
Team Members and Their Roles and Goals 32
Organization Design 34
Keyword Competitive Intelligence 37
Look at Your Competitors' Metadata 38
Keyword Gap Analysis 41
What Is Your Competition Seeing about You? 42
Keyword Research Process 42
Brainstorming: Find All Possible Keywords 43
Refine: Identify High-Potential Keywords 43
Categorize: Organize into Categories or Audience Segments 45
Test: Test and Validate Keyword Performance 46
Summary 46
Chapter 3 Keyword Research Tools 47
Keywords and the Search Funnel 48
Searches 48
Search Engine Results Page 49
Search Clicks 50
Conversions 50
Building Your Toolset 51
Where Does Keyword Data Come From? 51
Why Do Different Tools Report Different Numbers? 52
Keyword Tools That Streamline Processes and Save Time 53
Stage 1 and 2 Keyword Tools 53
Keyword Discovery 54
WordStream 62
Wordtracker 65
Search-Engine-Specific Tools 69
Google AdWords Keyword Tool 69
Google Insights for Search 73
Google Trends 73
Microsoft Advertising Intelligence 74
Stage 3 and 4 Keyword Tools 75
Keyword Competitive Analysis Tools 75
SpyFu 76
KeywordSpy 77
iSpionage 77
comScore Search Planner 78
Hitwise Search Intelligence 79
Compete Pro Search Analytics 80
Summary 80
Chapter 4 Finding Keywords 81
Building Your Keyword Toolset and Methodology 82
Computer Automated vs.Computer Aided 82
Brainstorming and Seed Keywords 83
Seed Keywords 83
Mind Mapping 85
Where to Find Good Keywords 87
Within Your Company 88
Company Statements 88
Press Releases and News Articles 89
Your Company's Website 89
Within Your Industry 94
What Is Your Niche? 94
Magazines and Trade Journals 95
Membership Organizations 95
Trade Organizations 96
From Your Competition 96
From Social Media and Blogs 97
Focus Groups and Surveys 98
Hashtags 98
Social Tagging and Tag Clouds 99
Blogs and Discussion Boards 100
Keyword Modification Techniques 101
Thesaurus 101
Plural and Singular Forms 102
Misspellings and Typos 102
Prefixing 103
Suffixing 103
Keyword Stemming 104
Summary 106
Chapter 5 Refine Your Initial List of Keywords in Seven Steps 107
The Keyword Refinement Process 108
Step 1: Categorization and Audience Segmentation 109
Audience Segmentation 109
Step 2: Scoring for Relevance 110
Step 3: Scoring for Specificity 112
Step 4: Scoring for Competitiion 114
Step 5: Scoring for Popularity 117
Step 6: Overall Scoring and Prioritization 120
Step 7: Keyword Interpretation 122
Seasonality of Keyword Usage 123
Understanding Ambiguity 124
Conclusion 126
Chapter 6 Using Keywords for SEO 127
Keywords and Their Role in SEO 128
How Many Keywords Should I Use for SEO? 129
Keyword Optimization 130
Keywords in Domain Names 130
Keywords in URLs and File Structures 131
Keywords in HTML and Tags 133
Keyword Density, Frequency, and Prominence 136
Keywords and Link Building 137
Internal Links 137
Contextual Link Building 138
Optimizing Image and Video Assets with Keywords 142
For Images 143
For Video 146
Summary 150
Chapter 7 Using Keywords for PPC 151
Keywords and Their Role in PPC 152
Keyword Categories and Ad Groups 152
Ads and Ad Groups 156
Using Keywords in your Headlines 156
Dynamic Keyword Insertion 157
Ask the Question 158
Descriptions 159
Qualify Your Traffic 160
Launch Campaign—Measure and Tweak 160
Keywords and Quality Score 160
Quality Score Factors 161
Steps to Achieve a High Quality Score 162
Quality Score Case Study 163
Using Negative Keywords 164
Which Matching Type Should You Use? 165
When to Use Negative Keywords 166
Benefits of a Negative Keyword List 167
How to Find Negative Keywords 167
Search Funnels 168
How Many Ads Do Your Users View Before They Convert? 169
How Long Does It Take Before Users Convert? 170
What Is Your Customer's Search Process? 171
What Are the Most Common Paths Your Users Take to Convert? 172
What Are the Enabling Keywords that Support Your Conversions? 172
Summary 173
Chapter 8 Using Keywords for Social Media 175
Role of Keywords and Social Media 176
What Is Social Media? 177
Social News 177
Social Sharing 178
Social Networks 178
Social Bookmarking 179
Benefits of Social Media 179
Social Media Strategy 180
1. Listen 181
2. Identify Goals and Objectives 182
3. Develop Your Plan and Time Your Content 182
4. Develop Your Content 183
5. Engage 184
6. Measure 185
Social Media Keyword Research Tools 189
Keyword Research for YouTube 190
Keyword Research for Twitter 191
What Is Twitter? 192
Understanding Twitter Lingo 193
Tools for Using Twitter and for Keyword Research 194
Keyword Research for Facebook 197
Keyword Optimization for Facebook 198
Keyword Research for Blogging 201
What Is a Blog? 202
Blogging and Keyword Research 205
Summary 206
Chapter 9 Using Keywords for Mobile and Local 207
Local Search Visibility 208
Local Keyword Research 208
Step 1: Classify Keyword Phrases 208
Step 2: Localize Your Keywords 209
Step 3: Combine Keyword Parts 212
Step 4: Local Business Competition 213
Optimize Your Site Using Local Keywords 213
Solicit Local Links 214
Use Keywords for Local Listings 215
Update or Add Your Site on Local Search Engines 215
Mobile Keyword Research 217
Google Suggest Mobile 218
Google Keyword Tool for Mobile 219
Google Webmaster Tools Query Stats 220
Developing a Mobile Strategy 220
1. Define Target Audience and Personas 221
2. Conduct Your Research 221
3. Develop Your Mobile Solution 221
4. Design Your Pricing Model 221
5. Develop Your Support Model 222
6. Develop Retention or Loyalty Program 222
Summary 223
Chapter 10 Keywords and Site Architecture 225
Understanding Site Architecture 226
Step 1: Your Site Structure 227
Step 2: Keyword Modeling 229
Step 3: Developing Your Personas 234
Step 4: Content Design 237
Step 5: Wireframes and Prototyping 238
Summary 241
Chapter 11 Creating Great Content with Keywords 243
The Importance of Quality Content 244
Writing for the Web 246
Writing for Search Engines 247
Copywriting 247
Writing Great Headlines 247
Web Page Body Copy 249
Content Management 250
Content Marketing 251
Digital Asset Optimization 253
Identify Media Types for Targeted Keywords 254
Use Keywords in Filenames and Tags 254
Map Keywords to Digital Assets 254
Summary 255
Chapter 12 Using Keywords for Branding and Messaging 257
Keywords Research for Branding and Messaging 258
The Keyword Research Brief 259
Five Elements of a Keyword Research Brief 259
Keywords in Press Releases 262
Keyword Research Techniques for Press Releases 264
Keywords in Brand Positioning 265
Six Steps to Stronger Brand Positioning 265
Summary 268
Chapter 13 International Keyword Research 269
The Challenges of International Keyword Research 270
Researching in Other Languages 271
International Keyword Research Process 271
Step 1: Discovery, Refinement, and Segmentation 272
Step 2: Variations in Different Languages 272
Step 3: Translation 273
Step 4: Find The Right Partner 274
Expanding Your International Keyword Lists 277
Keyword Research Tools 277
Summary 278
Chapter 14 Keyword Measurement 279
Defining Metrics for Success 280
Measuring Keyword Performance 280
Using PPC to Test Keywords and Marketing Messages 281
Keyword Rank Reports 286
Keyword Monitoring in Google Webmaster Tools 286
Other Rank Reports 288
Keyword Monitoring in Google Analytics 289
Keyword Analysis Spreadsheet Tracking 291
Summary 293
Introduction 295