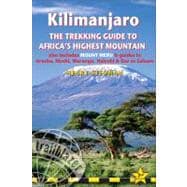 Kilimanjaro - a trekking guide to Africa's highest mountain, 3rd (includes Mt Meru and city guides to Nairobi, Dar es Salaam, Arusha, Moshi and Marangu)
by
Stedman, Henry
Summary
Fully updated third edition of this practical guidebook and detailed maps to Africa's most popular trek and highest mountain, Kilimanjaro; also includes Mount Meru.
Author Biography
Henry Stedman is a professional tour leader and a trekker of considerable experience, having hiked in the Himalaya, China, Pakistan, Lebanon, the Philippines, Sumatra and Madagascar.
Table of Contents
Introduction
Planning Your Trip
With a group or on your own? (Independent trekking not an option, With friends, On your own?)
Budgeting (Accommodation, Food, Transport)
When to go, Booking your trek (Booking with an agency at home, Booking with an agency in Tanzania, Signing the contract, The cost: why is it all so expensive?, Tipping)
The crew (Porters, Guides)
Getting to Kilimanjaro (By air, Overland)
Route options (Getting to the mountain, Getting up the mountain)
What to take (Clothes, Other equipment, What to pack it in, Maps, Recommended reading)
Internet sites, Health precautions, inoculations and insurance (Fitness, Inoculations, Insurance)
Tanzania
Facts about the country (Geography, Climate, History, Economy, The people)
Practical information for the visitor (Documents and visas, Airport tax, Money, Tourist offices, Getting around, Accommodation, Electricity, Time, Post and telecommunications, Holidays and festivals, Food, Drinks, Things to buy, Security, Health
Kilimanjaro
Geology (The glaciers)
Climate, The history of Kilimanjaro (Early history, The outsiders arrive, The 1800s: Pioneers, Preachers , First attempts at the summit, Colonization, Kilimanjaro conquered, After Meyer)
Kilimanjaro today, Flora and fauna, The people of Kilimanjaro: the Chagga (Origins, Social structure and village life, Religion and ceremonies)
Kilimanjaro economy
Arriving In East Africa - Nairobi, Dar Es Salaam, Kilimanjaro Airport
Dar es Salaam (Arrival, Orientation and getting around, Services, Where to stay, Where to eat, A tour of the city, Moving on to Kilimanjaro)
Nairobi (Arrival, Orientation and getting around, Services, Where to stay, Where to eat, A tour of the city, Moving on to Kilimanjaro)
Kilimanjaro International Airport
Arusha, Moshi And Marangu
Kilimanjaro International Airport, Arusha (Arrival, Orientation and getting around, Services, Where to stay, Where to eat and drink, What to do, Trekking agencies, Getting away)
Moshi (Arrival, Orientation and getting around, Services, Where to stay, Where to eat and drink, What to do, Trekking agencies, Getting away)
Marangu (Practicalities)
Minimum Impact and Safe Trekking
Minimum impact trekking, Safe trekking (What is AMS, HACO and HAPO, How to avoid it, How to treat it, Other potential health problems)
Mount Meru
Introduction, Practicalities
Momela Gate to Miriakamba Huts
Miriakamba Huts to Saddle Huts, Map B
Saddle Huts to Meru Summit
Miriakamba Huts to Momela Gate
Trail Guide and Maps
Using this guide, About the maps in this guide, The Marangu Route
Marangu Gate to Mandara Huts
Mandara Huts to Horombo Huts
Horombo Huts to Kibo Huts
Kibo Huts to Gillman's Point and Uhuru Peak
The Machame Route
Machame Gate to Machame Huts
Machame Huts to the New Shira Camp
New Shira Camp to Barranco Huts, Ascent of Kibo via the Arrow Glacier (Western Breach)
Barranco Huts to Barafu Huts
Barafu Huts to Stella Point and Uhuru Peak
The Rongai Route
Loitokitok village to First Cave Campsite
First Cave Campsite to Third Cave Campsite, The Mawenzi Tarn Hut Route
Third Cave Campsite to School Hut
School Hut to the Kibo trail and Gillman's Point
The Shira Plateau and Lemosho routes, Umbwe Route
Umbwe Gate to Umbwe Cave Campsite
Umbwe Cave Campsite to Barranco Huts
The descent routes: Marangu Route, The Mawenzi Route to Horombo, Mweka Route, Alternative Mweka (Kidia) Route
The Summit
What's at the top?, Walking on the summit
Appendices
Swahili
Flights to Kilimanjaro
Tanzanian & Kenyan embassies abroad
Useful websites
Recommended reading, listening and watching
Index
Table of Contents provided by Ingram. All Rights Reserved.
Excerpts
Introduction
Kilimanjaro is a snow covered mountain 19,710 feet high, and is said to be the highest mountain in Africa. Its western summit is called the Masai 'Ngà'je Ngài', the House of God. Close to the western summit there is the dried and frozen carcass of a leopard. No one has explained what the leopard was seeking at that altitude.
Ernest Hemingway in the preamble toThe Snows of Kilimanjaro
On 22 November, 2001, Bruno Brunod of Italy stood at Marangu Gate on the southern slopes of God's greatest mountain, Kilimanjaro. We can imagine the scene at the gate that day, for it's a scene that's repeated there every day of the year. There would be the noisy, excitable hubbub as porters, guides and rangers packed, weighed, re-packed and re-weighed all the equipment; the quiet murmur of anticipation from Bruno's fellow trekkers as they stood on the threshold of the greatest walk of their lives; maybe there was even a troop of blue monkeys crashing through the canopy, or the scarlet flash of a turaco's underwing as it glided from tree to tree, surveying the commotion below.
Signore Brunod's main goal that day was no different from the ambitions of his fellow trekkers:?he wanted to reach the summit. Unlike them, however, Bruno planned to forego many of the features that make a walk up Kili so special. Not for him the joys of strolling lazily through the mountain's four main eco-zones, pausing occasionally to admire the views or examine the unique mountain flora. Nor did Bruno want to experience the blissful evenings spent scoffing popcorn, sharing stories and gazing at the stars with his fellow trekkers. Nor, for that matter, was Bruno looking forward to savouring the wonderful esprit de corps that builds between a trekker and his or her crew as they progress, day by day, up the mountain slopes; a sense of camaraderie that grows with every step until, exhausted, they stand together at the highest point in Africa.
It is these experiences that make climbing Kilimanjaro so unique and so special. Yet Bruno had chosen to eschew all of them; because, for reasons best known to himself, he had decided to run up the mountain. Which is exactly what he did, completing the ascent in a matter of 5 hours 36 minutes and 38 seconds – on a trail that takes the average trekker anywhere from four to six days to complete!
---

Excerpted from Kilimanjaro - a trekking guide to Africa's highest Mountain, 3rd: (includes Mt Meru and city guides to Nairobi, Dar es Salaam, Arusha, Moshi and Marangu) by Henry Stedman
All rights reserved by the original copyright owners. Excerpts are provided for display purposes only and may not be reproduced, reprinted or distributed without the written permission of the publisher.