Note: Supplemental materials are not guaranteed with Rental or Used book purchases.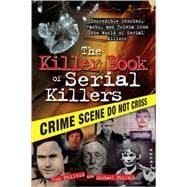 The Killer Book of Serial Killers
ISBN13:
9781402213854
by
Philbin, Tom
Questions About This Book?
What version or edition is this?
This is the edition with a publication date of 1/1/2009.
What is included with this book?
The New copy of this book will include any supplemental materials advertised. Please check the title of the book to determine if it should include any CDs, lab manuals, study guides, etc.
The eBook copy of this book is not guaranteed to include any supplemental materials. Typically only the book itself is included.
Summary
The Killer Book of Serial Killersis the ultimate resource (and gift) for any true crime fan and student of the bizarre world of serial killers. Filled with stories, trivia, quizzes, quotes, photos, and odd facts about the world's most notorious murderers, this is the perfect bathroom reader for anyone fascinated with serial killers. The stories and trivia cover such killers as: John Wayne Gacy Ted Bundy The BTK Killer Jack the Ripper The Green River Killer Serial killers around the world And many more Bathroom readers have enjoyed considerable success as a format, selling millions of copies. The Killer Bookseries brings this format to the rabid true crime audience. Including more than 40 black & white photos, this is a must for true crime fans.
Table of Contents
Introduction
p. v
The Fiends Among Us
Meet the Serial Killer
p. 3
American Serial Killers
Albert Fish
p. 15
Bobby Joe Long
p. 27
Ted Bundy
p. 33
Dean Corll
p. 45
Gary Heidnik
p. 53
John Wayne Gacy
p. 65
Albert DeSalvo
p. 81
Jerry Brudos
p. 93
Henry Lee Lucas and Ottis Toole
p. 103
Jeffrey Dahmer
p. 113
David Berkowitz
p. 119
Kenneth Bianchi and Angelo Buono Jr.
p. 129
Dennis Rader
p. 137
Edmund Kemper
p. 143
Richard Ramirez
p. 151
Robert Hansen
p. 157
Harvey Glatman
p. 169
Ed Gein
p. 175
Wayne Williams
p. 183
Gary Ridgway
p. 187
Leonard Lake and Charles Ng
p. 191
Aileen Wuornos
p. 197
Serial Killers Worldwide
Ivan Robert Marko Milat, Australia
p. 205
Paul Bernardo and Karla Homolka, Canada
p. 213
Pedro Lopez, Colombia
p. 221
Dennis Nilsen, England
p. 227
Henri Landru, France
p. 233
Peter Kurten, Germany
p. 237
Bela Kiss, Hungary
p. 245
Ahmad Suradji, Indonesia
p. 249
Yoshio Kodaira, Japan
p. 253
Arnfinn Nesset, Norway
p. 257
Karl Denke, Poland
p. 263
Andrei Chikatilo, Russia
p. 265
Moses Sithole, South Africa
p. 271
In Their Own Words
Dennis Rader: Court Transcript of His Confession
p. 277
Gary Ridgway, the Green River Killer
p. 303
Edmund Kemper
p. 305
Test Your Serial Killer Iq
p. 309
Index
p. 331
About the Authors
p. 345
Table of Contents provided by Ingram. All Rights Reserved.
Excerpts
Excerpt from Chapter 1: Meet the Serial KillerSerial killers are a lot different from regular murderers. Most people who commit murder do so out of passion and anger. When homicide cops investigate, they usually look at family members as suspects first. There are, of course, people who plan a murder for financial or other gain, but murder is most often a crime of passion. Serial killers are much different; they kill many people, almost all of whom are usually strangers, over a period of time, and usually with some sort of cooling-off period between killings.According to the FBI, a serial killer is someone who has killed a minimum of three people. We agree that this generally is a true definition, but we would also put firmly into the serial killer category those killers who were stopped from murdering before they reached three victims because they were caught or otherwise incapacitated, but who, because of the way they committed their crimes, would have killed at least three - maybe many more.The Canadian Paul Bernardo and his masochistic lover Karla Homolka are prime examples of this: They killed three people, but as one of the murders was legally categorized as manslaughter, they aren't "official" serial killers because only two of their killings are considered first degree murder. But a close look at the murderous drive inside the two - a drive that facilitated the rape and murder of young girls, including Karla's younger sister - reveals that there was no way they would have stopped killing had they not been caught. (More on Paul Bernardo and Karla Homolka in Chapter 25.)The Answer Is Found in Childhood So, then, what creates a serial killer? Why this compulsion - and it is a compulsion - to kill multiple times?Some people think that the compulsion to kill may be the result of trauma to the brain. This is what the Tampa, Florida, serial killer Bobby Joe Long thought drove him to rape and murder women; he claimed that, before a motorcycle accident that caused severe head trauma, he never thought about killing women.Some psychiatrists think it's genetic, that an aberration of some sort occurs and puts people on a homicidal path. Another potential reason is that something dreadful happens to the human psyche when a child is shipped to an orphanage, or given up to a foster care system. Author John Bowlby says in his book The Making and Breaking of Affectional Bonds (1979), "In psychopaths the incidence of illegitimacy and the shunting of the child from one home to another is high. It is no accident that Ian Brady of the Moors murders was such a one."Most psychiatrists are usually vague about exactly what compels someone to kill people, and it's true that there is no definitive answer. However, most doctors believe that serial killers are programmed in their childhoods to be killers - and it's not just doctors who feel that way. Most investigators who are close to these crimes and criminals agree, people like the FBI's John Douglas and Robert Ressler, premier profilers and investigators who have been investigating serial killers since the term was coined in the 1970s.We believe that to understand the why of serial killers, one has to first accept the existence of the unconscious mind: that things are going on it constantly and that it is capable of controlling behavior. When a child is abused in one way or another by parents, the anger and terror he or she feels is hidden in the unconscious, which becomes like a seething cauldron, and the child starts looking for ways to deal with the terrifying feelings emerging from it. Someone in the family, usually the mother or father, has clearly shown the child that he or she has no value except perhaps as a sex object or someone to hurt. A terrible fear builds up in the child's unconscious tha