Note: Supplemental materials are not guaranteed with Rental or Used book purchases.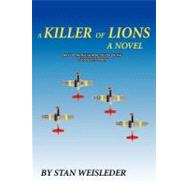 A Killer of Lions: A Novel Based on the Heroic Deeds of the Tuskegee Airmen
ISBN13:
9781884092183
by
Weisleder, Stan
Summary
A Killer of Lions tells the stirring story of "Buddy" A. Bowman, Jr., who ignores racial prejudice to heed his country's call to enlist in the armed forces during World War II. Against his parents' wishes, Buddy defies the military's official policy of "Negro inferiority" and successfully bucks the system to follow his dream. Going from Harlem to the segregated South, he enters the Army, advances to flight school, and is eventually given assignments over Italy and central Europe. As part of the 332nd Fighter Group -- four squadrons of black pilots -- Buddy experiences ultimate glory over the skies of Germany fighting the Luftwaffe. On his last mission, Buddy is shot down over the Balkans and captured by the Nazis, but escapes into the Romanian countryside to join up with a band of Partisans, where he has a torrid love affair with Mariza. This compellingly authentic story of a fledgling aviator's trials of manhood filled with near death episodes is not only certain to satisfy lovers of WWII adventure stories , but is also a significant addition to the literature on African-American achievement and the heroic deeds of the Tuskegee Airmen.
Table of Contents
Acknowledgments
Author's Note
Prologue
A Long Way from St. Louis
A Time Like No Other Time
We Don't Need Any Night Fighters
Private Bowman
The Jock Strap of the Army Air Corps
They're Going to Let Us Try and Make It
Tuskegee
Lt. Col. Davis
The Cadets
White Folks and His Niggers
For Whites Only
Tina
Captain Richardson Redux
Don't Sit Under the Apple Tree
Resignation
Let My People Go
Casablanca
The Train Ride to Oued N'ja
Lt. Col. Philip Cochran
First Victory
Another Court Martial
Anzio
I Got Me a Triple
I Christen Thee Tina, The Macon Belle
A Good Ol' Boy
Born in Mud and Baptized in Blood
If You Try on That Hat, You Done Bought It
Twice as Good as the White Boys
Ploesti Briefings
The Ploesti Raid
Hauptman Steinbrenner
It's Now or Never
The Partisans
Mariza
The Neretva
The Land of the Free
Did You Ever Make a Night Drop?
Once a Jock Strap Always a Jock Strap
In the Name of the President
I Have My Dream
Epilogue
Afterword
Table of Contents provided by Publisher. All Rights Reserved.