Note: Supplemental materials are not guaranteed with Rental or Used book purchases.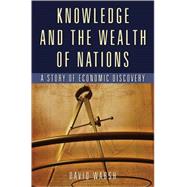 Knowledge and the Wealth of Nations : A Story of Economic Discovery
ISBN13:
9780393059960
by
Warsh, David
Summary
A stimulating and inviting tour of modern economics centered on the story of one of its most important breakthroughs. In 1980, the twenty-four-year-old graduate student Paul Romer tackled one of the oldest puzzles in economics. Eight years later he solved it. This book tells the story of what has come to be called the new growth theory: the paradox identified by Adam Smith more than two hundred years earlier, its disappearance and occasional resurfacing in the nineteenth century, the development of new technical tools in the twentieth century, and finally the student who could see further than his teachers. Fascinating in its own right, new growth theory helps to explain dominant first-mover firms like IBM or Microsoft, underscores the value of intellectual property, and provides essential advice to those concerned with the expansion of the economy. Like James Gleick's "Chaos" or Brian Greene's "The Elegant Universe," this revealing book takes us to the frontlines of scientific research; not since Robert Heilbroner's classic work "The Worldly Philosophers" have we had as attractive a glimpse of the essential science of economics.
Table of Contents
The discipline
p. 3
"It tells you where to carve the joints"
p. 9
What is a model? how does it work?
p. 28
The invisible hand and the pin factory
p. 37
How the dismal science got its name
p. 48
The underground river
p. 61
Spillovers and other accommodations
p. 72
The Keynesian revolution and the modern movement
p. 88
"Mathematics is a language"
p. 108
When economics went high-tech
p. 126
The residual and its critics
p. 140
The infinite-dimensional spreadsheet
p. 158
Economists turn to rocket science, and "model" becomes a verb
p. 166
New departures
p. 179
"That's stupid!"
p. 195
In Hyde Park
p. 203
The u-turn
p. 214
The keyboard, the city, and the world
p. 228
Recombinations
p. 249
Crazy explanations
p. 261
At the ski lift
p. 276
"Endogenous technological change"
p. 289
Conjectures and refutations
p. 305
A short history of the cost of lighting
p. 327
The ultimate pin factory
p. 343
The invisible revolution
p. 370
Teaching economics
p. 382
Table of Contents provided by Blackwell. All Rights Reserved.