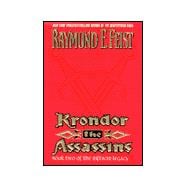 Krondor : The Assassins
by
FEIST R
HarperCollins Publications
Summary
Newly returned from battle, Prince Arutha is puzzled by a rash of assassinations plaguing his city, and commissions his most trusted agent, Squire James -- a former thief -- to discover the cause. The answers seem to lie far beneath the streets in the dank depths of Krondor, where a secret war rages between two criminal gangs. But the deeper the Squire delves, the closer he gets to the true nature of the bloodshed. Unless James can prevent one last, unthinkable slaying, the nightmare forces of corruption and deceit will destroy his liege and reduce his beloved Krondor to ruins.
Table of Contents
Prologue: Departures
p. 1
Escape
p. 13
Krondor
p. 35
Reception
p. 59
Surprises
p. 81
Secrets
p. 101
Confusion
p. 119
Ambush
p. 137
Attack
p. 157
Decisions
p. 173
Revelation
p. 191
Stealth
p. 209
Improvisation
p. 227
Concealment
p. 245
Murders
p. 269
Desperation
p. 293
Discovery
p. 311
Misdirection
p. 325
Unmasking
p. 343
Encounters
p. 363
Table of Contents provided by Syndetics. All Rights Reserved.