Note: Supplemental materials are not guaranteed with Rental or Used book purchases.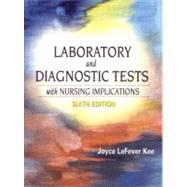 Related Products
Summary
For Medical Surgical Nursing or Lab and Diagnosis courses.Laboratory and Diagnostic Tests with Nursing Implications is designed to provide nursing students with the necessary information regarding laboratory and diagnostic tests and corresponding nursing implications. It gives quick, pertinent information about the tests, emphasizing the purposes, procedure and nursing implications with rationale. The sixth edition lists more than 400 laboratory and diagnostic tests with approximately 28 new tests.
Author Biography
Joyce LeFever Kee is Associate Professor Emerita, College of Health and Nursing Science, University of Delaware, Newark, Delaware.
Table of Contents
Preface
ix
Acknowledgments
xiii
Introduction
xv
The Importance of Specimen Collection
xv
Instructions for Laboratory and Diagnostic Tests
xviii
Contributors, Consultants, and Reviewers
xxi
1
(458)
459
(180)

| | |
| --- | --- |
| | Laboratory/Diagnostic Assessments of Body Function |

639
(100)

| | |
| --- | --- |
| | Therapeutic Drug Monitoring (TDM) |

739
(8)
Appendix A. Abbreviations
747
(6)
Appendix B. Laboratory Test Groups
753
(6)
Appendix C. Laboratory Test Values for Adults and Children
759
(28)
Bibliography
787
(8)
Index
795
Excerpts
Each day hundreds of thousands of laboratory and diagnostic tests are performed and thus nursing responsibilities are forever increasing. Nurses should understand laboratory and diagnostic tests and should provide nursing implications through nursing assessment, judgment, implementation, teaching, and interaction. Laboratory and Diagnostic Tests with Nursing Implications, Sixth Editionis designed to provide nurses and other health professionals with the necessary information regarding laboratory and diagnostic tests and corresponding nursing implications. It gives quick, pertinent information about the tests, emphasizing the purposes, procedure, and nursing implications with rationale. Reference values are given for adults and children. The tests (laboratory and diagnostic) are arranged in alphabetic order which provides the user with a quick access to the tests. This text is appropriate for students in various types of nursing programs, including students in masters, baccalaureate, associate degree, diploma, and practical nursing programs. This book should be most valuable to the registered nurse and licensed practical nurse in hospital settings, including specialty areas such as the ICU and emergency room, clinics, health care provider offices, and in independent nursing practice. The sixth edition The sixth edition lists more than 400 laboratory and diagnostic tests with approximately 28 new tests added to this edition. Major additions and revisions made include: Selected new laboratory tests: High sensitivity C-reactive protein (hs CRP) helpful in detecting risk for coronary artery disease (CAD); amyloid beta protein precursor that aids in the diagnosis of Alzheimer's disease; viral cultures using various specimens; hematologic tests such as fetal hemoglobin (Hb F), methemoglobin, D-Dimer test to aid in the detection of disseminated intravascular coagulation (DIC), Heinz Bodies for detecting hemoglobinopathies, platelet antibody test to detect thrombocytopenia that may be druginduced; and antibody tests such as parvovirus B 19 antibody, antismooth muscle antibody, antiscleroderma antibody, and antiparietal cell antibody tests. Selected new diagnostic tests: Bone densitometry, corneal staining, cystometry, fetal nonstress test, fetoscopy, electronystagmography, laparoscopy, sleep studies, and thoracoscopy. Latest tests (antigen and antibodies) for human immunosuppressive virus-type (HIV-1 and HIV-2) and hemoglobin A 1 c updated. Latest updated data for diagnostic tests: magnetic resonance imaging (MRI)~ computed tomography (CT), angiography, cardiac catheterization, nuclear scans, Pap smear, mammography, various gastrointestinal tests, various stress tests, positron emission tomography (PET), echocardiography, Holter monitoring, pulmonary function tests, and ultrasonography. Additional Therapeutic Drug Monitoring (TDM) information. Updated Laboratory Test Groups (Appendix B). Updated Laboratory Test Values for Adults and Children that are listed according to the laboratory departments (Appendix C). Organization Each test is discussed in seven subsections in the following sequence: (1) reference values/normal findings, (2) description, (3) purpose, (4) clinical problems, (5) procedure, (6) factors affecting laboratory or diagnostic results, and (7) nursing implications with rationale. Following the name and initials for each test, there may be names of other closely associated tests.Reference values/normal findingsare given for children and adults, including the elderly. Thedescriptionfocuses on background data and pertinent information related to the test. The generalpurposefor each test is listed.Clinical problemsinclude disease entities, drugs, and foods that cause or are associated with abnormal test results. Theprocedureis explained with a rationale for the test and with