Note: Supplemental materials are not guaranteed with Rental or Used book purchases.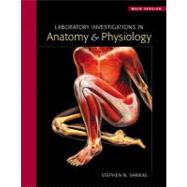 Laboratory Investigations in Anatomy & Physiology Main Version
ISBN13:
9780805353211
by
Sarikas, Stephen N.
Questions About This Book?
Why should I rent this book?
Renting is easy, fast, and cheap! Renting from eCampus.com can save you hundreds of dollars compared to the cost of new or used books each semester. At the end of the semester, simply ship the book back to us with a free UPS shipping label! No need to worry about selling it back.
How do rental returns work?
Returning books is as easy as possible. As your rental due date approaches, we will email you several courtesy reminders. When you are ready to return, you can print a free UPS shipping label from our website at any time. Then, just return the book to your UPS driver or any staffed UPS location. You can even use the same box we shipped it in!
What version or edition is this?
This is the 1st edition with a publication date of 1/10/2006.
What is included with this book?
The New copy of this book will include any supplemental materials advertised. Please check the title of the book to determine if it should include any CDs, lab manuals, study guides, etc.
The Used copy of this book is not guaranteed to include any supplemental materials. Typically, only the book itself is included.
The Rental copy of this book is not guaranteed to include any supplemental materials. You may receive a brand new copy, but typically, only the book itself.
Related Products
Summary
This concise lab manual moves beyond "cookbook"-style lab instruction to help you develop the investigative skills required for a successful career in health care. Consistently emphasizing the relationship between structure and function, author Stephen Sarikas guides you in predicting outcomes and interpreting what you experience in the lab. Through the use of an engaging "connected learning" technique, each exercise step builds on the last to help you understand complex ideas and make connections between concepts. Book jacket.
Table of Contents
Preface
ix
Introduction to Anatomy & Physiology

| | |
| --- | --- |
| | Exercise 1 Body Organization and Terminology |

1
(16)

| | |
| --- | --- |
| | Using Anatomical Terms to Describe Body Organization |

2
(3)

| | |
| --- | --- |
| | Defining Anatomical Planes and Sections |

5
(1)

| | |
| --- | --- |
| | Identifying Organs and Organ Systems |

6
(3)

| | |
| --- | --- |
| | Identifying Anatomical Regions |

9
(3)

| | |
| --- | --- |
| | Exploring the Body Cavities |

12
(1)

| | |
| --- | --- |
| | Examining the General Organization of Serous Membranes |

12
(5)

| | |
| --- | --- |
| | Review Sheet: Body Organization and Terminology |

15
(2)

| | |
| --- | --- |
| | Exercise 2 Care and Use of the Compound Light Microscope |

17
(10)

| | |
| --- | --- |
| | Learning the Parts of a Light Microscope |

18
(1)

| | |
| --- | --- |
| | Viewing a Specimen with the Compound Microscope |

19
(1)
20
(1)

| | |
| --- | --- |
| | Perceiving Depth of Field |

21
(1)

| | |
| --- | --- |
| | Using the Oil Immersion Lens |

21
(1)

| | |
| --- | --- |
| | Determining the Diameter of the Field of View |

22
(5)

| | |
| --- | --- |
| | Review Sheet: Care and Use of the Compound Light Microscope |

25
(2)

| | |
| --- | --- |
| | Exercise 3 Cell Structure and Cell Division |

27
(12)

| | |
| --- | --- |
| | Preparing a Wet Mount of Cheek Epithelial Cells |

31
(2)

| | |
| --- | --- |
| | Light Microscopic Observations of Various Cell Types |

33
(1)

| | |
| --- | --- |
| | Examining a Model of a Typical Eukaryotic Cell |

33
(1)

| | |
| --- | --- |
| | Electron Microscopic Observations of Cells |

34
(2)

| | |
| --- | --- |
| | Examining the Stages of Mitosis |

36
(3)

| | |
| --- | --- |
| | Review Sheet: Cell Structure and Cell Division |

37
(2)

| | |
| --- | --- |
| | Exercise 4 Membrane Transport |

39
(10)

| | |
| --- | --- |
| | Demonstrating Simple Diffusion |

42
(2)

| | |
| --- | --- |
| | Demonstrating Membrane Permeability |

44
(1)
45
(4)

| | |
| --- | --- |
| | Review Sheet: Membrane Transport |

47
(2)

| | |
| --- | --- |
| | Exercise 5 Epithelial and Connective Tissues |

49
(18)

| | |
| --- | --- |
| | Microscopic Observations of Epithelial Tissue |

50
(6)

| | |
| --- | --- |
| | Microscopic Observations of Connective Tissue |

56
(11)

| | |
| --- | --- |
| | Review Sheet: Epithelial and Connective Tissues |

63
(4)

| | |
| --- | --- |
| | Exercise 6 The Integumentary System |

67
(10)

| | |
| --- | --- |
| | Examining Fingerprint Patterns |

69
(1)

| | |
| --- | --- |
| | Examining the Microscopic Structure of Skin |

69
(1)

| | |
| --- | --- |
| | Examining the Accessory Structures of Skin |

70
(3)

| | |
| --- | --- |
| | Examining the Anatomical Model of Skin |

73
(1)

| | |
| --- | --- |
| | Examining the Structure of Nails |

73
(4)

| | |
| --- | --- |
| | Review Sheet: The Integumentary System |

75
(2)

| | |
| --- | --- |
| | Exercise 7 Introduction to the Skeletal System and the Axial Skeleton |

77
(28)

| | |
| --- | --- |
| | Classifying Bones According to Shape |

77
(1)

| | |
| --- | --- |
| | Classifying Bones According to Location |

78
(3)

| | |
| --- | --- |
| | Examining the Microscopic Structure of Bone |

81
(1)

| | |
| --- | --- |
| | Examining the Gross Anatomy and Arrangement of Compact and Spongy Bone |

81
(2)

| | |
| --- | --- |
| | Identifying the Bones of the Skull |

83
(4)

| | |
| --- | --- |
| | Identifying the Bony Landmarks and Openings of the Skull |

87
(1)

| | |
| --- | --- |
| | Examining the Fetal Skull |

87
(3)

| | |
| --- | --- |
| | Examining the General Features of the Vertebral Column |

90
(2)

| | |
| --- | --- |
| | Examining the Unique Features of Specific Vertebrae |

92
(3)

| | |
| --- | --- |
| | Examining the Structure of the Thoracic Cage |

95
(10)

| | |
| --- | --- |
| | Review Sheet: Introduction to the Skeletal System and the Axial Skeleton |

99
(6)

| | |
| --- | --- |
| | Exercise 8 The Appendicular Skeleton |

105
(20)

| | |
| --- | --- |
| | Examination of the Upper Extremity |

106
(4)

| | |
| --- | --- |
| | Examination of the Lower Extremity |

110
(15)

| | |
| --- | --- |
| | Review Sheet: The Appendicular Skeleton |

119
(6)
125
(22)

| | |
| --- | --- |
| | Examining the Structure of Fibrous Joints |

126
(3)

| | |
| --- | --- |
| | Examining the Structure of Cartilaginous Joints |

129
(2)

| | |
| --- | --- |
| | Understanding the Types of Movements at Synovial Joints |

131
(1)

| | |
| --- | --- |
| | Examining the Structure and Range of Motion at Synovial Joints |

131
(5)

| | |
| --- | --- |
| | Examining the Structure of Specific Synovial Joints |

136
(11)

| | |
| --- | --- |
| | Review Sheet: Articulations |

145
(2)

| | |
| --- | --- |
| | Exercise 10 Histology of Muscle Tissue |

147
(10)

| | |
| --- | --- |
| | Light Microscopic Structure of Skeletal Muscle |

147
(1)

| | |
| --- | --- |
| | Light Microscopic Structure of Cardiac Muscle |

148
(1)

| | |
| --- | --- |
| | Light Microscopic Structure of Smooth Muscle |

149
(1)

| | |
| --- | --- |
| | Examining Skeletal Muscle Cells in Three Dimensions |

150
(1)

| | |
| --- | --- |
| | Examining the Neuromuscular Junction at a Skeletal Muscle Cell |

151
(2)

| | |
| --- | --- |
| | Observing the Contraction of Skeletal Muscle Fibers |

153
(4)

| | |
| --- | --- |
| | Review Sheet: Histology of Muscle Tissue |

155
(2)

| | |
| --- | --- |
| | Exercise 11 Gross Anatomy of the Muscular System |

157
(60)

| | |
| --- | --- |
| | Identifying Muscles of the Head |

158
(7)

| | |
| --- | --- |
| | Identifying Muscles of the Neck |

165
(4)

| | |
| --- | --- |
| | Identifying Respiratory Muscles of the Thorax |

169
(3)

| | |
| --- | --- |
| | Identifying Abdominal Wall Muscles |

172
(2)

| | |
| --- | --- |
| | Identifying Deep Back Muscles |

174
(3)

| | |
| --- | --- |
| | Identifying Pelvic Floor Muscles |

177
(1)

| | |
| --- | --- |
| | Identifying Anterior Shoulder Muscles |

178
(2)

| | |
| --- | --- |
| | Identifying Posterior Shoulder Muscles |

180
(4)

| | |
| --- | --- |
| | Identifying Anterior Arm Muscles |

184
(3)

| | |
| --- | --- |
| | Identifying Triceps Brachii |

187
(1)

| | |
| --- | --- |
| | Identifying Anterior Forearm Muscles |

187
(5)

| | |
| --- | --- |
| | Identifying Posterior Forearm Muscles |

192
(3)

| | |
| --- | --- |
| | Identifying Intrinsic Hand Muscles |

195
(3)

| | |
| --- | --- |
| | Identifying Gluteal Muscles |

198
(2)

| | |
| --- | --- |
| | Identifying Anterior Thigh Muscles |

200
(3)

| | |
| --- | --- |
| | Identifying Medial Thigh Muscles |

203
(1)

| | |
| --- | --- |
| | Identifying Posterior Thigh Muscles |

204
(1)

| | |
| --- | --- |
| | Identifying Anterior Leg Muscles |

205
(1)

| | |
| --- | --- |
| | Identifying Lateral Leg Muscles |

206
(2)

| | |
| --- | --- |
| | Identifying Posterior Leg Muscles |

208
(2)

| | |
| --- | --- |
| | Identifying Intrinsic Foot Muscles |

210
(7)

| | |
| --- | --- |
| | Review Sheet: Gross Anatomy of the Muscular System |

213
(4)

| | |
| --- | --- |
| | Exercise 12 Physiology of the Muscular System |

217
(14)

| | |
| --- | --- |
| | Demonstrating Isotonic and Isometric Contractions |

219
(1)

| | |
| --- | --- |
| | Examining Resistance Versus Contraction Speed |

220
(1)

| | |
| --- | --- |
| | Demonstrating Multiple Motor Unit Summation |

220
(1)

| | |
| --- | --- |
| | Demonstrating Muscle Fatigue |

221
(1)

| | |
| --- | --- |
| | Testing Muscle Flexibility |

222
(2)

| | |
| --- | --- |
| | Recording EMG Using the BIOPAC System |

224
(7)

| | |
| --- | --- |
| | Review Sheet: Physiology of the Muscular System |

229
(2)

| | |
| --- | --- |
| | Exercise 13 Histology of Nervous Tissue |

231
(16)

| | |
| --- | --- |
| | Identifying Major Components of Multipolar Neurons |

236
(1)
237
(1)

| | |
| --- | --- |
| | Examining Microscopic Structure of the Cerebrum |

238
(1)

| | |
| --- | --- |
| | Examining Microscopic Structure of the Cerebellum |

239
(1)

| | |
| --- | --- |
| | Examining Microscopic Structure of the Spinal Cord |

240
(2)

| | |
| --- | --- |
| | Examining Microscopic Structure of Spinal Nerve Roots |

242
(1)

| | |
| --- | --- |
| | Examining Microscopic Structure of Peripheral Nerves |

242
(2)

| | |
| --- | --- |
| | Demonstrating the Significance of the Myelin Sheath |

244
(3)

| | |
| --- | --- |
| | Review Sheet: Histology of Nervous Tissue |

245
(2)

| | |
| --- | --- |
| | Exercise 14 The Brain and Cranial Nerves |

247
(30)

| | |
| --- | --- |
| | Dissecting the Sheep Meninges |

251
(5)

| | |
| --- | --- |
| | Dissecting Surface Structures on the Sheep Brain |

256
(1)

| | |
| --- | --- |
| | Examining a Midsagittal Section of the Sheep Brain |

257
(1)

| | |
| --- | --- |
| | Examining a Coronal Section of the Sheep Brain |

258
(1)

| | |
| --- | --- |
| | Examining Brain Ventricles and CSF Flow |

259
(1)

| | |
| --- | --- |
| | Electroencephalography Using the Biopac Student Lab System |

260
(3)

| | |
| --- | --- |
| | Identifying the Origins of the Cranial Nerves |

263
(2)

| | |
| --- | --- |
| | Identifying the Openings for the Cranial Nerves |

265
(1)

| | |
| --- | --- |
| | Testing the Functions of Cranial Nerves |

266
(11)

| | |
| --- | --- |
| | Review Sheet: The Brain and Cranial Nerves |

273
(4)

| | |
| --- | --- |
| | Exercise 15 The Spinal Cord and Spinal Nerves |

277
(10)

| | |
| --- | --- |
| | Identifying Spinal Meninges and Associated Structures |

277
(3)

| | |
| --- | --- |
| | Examining the Gross Anatomy |

280
(2)

| | |
| --- | --- |
| | Using a Two-Point Discrimination Test |

282
(2)

| | |
| --- | --- |
| | Testing General Sensory Function in Dermatomes |

284
(3)

| | |
| --- | --- |
| | Review Sheet: The Spinal Cord and Spinal Nerves |

285
(2)

| | |
| --- | --- |
| | Exercise 16 Human Reflex Physiology |

287
(10)
288
(1)
288
(1)

| | |
| --- | --- |
| | Assessing Coordinated Movement and Balance |

289
(3)

| | |
| --- | --- |
| | Reflex Tests for the Upper Extremity |

292
(1)

| | |
| --- | --- |
| | Reflex Tests for the Lower Extremity |

292
(5)

| | |
| --- | --- |
| | Review Sheet: Human Reflex Physiology |

295
(2)

| | |
| --- | --- |
| | Exercise 17 Special Senses |

297
(30)

| | |
| --- | --- |
| | Examining the Anatomy of Olfactory Structures |

299
(1)

| | |
| --- | --- |
| | Testing Olfactory Adaptation |

300
(2)

| | |
| --- | --- |
| | Examining the Anatomy of Gustatory Structures |

302
(1)

| | |
| --- | --- |
| | Testing Gustatory Sensations |

302
(4)

| | |
| --- | --- |
| | Examining the Anatomy of Vision Structures |

306
(5)
311
(7)
318
(3)
321
(6)

| | |
| --- | --- |
| | Review Sheet: Special Senses |

323
(4)

| | |
| --- | --- |
| | Exercise 18 The Endocrine System |

327
(16)

| | |
| --- | --- |
| | Examining Gross Anatomy of the Endocrine System |

327
(9)

| | |
| --- | --- |
| | Examining Microscopic Anatomy of Endocrine Organs |

336
(7)

| | |
| --- | --- |
| | Review Sheet: The Endocrine System |

341
(2)

| | |
| --- | --- |
| | The Cardiovascular System |

343
(12)
344
(1)

| | |
| --- | --- |
| | Identifying White Blood Cell Types |

345
(1)

| | |
| --- | --- |
| | Performing a Differential White Blood Cell Count |

346
(3)

| | |
| --- | --- |
| | Determining Your Blood Type |

349
(6)

| | |
| --- | --- |
| | Review Sheet: Blood Cells |

353
(2)

| | |
| --- | --- |
| | Exercise 20 Gross Anatomy of the Heart |

355
(16)

| | |
| --- | --- |
| | Examining the Organization of the Pericardium |

355
(2)

| | |
| --- | --- |
| | Examining the Gross Anatomy of the Human Heart |

357
(3)

| | |
| --- | --- |
| | Identifying the Blood Vessels of the Coronary Circulation |

360
(2)

| | |
| --- | --- |
| | Tracing the Flow of Blood Through the Heart Chambers |

362
(1)

| | |
| --- | --- |
| | Dissection of the Sheep Heart |

363
(8)

| | |
| --- | --- |
| | Review Sheet: Gross Anatomy of the Heart |

367
(4)

| | |
| --- | --- |
| | Exercise 21 Anatomy of Blood Vessels |

371
(22)

| | |
| --- | --- |
| | Examining the Microscopic Structure of Blood Vessels |

373
(3)

| | |
| --- | --- |
| | Identifying the Major Blood Vessels in the Pulmonary Circuit |

376
(1)

| | |
| --- | --- |
| | Identifying the Major Arteries of the Systemic Circulation |

377
(6)

| | |
| --- | --- |
| | Identifying the Major Veins of the Systemic Circulation |

383
(6)

| | |
| --- | --- |
| | Identifying Collateral Pathways in the Systemic Circulation |

389
(4)

| | |
| --- | --- |
| | Review Sheet: Anatomy of Blood Vessels |

391
(2)

| | |
| --- | --- |
| | Exercise 22 Cardiovascular Physiology |

393
(14)

| | |
| --- | --- |
| | Listening for Heart Sounds |

394
(2)
396
(1)

| | |
| --- | --- |
| | Examining the Effect of Exercise on Blood Pressure |

397
(1)
398
(1)

| | |
| --- | --- |
| | Examining the Effect of Exercise on Pulse Rate |

398
(2)

| | |
| --- | --- |
| | Using the Biopac Student Lab System to Measure and Evaluate the Electrical Activity of the Heart |

400
(7)

| | |
| --- | --- |
| | Review Sheet: Cardiovascular Physiology |

405
(2)

| | |
| --- | --- |
| | Exercise 23 The Lymphatic System |

407
(14)

| | |
| --- | --- |
| | Examining the Gross Anatomical Structure of the Lymphatic System |

407
(6)

| | |
| --- | --- |
| | Examining the Microscopic Structure of Lymphatic Structures |

413
(3)

| | |
| --- | --- |
| | Observing the Antigen-Antibody Reaction Using Immunodiffusion |

416
(5)

| | |
| --- | --- |
| | Review Sheet: The Lymphatic System |

419
(2)

| | |
| --- | --- |
| | Exercise 24 Anatomy of the Respiratory System |

421
(18)

| | |
| --- | --- |
| | Examining the Gross Anatomy of the Nose and Nasal Cavity |

421
(2)

| | |
| --- | --- |
| | Examining the Gross Anatomy of the Pharynx |

423
(1)

| | |
| --- | --- |
| | Examining the Gross Anatomy of the Larynx |

423
(2)

| | |
| --- | --- |
| | Examining the Gross Anatomy of the Trachea |

425
(1)

| | |
| --- | --- |
| | Examining the Gross Anatomy of the Lungs |

426
(2)

| | |
| --- | --- |
| | Examining the Gross Anatomy of the Bronchial Tree |

428
(1)

| | |
| --- | --- |
| | Examining the Microscopic Anatomy of the Respiratory Mucosa |

429
(1)

| | |
| --- | --- |
| | Examining the Microscopic Anatomy of the Trachea |

430
(1)

| | |
| --- | --- |
| | Examining the Microscopic Anatomy of the Lungs |

431
(8)

| | |
| --- | --- |
| | Review Sheet: Anatomy of the Respiratory System |

435
(4)

| | |
| --- | --- |
| | Exercise 25 Respiratory Physiology |

439
(14)

| | |
| --- | --- |
| | Examining Pulmonary Ventilation |

441
(3)

| | |
| --- | --- |
| | Measuring Respiratory Volumes |

444
(1)

| | |
| --- | --- |
| | Calculating Respiratory Volumes and Capacities |

445
(2)

| | |
| --- | --- |
| | Predicting and Measuring Vital Capacity |

447
(1)

| | |
| --- | --- |
| | Using the Biopac Student Lab System to Measure Depth of Ventilation and Breathing Rate |

448
(5)

| | |
| --- | --- |
| | Review Sheet: Respiratory Physiology |

451
(2)

| | |
| --- | --- |
| | Exercise 26 Anatomy of the Digestive System |

453
(30)

| | |
| --- | --- |
| | Examining the General Organization of the Peritoneum |

456
(1)

| | |
| --- | --- |
| | Examining the Gross Anatomical Structure of the Alimentary Canal |

456
(7)

| | |
| --- | --- |
| | Examining the Gross Anatomy of the Teeth, Salivary Glands, and Tongue |

463
(3)

| | |
| --- | --- |
| | Examining the Gross Anatomy of the Liver, Gallbladder, and Pancreas |

466
(3)

| | |
| --- | --- |
| | Examining the Microscopic Structure of the Alimentary Canal |

469
(6)

| | |
| --- | --- |
| | Examining the Microscopic Structure of Accessory Digestive Organs |

475
(8)

| | |
| --- | --- |
| | Review Sheet: Anatomy of the Digestive System |

479
(4)

| | |
| --- | --- |
| | Exercise 27 Actions of a Digestive Enzyme |

483
(8)

| | |
| --- | --- |
| | Conducting the Control Tests |

484
(1)

| | |
| --- | --- |
| | Testing for the Presence of Starch and Disaccharides in Various Beverages |

485
(1)

| | |
| --- | --- |
| | Testing the Effect of pH on Amylase Activity |

486
(5)

| | |
| --- | --- |
| | Review Sheet: Actions of a Digestive Enzyme |

489
(2)

| | |
| --- | --- |
| | Exercise 28 Anatomy of the Urinary System |

491
(14)

| | |
| --- | --- |
| | Examining the Gross Anatomy of the Urinary System |

492
(2)
494
(2)

| | |
| --- | --- |
| | Examining the Blood Supply of the Kidney |

496
(1)

| | |
| --- | --- |
| | Examining the Microscopic Anatomy of the Urinary System |

496
(5)
501
(4)

| | |
| --- | --- |
| | Review Sheet: Anatomy of the Urinary System |

503
(2)

| | |
| --- | --- |
| | Exercise 29 Urinary Physiology |

505
(8)

| | |
| --- | --- |
| | Examining the Physical Characteristics of Urine |

507
(1)

| | |
| --- | --- |
| | Measuring the Specific Gravity of Urine |

508
(1)

| | |
| --- | --- |
| | Examining the Chemical Characteristics of Urine |

509
(1)

| | |
| --- | --- |
| | Examining a Urine Sample Microscopically |

510
(3)

| | |
| --- | --- |
| | Review Sheet: Urinary Physiology |

511
(2)

| | |
| --- | --- |
| | Exercise 30 The Male Reproductive System |

513
(10)

| | |
| --- | --- |
| | Examining the Gross Anatomy of the Male Reproductive System |

515
(3)

| | |
| --- | --- |
| | Examining the Microscopic Anatomy of Male Reproductive Organs |

518
(5)

| | |
| --- | --- |
| | Review Sheet: The Male Reproductive System |

521
(2)

| | |
| --- | --- |
| | Exercise 31 The Female Reproductive System |

523
(20)

| | |
| --- | --- |
| | Examining the Gross Anatomy of the Female Reproductive System |

525
(4)

| | |
| --- | --- |
| | Identifying Homologous Reproductive Structures |

529
(1)

| | |
| --- | --- |
| | Examining the Microscopic Structure of Female Reproductive Organs |

529
(14)

| | |
| --- | --- |
| | Review Sheet: The Female Reproductive System |

553
Appendix A: Writing a Laboratory Report
543
(2)
Appendix B: Weights and Measures
545
(2)
Photo Credits
547
(2)
Index
549