Note: Supplemental materials are not guaranteed with Rental or Used book purchases.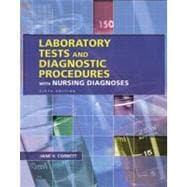 Laboratory Tests and Diagnostic Procedures with Nursing Diagnoses
ISBN13:
9780130493699
by
Corbett, Jane Vincent
Related Products
Summary
Univ. of San Francisco, CA. Brandon/Hill Nursing List selection (#142). Explains in detail the clinical significance of tests and diagnostic procedures. Emphasizes nursing care and the relationship between nursing care and nursing diagnosis. Provides updated material on tests and treatment and guidelines for diagnostic procedures. Previous edition: c2000. Softcover.
Table of Contents
I. LABORATORY TESTS.
1. Using Laboratory Data.
2. Hematology Tests.
3. Routine Urinalysis and Other Urine Tests.
4. Renal Function Tests.
5. Four Commonly Measured Electrolytes.
6. Arterial Blood Gases.
7. Three Less Commonly Measured Electrolytes.
8. Tests to Measure the Metabolism of Glucose and Other Sugars.
9. Tests to Measure Lipid Metabolism and Other Cardiac Risk Factors.
10. Tests Related to Serum Protein Levels, Tumor Markers and Cancer Genomics.
11. Tests to Measure the Metabolism of Bilirubin.
12. Tests to Measure Enzymes and Cardiac Markers.
13. Coagulation Tests and Tests to Detect Occult Blood.
14. Serologic Tests.
15. Endocrine Tests.
16. Culture and Sensitivity Tests.
17. Therapeutic Drug Monitoring and Toxicology Screens.
18. Tests Performed in Pregnancy, Newborn Period and for Genetic Screening.

II. CASE STUDIES.
19. Practice Interpretation of Laboratory Data.

III. DIAGNOSTIC PROCEDURES.
20. Diagnostic Radiologic Tests.
21. Body Scans.
22. Diagnostic Tests with Radionuclides or Radioisotopes.
23. Diagnostic Ultrasonography.
24. Common Noninvasive Diagnostic Tests.
25. Common Invasive Tests.
26. Stress Tests, Cardiac Catheterizations, Electrophysiologic Studies and Tests for Syncope.
27. Endoscopic Procedures.
28. Diagnostic Procedures Related to Childbearing Years.

APPENDICES.
Appendix A: Reference Values for Newborns and Children Compared with Adult Values.
Appendix B: Possible Alterations in Reference Values for the Aged.
Appendix C: Altered Reference Values for Common Laboratory Tests in Normal Pregnancies.
Appendix D: Units of Measure.
Appendix E: Answers to Questions for Part I (Laboratory Tests).
Appendix F: Answers to Questions for Part III (Diagnostic Procedures).
Appendix G: SI Conversion Factors.
Index.

Excerpts
This sixth edition continues to focus on how nurses can use data from laboratory tests and diagnostic procedures to plan nursing care. One of the strengths of the new edition is an emphasis on evidence-based practice. The extensive reference list for each chapter supports the "best practice" approach based on current literature in the field. Although much has changed in health care since the first edition of this book in 1982, many tests remain the same and some now have expanded use. These new uses are discussed and compared with the past to provide the reader with a historical perspective. Also, for this edition a few old tests were deleted and over 20 new ones added. As before, examples of clinical significance and reference values cover the entire life span from newborns to aged. Two chapters (Chapter 18 and 28) are devoted to the pregnant client. Related tests or procedures are grouped so that common nursing diagnoses can be highlighted. The nursing diagnoses presented in this book are not meant to be used in cookbook form. The nurse can read about the test and possible nursing diagnoses but then must evaluate the actual clinical situation and apply what seems appropriate. The purpose of this book is to make nurses think more, not less. The case studies in Part II give the reader an opportunity to practice interpreting lab data to formulate nursing diagnoses. As health care becomes more and more technical, the multitude of diagnostic procedures and laboratory tests continues to grow. Nurses can become dazzled by the technical details and discouraged about keeping pace with these advances. This book is based on the belief that the nurse's role in relation to diagnostic testing should continue to focus on the human element. Professional nurses are involved in health teaching, client preparation, and assessment for adverse reactions to diagnostic procedures. The pathophysiologic conditions that cause altered laboratory values are explained in an easy-to-understand format. A discussion of usual medical intervention for a particular set of circumstances is included to show how nursing use is related to and yet different from medical use of laboratory data. The independent role of the nurse is emphasized throughout. Each chapter of this book is organized as- an independent study unit complete with objectives, an organizing theme with background information (called an expository organizer), and test questions. The organization and content of the chapters are based on research conducted by the author (Corbett, 1985; Corbett & LaBorde, 1994; Corbett, 1997). This book, meant to be both scholarly and practical, is intended for use in both the academic and the clinical setting. For example: Undergraduate and graduate nursing students can use the book as a textbook in theory classes that integrate laboratory data as one aspect of nursing care. Practicing nurses can use the book to update themselves in specific areas. The content in this book has been used extensively for continuing education courses for RNs. Nurses in clinical settings can use the book as a quick reference. By consulting the index or the listing for each chapter, the nurse can retrieve information about one specific test. It is intellectually challenging to broaden one's knowledge in a field, and in nursing we often have the added benefit of seeing that our increased knowledge is of direct benefit to the client. My enthusiasm and sense of purpose in writing this book stem from my belief that students and practicing nurses will be able to use the practical information in the book to improve the care of many clients. I hope the reader finds the book informative, interesting, and useful in the practice of nursing.