Note: Supplemental materials are not guaranteed with Rental or Used book purchases.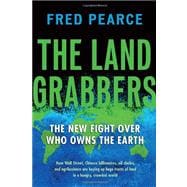 Land Grabbers : The New Fight over Who Owns the Earth
by
PEARCE, FRED
Summary
The Land Grabbersis a first-of-its-kind exposť that reveals the unprecedented land grab taking place around the world. Fearing future food shortages and the over-financialization of the stock market, the world's richest countries, corporations, hedge funds, and individuals have spent the last few years buying and leasing vast swaths of foreign soil-including parcels as large as the state of Massachusetts. From the plains of Africa to the jungles and prairies of South America, author Fred Pearce has traveled the globe to investigate the full scale and effects of the land grab, resulting in a larger-than-life cast of characters that includes Wall Street speculators, Gulf oil sheiks, Chinese entrepreneurs, big-name financiers like George Soros, and industry titans like Richard Branson. Along the way, Pearce introduces us to the people who actually live on, and live off of, the supposedly vacant land that is being grabbed, from Cambodian peasants, victimized first by the Khmer Rouge and now by crony capitalism, to African pastoralists confined to ever-smaller tracts. Corporate and governmental promises about the benefits of development, Pearce shows us, are often illusory, masking environmental and social destruction and the massive transfer of wealth out of host countries. This is investigative journalism at its best, taking the reader beyond the abstract claims in corporate reports to shed light on the human realities that underlie the land grab.