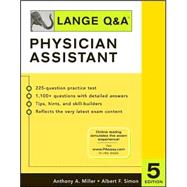 Summary
THE MOST COMPREHENSIVE REVIEW FOR PHYSICIAN ASSISTANTS - FOR TOP SCORES ON NCCPA PANCE AND PANRE EXAMSNo other book prepares you for physician assistant certifying and recertifying exams as efficiently and thoroughly as this one! Lange Q&A Physician Assistant gives you more than 1,200 board-format questions, covering all subjects on the NCCPA exams. You also get correct answers to each question, and detailed paragraph-length explanations and resources for further study. This review book in the popular Lange Q&A series offers unparalleled preparation for the PANCE and PANRE exams.Includes comprehensive Practice Test for accurate self-assessment and simulation of the exam experienceTHE MOST TIME-EFFECTIVE TUTOR FOR PA CERTIFICATION AND RECERTIFICATION EXAMSLange Q&A Physician Assistant is the most comprehensive, authoritative, and up-to-date review available.FEATURES Comprehensive, current, and user-friendly 1,200+ board-format questions based on the NCCPA Blueprint Questions cover every topic on the exams Answers go beyond saying what's correct-you also get explanations and resources for every question Up-to-date for today's exams New diagnostic images and EKGs Complete 220-question practice test that mirrors the certification exam
Author Biography
Anthony A. Miller, M.Ed., PA-C, is Associate Professor and Director, Division of Physician Assistant Studies, Shenandoah University, Winchester, Virginia.
Albert F. Simon, M.Ed., PA-C, is Director, Department of Physician Assistant Sciences, Arizona School of Health Sciences, Mesa, Arizona.
Table of Contents
Preface
p. xi
Introduction
p. xiii
Test-Taking Skills: Tips and Techniques
p. 1
Internal Medicine Topics
p. 13
Cardiology
p. 15
Dermatology
p. 39
Endocrinology
p. 53
Gastroenterology
p. 53
Hematology/Oncology
p. 81
HIV-AIDS
p. 97
Infectious Disease
p. 107
Nephrology
p. 123
Neurology
p. 141
Internal Medicine: Pulmonology
p. 157
Rheumatology
p. 175
Obstetrics and Gynecoloy
p. 187
Pediatrics
p. 223
Pharmacology
p. 265
Psychiatry
p. 299
Surgery
p. 317
Emergency Medicine
p. 319
General and Vascular Surgery
p. 351
Orthopedics
p. 375
Otolaryngology & Eye
p. 387
Urology
p. 405
Health Promotion & Disease Prevention
p. 415
Preventive Medicine
p. 417
Practice Test
p. 429
Index
p. 469
Table of Contents provided by Ingram. All Rights Reserved.