Note: Supplemental materials are not guaranteed with Rental or Used book purchases.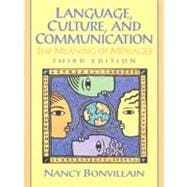 Language, Culture and Communication: The Meaning of Messages
ISBN13:
9780130104298
by
Bonvillain, Nancy
Related Products
Summary
For courses in Language and Culture, Anthropological Linguistics, and Language and Communication. Using data from cultures and languages throughout the worldto highlight both similarities and differences in human languagesthis text explores the many interconnections among language, culture, and communicative meaning. It examines the multi-faceted meanings and uses of language and emphasizes the ways that language encapsulates speakers' meanings and intentions.
Table of Contents
Preface
ix
1
(6)
5
(2)

| | |
| --- | --- |
| | 2 The Form of the Message |

7
(41)

| | |
| --- | --- |
| | Phonology: The Sounds of Language |

7
(10)
7
(6)
13
(2)
15
(2)

| | |
| --- | --- |
| | Morphology: The Structure of Words |

17
(7)
17
(2)
19
(2)
21
(3)

| | |
| --- | --- |
| | Syntax: The Structure of Sentences |

24
(4)

| | |
| --- | --- |
| | Semantics: The Analysis of Meaning |

28
(2)
30
(5)
30
(2)

| | |
| --- | --- |
| | ASL Vocabulary and Grammar |

32
(3)
35
(10)
35
(9)
44
(1)
45
(1)
46
(2)

| | |
| --- | --- |
| | 3 Language and Cultural Meaning |

48
(30)

| | |
| --- | --- |
| | Foundations of Linguistic Anthropology |

49
(4)

| | |
| --- | --- |
| | The Sapir-Wharf Hypothesis |

51
(1)
52
(1)

| | |
| --- | --- |
| | Lexical and Cultural Categories |

53
(11)
53
(2)
55
(1)
56
(2)
58
(2)

| | |
| --- | --- |
| | Universal Processes: Color Terms |

60
(2)

| | |
| --- | --- |
| | Focal Meaning and Prototypes |

62
(2)
64
(2)

| | |
| --- | --- |
| | Extended and Transferred Meaning |

66
(9)
66
(3)
69
(1)
70
(5)
75
(1)
76
(2)

| | |
| --- | --- |
| | 4 Contextual Components: Outline of an Ethnography of Communication |

78
(25)

| | |
| --- | --- |
| | Ethnography of Communication |

78
(2)
80
(2)
82
(9)
83
(2)
85
(2)
87
(2)
89
(2)
91
(2)
93
(2)
95
(6)
96
(3)
99
(2)
101
(1)
102
(1)

| | |
| --- | --- |
| | 5 Communicative Interactions |

103
(29)

| | |
| --- | --- |
| | Structural Properties of Conversation |

103
(5)

| | |
| --- | --- |
| | Conversational Postulates |

108
(3)
111
(5)

| | |
| --- | --- |
| | Directives and Responses in Context |

116
(2)
118
(12)
118
(8)
126
(4)
130
(1)
130
(2)

| | |
| --- | --- |
| | 6 Societal Segmentation and Linguistic Variation: Class and Race |

132
(42)
133
(1)
133
(1)
134
(19)
135
(1)
136
(5)
141
(2)
143
(2)
145
(2)
147
(1)
148
(3)
151
(2)
153
(17)

| | |
| --- | --- |
| | African American English in the United States |

153
(1)

| | |
| --- | --- |
| | The Structure of African American Vernacular English (AAVE) |

154
(4)
158
(6)
164
(2)

| | |
| --- | --- |
| | Afro-Caribbean Speakers in Great Britain |

166
(4)
170
(1)
171
(3)

| | |
| --- | --- |
| | 7 Language and Gender: English and English Speakers |

174
(35)
176
(7)
176
(6)
182
(1)
183
(4)
187
(2)

| | |
| --- | --- |
| | Gender-Related Conversational Styles |

189
(9)
198
(7)
198
(4)
202
(3)
205
(1)
206
(3)

| | |
| --- | --- |
| | 8 Cross-Cultural Studies of Language and Gender |

209
(26)

| | |
| --- | --- |
| | Gender-Exclusive Patterns |

210
(5)

| | |
| --- | --- |
| | Linguistic and Stylistic Preferences |

215
(13)
215
(5)
220
(2)
222
(2)
224
(1)
225
(3)

| | |
| --- | --- |
| | Images of Gender in Linguistic Form |

228
(4)
228
(1)
228
(1)
229
(1)
229
(1)
230
(1)
231
(1)
232
(1)
233
(2)
235
(31)
236
(7)
236
(1)
237
(2)
239
(4)
243
(7)

| | |
| --- | --- |
| | Morphological Development |

243
(2)
245
(2)
247
(3)
250
(6)

| | |
| --- | --- |
| | Complex Inflectional Systems |

251
(1)
252
(2)
254
(2)
256
(3)
256
(1)
257
(1)
258
(1)
259
(1)

| | |
| --- | --- |
| | Strategies in the United States |

259
(1)

| | |
| --- | --- |
| | Strategies in Other Cultures |

260
(3)
260
(1)
261
(1)
262
(1)
263
(1)
263
(3)

| | |
| --- | --- |
| | 10 The Acquisition of Communicative Competence |

266
(26)

| | |
| --- | --- |
| | Acquiring Communicative Styles |

267
(5)
267
(3)

| | |
| --- | --- |
| | Learning to Express One's Feelings |

270
(1)
270
(2)
272
(9)

| | |
| --- | --- |
| | Status and Role in American English |

273
(6)
279
(1)

| | |
| --- | --- |
| | Relationships in Hungarian |

279
(2)
281
(8)
281
(1)
282
(2)

| | |
| --- | --- |
| | Interactional Cooperation |

284
(3)
287
(2)
289
(1)
290
(2)
292
(38)
293
(7)
293
(4)
297
(1)
298
(2)
300
(10)
300
(3)
303
(2)

| | |
| --- | --- |
| | Attitudes Toward Languages and Speakers |

305
(5)
310
(16)

| | |
| --- | --- |
| | Language in the United States |

310
(1)
311
(4)
315
(2)

| | |
| --- | --- |
| | Native American Languages |

317
(2)

| | |
| --- | --- |
| | Creole Languages in the United States |

319
(7)
326
(1)
326
(4)
330
(34)
331
(2)

| | |
| --- | --- |
| | Language Use in Bilingual Communities |

333
(15)
341
(5)

| | |
| --- | --- |
| | The International Dominance of English |

346
(2)

| | |
| --- | --- |
| | Bilingual Conversational Strategies |

348
(8)
349
(5)
354
(2)

| | |
| --- | --- |
| | Interethnic Miscommunication |

356
(4)
360
(1)
360
(4)

| | |
| --- | --- |
| | 13 Language and Institutional Encounters |

364
(25)
364
(3)
367
(1)
367
(1)
368
(4)
372
(4)
376
(7)
383
(3)
386
(1)
387
(2)
Glossary
389
(8)
Index
397