Note: Supplemental materials are not guaranteed with Rental or Used book purchases.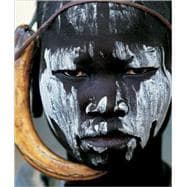 Summary
Through images of extraordinary power and immediacy, photographer Gianni Giansanti takes the reader on a journey of discovery in Africa, and illustrates the life and traditions of the tribes who live there with a moving collection of African portraits. Each photograph becomes a masterpiece of abstract art, revealling close-ups of the tribes' traditional body paintings. They use their bodies as canvases, painting their skin with pigments made from powdered volcanic rock and adorning themselves with materials obtained from the world around them - such as flowers, leaves, grasses, shells and animal horns. African tribes are especially adept at this art, and - imbued with an exquisite sense of colour and form - usually paint their naked bodies with colourful dots, stripes and circles, and encase themselves in elaborate arrangements of vegetation and found objects. This art is endlessly inventive, magical and, above all, fun. The book offers an incredible look at the stunning range of colours and textures of the life and people in Africa, while recording the fascinating beauty of a world always in danger of extinction.
Author Biography
Gianni Giansanti is an internationally renowned photojournalist and the author of several bestselling photo essays, including Vanishing Africa, published by White Star Publishers in 2005. He began his career in Italy in 1978, documenting many momentous papal events, terrorism by the Red Brigade, the eruption of Mount Etna, and activity by the Camorra crime syndicate. His reportage around the world has earned him many prestigious international awards.