Note: Supplemental materials are not guaranteed with Rental or Used book purchases.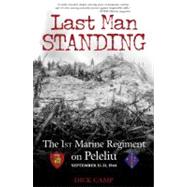 Last Man Standing: The 1st Marine Regiment on Peleliu, September 15-21, 1944
ISBN13:
9780760341278
by
Camp, Dick
Summary
In its time, Operation Stalemate, the code name for Peleliu, was not well known. It had been overshadowed by the summer 1944 Allied breakout from Normandy and the subsequent race across France and liberation of Paris. Since then, the Peleliu campaign has become much better known-Peleliu is featured in both Ken Burns#x19; monumental documentary The Warand the HBO miniseries The Pacific-generating considerable controversy, with most historians regarding it as unnecessary. The battle resulted in a tremendous number of Marine casualties that foreshadowed a deadly shift in Japanese defensive strategy. Last Man Standingdraws heavily on the author#x19;s in-depth personal interviews and close association with two of the 1st Regiment#x19;s battalion commanders-Ray Davis and Russ Honsowetz #x13; as well as the vast oral, written and photographic collections of the Marine Corps History Division and Gray Research Center. Its first-hand accounts from the men who survived represent a source of never-before published information that sets it apart from previous books of its kind. It is a story rich in detail-an exciting account of combat action.
Table of Contents
Introduction
p. ix
Breakwater Of The Pacific
p. 1
The Emperor's Commanders
p. 17
Maniacal Ramparts
p. 31
Operation Stalemate
p. 45
Marine Commanders
p. 61
The Old Breed
p. 81
Rest And Recuperation
p. 89
Mounting Out
p. 105
D-Day
p. 119
The Point
p. 143
Counterattack
p. 173
Terror In The Night
p. 183
D + 1: Though They Die, They Will Defend
p. 193
D + 2: Bloody Nose Ridge
p. 213
D + 3: Into The Breach
p. 235
D + 4: Resume The Attack
p. 251
D + 5: Regiment Of Survivors
p. 271
D + 6: Enough Is Enough
p. 279
Postscript
p. 289
Bibliography
p. 293
Index
p. 301
Table of Contents provided by Ingram. All Rights Reserved.