Note: Supplemental materials are not guaranteed with Rental or Used book purchases.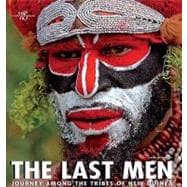 Summary
"Papua New Guinea, the second largest island in the world after Greenland, is a land where complexity reigns. The extreme diversity of natural environments is reflected in a fragmentation of the people, languages, customs and traditions that is unlike any other country on Earth. It is an ethnic kaleidoscope, a mosaic of languages and cultures - slightly more than seven million inhabitants (with Papua New Guinea and Irian Jaya combined) speak almost one thousand distinct languages, comprising almost a fifth of all the languages spoken on the planet. Papua New Guinea not only hosts the last cannibals on Earth, a topic already much written about, but more importantly, it is also the undisputed home of the world's "last men," Here, in pockets of prehistory hidden from time and by nature, there still survives something of original man, who is required to expend all his efforts, every day, to resolve the problems of food and survival." "This volume, which was written by two travelers and photographers who are experts in reporting from the ends of the Earth, lago Corazza and Greta Ropa, and contains an introduction by anthropologist Nicola Pagano, is dedicated to this heritage of humanity, which will probably be unable to resist the advancement of modernization. This is a work that describes daily life, the difficulties of survival, the magnificent and at times hostile environment, the history, and the biological characteristics of the animals and vegetation - all with the immediacy of a documentary and the directness of a journalistic report."--BOOK JACKET.
Author Biography
Jago Corazza has worked as a director and cinematographer on documentaries around the world. Anthropologist, percussionist, photographer, and world traveler, Nicola Pagano is a renaissance man for our time. He has lived and worked in Africa, Australia, and Asia, and has produced TV and radio programs on travel and ethnology.
Table of Contents
Preface: Motivations
p. 8
New Guinea
p. 12
Papua Niugini
p. 28
A Vast Ethnic Mosaic
p. 30
Asaro
The Legend of the "Mudmen"
p. 36
Omo Bugamo
The "Skeleton Warriors"
p. 52
The Sing Sing of Enga
Three Days in the Highlands
p. 74
Tabuga
The Rules of War
p. 132
Ia Api
The Courting
p. 146
Kutumb
Engagement Ceremony
p. 156
Mount Hagen
The Great Tribal Event
p. 180
Irian Jaya
p. 220
My First Expeditions
p. 222
Dani
The People of the Valley of Baliem
p. 228
The Pork Fest
p. 244
The Organization of a Village
p. 264
Table of Contents provided by Blackwell. All Rights Reserved.