Note: Supplemental materials are not guaranteed with Rental or Used book purchases.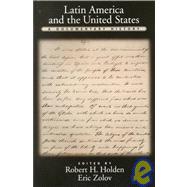 Questions About This Book?
What version or edition is this?
This is the edition with a publication date of 3/9/2000.
What is included with this book?
The Used copy of this book is not guaranteed to include any supplemental materials. Typically, only the book itself is included.
Related Products
Summary
Latin America and the United States: A Documentary History brings together the most important documents on the history of the relationship between the United States and Latin America from the nineteenth century to the present. In addition to the standard diplomatic sources, the book includesdocuments touching on the transnational concerns that are increasingly taught in the classroom, including economic relations, environmental matters, immigration, human rights, and culture. Among the less frequently cited works reproduced here are Domingo Sarmiento's nineteenth-century reflection onlife in the United States, the Andrews Sisters' 1944 hit song, "Ru and Coca Cola," Jack Kerouac's beatnik observations on Mexico, the U.S. Senate's investigation of CIA assassination plots, and the World Court decision condemning the Reagan administration's Nicaragua policy. The collectionilluminates key issues while representing a variety of interests and views as they have both persisted and shifte over time, including often-overlooked Latin American perspectives and U.S. public opinion.A special feature of this book is the extensive introductions highlighting the historical context and significance of each of the 124 documents. A detailed index provides the thematic and national cross-referencing that both students and instructors will appreciate. Latin America and the UnitedStates: A Documentary History is an ideal text for undergraduate and graduate courses in Latin American history as well as in U.S.-Latin America relations. In addition, it serves as a unique reference tool for foreign policy professionals, international law specialists, journalists, and scholars ina variety of disciplines.
Table of Contents
Preface
xiii
I. TRANSITIONS OF EMPIRE

| | |
| --- | --- |
| | 1811 No Transfer Doctrine The Congress of the United States |

5
(2)

| | |
| --- | --- |
| | 1823 Cuba: ``An Apple Severed by the Tempest From Its Native Tree.'' |

7
(4)
11
(4)

| | |
| --- | --- |
| | 1824 The Congress of Panama |

15
(2)

| | |
| --- | --- |
| | 1829 The United States: ``Destined to Plague America with Torments'' |

17
(2)

| | |
| --- | --- |
| | 1845 U.S. Participation in the Brazilian Slave Trade |

19
(2)

| | |
| --- | --- |
| | 1845 Texas, Mexico and Manifest Destiny |

21
(3)

| | |
| --- | --- |
| | 1846 President Polk's War Message to Congress |

24
(2)

| | |
| --- | --- |
| | 1846 Bidlack Treaty The Governments of New Granada and the United States |

26
(2)

| | |
| --- | --- |
| | 1847 The United States: ``An Inconceivable Extravaganza'' |

28
(3)

| | |
| --- | --- |
| | Domingo Faustino Sarmiento |

| | |
| --- | --- |
| | 1848 The Treaty of Guadalupe Hidalgo The Governments of Mexico and the United States |

31
(3)

| | |
| --- | --- |
| | 1850 The Clayton--Bulwer Treaty The Governments of the United States and Great Britain |

34
(2)

| | |
| --- | --- |
| | 1854 The Ostend Manifesto |

36
(3)
39
(3)

| | |
| --- | --- |
| | 1866 Mexico Seeks Support Against a Foreign Aggressor |

42
(3)

| | |
| --- | --- |
| | 1871 Santo Domingo Seeks Annexation by the United States Hamilton Fish |

45
(2)

| | |
| --- | --- |
| | 1888 A U.S. Official Interprets Latin America |

47
(3)

| | |
| --- | --- |
| | 1889 The First Inter-American Conference |

50
(5)
II. THE COLOSSUS OF THE NORTH

| | |
| --- | --- |
| | 1890 The Lessons of History |

55
(4)

| | |
| --- | --- |
| | 1892 The Baltimore Affair |

59
(2)

| | |
| --- | --- |
| | 1894 The Character of the United States |

61
(3)

| | |
| --- | --- |
| | 1895 The Olney Memorandum |

64
(4)
68
(2)

| | |
| --- | --- |
| | 1898 The Decision to Act Against Spain |

70
(2)

| | |
| --- | --- |
| | 1898 The Teller Amendment The Congress of the United States |

72
(2)

| | |
| --- | --- |
| | 1898 Anti-Imperialism in the United States |

74
(2)

| | |
| --- | --- |
| | 1898 The Treaty of Paris The Governments of the Untied States and Spain |

76
(2)
78
(3)

| | |
| --- | --- |
| | 1901 The Platt Amendment The Congress of the United States |

81
(2)

| | |
| --- | --- |
| | 1901 The Hay-Pauncefote Treaty The Governments of the United States and Great Britain |

83
(1)

| | |
| --- | --- |
| | 1902 Vanity and Ambition on the Rio Grande |

84
(4)
88
(2)

| | |
| --- | --- |
| | 1903 Hay-Bunau-Varilla Treaty The Governments of the United States and Panama |

90
(2)

| | |
| --- | --- |
| | 1903 ``I Took Final Action in 1903'' |

92
(3)
95
(2)
97
(3)

| | |
| --- | --- |
| | 1904 The Roosevelt Corollary to the Monroe Doctrine |

100
(3)

| | |
| --- | --- |
| | 1904--05 The Dominican Republic Challenge |

103
(1)
104
(3)

| | |
| --- | --- |
| | 1913 The Pact of the Embassy |

107
(3)
110
(3)

| | |
| --- | --- |
| | 1914 The Bryan--Chamorro Treaty The Governments of the United States and Nicaragua |

113
(2)

| | |
| --- | --- |
| | 1916 The State Department and Public Opinion |

115
(2)

| | |
| --- | --- |
| | 1916 Dollar Diplomacy and Social Darwinism |

117
(2)

| | |
| --- | --- |
| | 1917 The Zimmermann Telegram |

119
(2)

| | |
| --- | --- |
| | 1917 The Jones Act The Congress of the United States |

121
(2)

| | |
| --- | --- |
| | 1922 An Argentine Denunciation of Imperialism |

123
(2)

| | |
| --- | --- |
| | 1923 The Bucareli Accords The Governments of Mexico and the United States |

125
(3)

| | |
| --- | --- |
| | 1926 A Latin American Doctrine of Anti-Imperialism |

128
(2)

| | |
| --- | --- |
| | 1928 A Defense of Intervention |

130
(2)

| | |
| --- | --- |
| | 1928 With Sandino in Nicaragua |

132
(3)

| | |
| --- | --- |
| | 1928 The Clark Memorandum |

135
(6)
III. BURYING THE BIG STICK

| | |
| --- | --- |
| | 1933 The Good Neighbor Policy |

141
(2)

| | |
| --- | --- |
| | Franklin Delano Roosevelt |

143
(3)

| | |
| --- | --- |
| | 1933 The United States Accepts the Non-Intervention Principle The Delegates to the Seventh International Conference of American States |

146
(3)

| | |
| --- | --- |
| | 1936 Hemispheric Security and Non-Intervention The Delegates to the Inter-American Conference for the Maintenance of Peace |

149
(1)

| | |
| --- | --- |
| | 1938 Just Compensation for the Good Neighbor |

150
(3)

| | |
| --- | --- |
| | 1938 Populist Diplomacy in Mexico |

153
(3)

| | |
| --- | --- |
| | 1938 A Skeptic Views the Good Neighbor Policy |

156
(3)

| | |
| --- | --- |
| | 1940 Marketing Pan Americanism The U.S. Office of the Coordinator of Inter-American Affairs |

159
(3)

| | |
| --- | --- |
| | 1942 Confronting the Fascist Threat The Delegates to the Third Meeting of Ministers of Foreign Affairs of the American Republics |

162
(3)

| | |
| --- | --- |
| | 1942 The Bracero Program The Governments of Mexico and the United States |

165
(3)

| | |
| --- | --- |
| | 1943 A Historian Defends U.S. Policy |

168
(2)

| | |
| --- | --- |
| | 1944 ``Rum and Coca-Cola'' |

170
(3)

| | |
| --- | --- |
| | 1945 The Act of Chapultepec The Delegates to the Inter-American Conference on Problems of War and Peace |

173
(3)

| | |
| --- | --- |
| | 1946 The Blue Book on Argentina (Braden Report) |

176
(3)

| | |
| --- | --- |
| | 1946 Chilean Labor and U.S. Capital U.S. Department of State |

179
(6)
IV. THE COLD WAR

| | |
| --- | --- |
| | 1947 and 1954 A Charter for Covert Action? The Congress of the United States and the Doolittle Committee |

185
(2)

| | |
| --- | --- |
| | 1947 The Rio Treaty The Governments of the United States and Latin America |

187
(3)

| | |
| --- | --- |
| | 1948 The Charter of the of the Organization of American States The Delegates to the Ninth International Conference of American States |

190
(3)

| | |
| --- | --- |
| | 1948 The Menace of Communism The Delegates to the Ninth International Conference of American States |

193
(2)

| | |
| --- | --- |
| | 1950 A Realist Views Latin America |

195
(3)

| | |
| --- | --- |
| | 1950 A New Economic Model for Latin America |

198
(3)

| | |
| --- | --- |
| | 1954 Terminating a Revolution in Guatemala---A View from Washington |

201
(2)

| | |
| --- | --- |
| | 1954 Terminating a Revolution in Guatemala---A View from Guatemala |

203
(3)

| | |
| --- | --- |
| | 1955 On the Road to Mexico |

206
(2)

| | |
| --- | --- |
| | 1956 Taming a Revolution in Bolivia |

208
(3)

| | |
| --- | --- |
| | 1957 With Castro in the Sierra Maestra |

211
(3)

| | |
| --- | --- |
| | 1958 Operation Pan America |

214
(2)

| | |
| --- | --- |
| | 1960 The Act of Bogota The Committee of 21 |

216
(4)

| | |
| --- | --- |
| | 1960 Debating Cuba and Castro |

220
(3)
223
(3)

| | |
| --- | --- |
| | 1961 The Alliance for Progress |

226
(3)

| | |
| --- | --- |
| | 1961 Lessons of the Bay of Pigs |

229
(3)

| | |
| --- | --- |
| | 1961 The Charter of Punta del Este The Delegates to the Special Meeting of the Inter-American Economic and Social Council |

232
(3)

| | |
| --- | --- |
| | 1961 The Shark and the Sardines |

235
(3)

| | |
| --- | --- |
| | 1962 The Hickenlooper Amendment The Congress of the United States |

238
(1)

| | |
| --- | --- |
| | 1962 The Principles of Economic Development---According to Washington |

239
(3)
242
(2)
244
(3)

| | |
| --- | --- |
| | 1965 Intervention in the Dominican Republic |

247
(3)

| | |
| --- | --- |
| | 1966 Two, Three, Many Vietnams |

250
(2)

| | |
| --- | --- |
| | 1967 The Tlatelolco Treaty The Governments of Latin America |

252
(3)
255
(3)

| | |
| --- | --- |
| | 1967 Transferring the Tools of Counterinsurgency |

258
(2)

| | |
| --- | --- |
| | 1967 Songs of Protest from Latin America The First Protest Song Conference |

260
(2)

| | |
| --- | --- |
| | 1968 Massacre in Mexico U.S. Department of the State |

262
(2)

| | |
| --- | --- |
| | 1969 The Rockefeller Report |

264
(3)

| | |
| --- | --- |
| | 1969 The Principles of Economic Development---According to the Dependentistas |

267
(3)
270
(2)

| | |
| --- | --- |
| | 1972 The Culture of Imperialism |

272
(4)

| | |
| --- | --- |
| | 1975 The Church Committee Report on CIA Covert Action U.S. Senate Select Committee to Study Governmental Operations |

276
(4)

| | |
| --- | --- |
| | 1975 and 1978 Human Rights and Foreign Aid The Congress of the United States |

280
(2)

| | |
| --- | --- |
| | 1976 Soft Spots in the ``Brazilian Model'' |

282
(4)

| | |
| --- | --- |
| | 1977 The Panama Canal Treaties The Governments of the United States and Panama |

286
(3)

| | |
| --- | --- |
| | 1979 Saving the New World from Communism The Committee of Santa Fe |

289
(3)

| | |
| --- | --- |
| | 1984 Central America in Revolt: A Reagan Administration View The National Bipartisan Commission on Central America |

292
(2)

| | |
| --- | --- |
| | 1984 The Fear of Communism in Central America |

294
(3)

| | |
| --- | --- |
| | 1984 Teaching Sabotage The U.S. Central Intelligence Agency |

297
(3)

| | |
| --- | --- |
| | 1986 The United States Condemned The International Court of Justice |

300
(3)

| | |
| --- | --- |
| | 1986 The Pentagon Prepares for Prolonged War The U.S. Department of Defense |

303
(4)
307
(3)

| | |
| --- | --- |
| | 1987 The Esquipulas II Accords The Governments of Costa Rica, El Salvador, Guatemala, Honduras and Nicaragua |

310
(3)

| | |
| --- | --- |
| | 1987 A School of the Americas ``Study Manual'' The U.S. Department of Defense |

313
(3)
316
(5)
V. AFTER THE COLD WAR: CONFLICT IN THE SEARCH FOR COMMON GROUND

| | |
| --- | --- |
| | 1990 The United States Invades Panama: ``We Never Heard The Truth'' |

321
(3)

| | |
| --- | --- |
| | 1992 The Rio Declaration on Environment and Development The Delegates to the U.N. Conference on Environment and Development |

324
(4)

| | |
| --- | --- |
| | 1994 The North American Free Trade Agreement The Governments of Canada, the United States and Mexico |

328
(3)

| | |
| --- | --- |
| | 1994 Insurgency After the Cold War The Zapatista Army of National Liberation |

331
(2)

| | |
| --- | --- |
| | 1994 Proposition 187 The Voters of California |

333
(4)

| | |
| --- | --- |
| | 1994 The Summit of the Americas The Heads of State of Thirty-Four American Nations |

337
(3)

| | |
| --- | --- |
| | 1995 Drugs and Democracy in Bolivia Human Rights Watch |

340
(3)

| | |
| --- | --- |
| | 1996 Sweat-Shop Labor The Organizacion Regional Interamericana de Trabajadores |

343
(4)

| | |
| --- | --- |
| | 1997 The First Americans The Inter-American Commission on Human Rights |

347
(4)
Index
351