Note: Supplemental materials are not guaranteed with Rental or Used book purchases.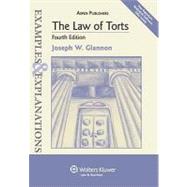 The Law of Torts
ISBN13:
9780735588745
by
Glannon, Joseph W.
Wolters Kluwer Law and Business
Customer Reviews
Worth getting
March 21, 2011
by





This book is very helpful in easily explaining a concept and explaining how things relate to each other. Each topic is broken into a chapter that gives an overall explanation, and at the end of each chapter there are 10 questions that reinforce/give additional information about the process of applying the topic to a fact pattern. There are also exam tips and 2-3 long essay samples with sample answers.

Flag Review
---
The Law of Torts

:
stars based on
1
user reviews.
Summary
Both students and instructors will welcome the new edition of Joseph W. Glannon's the Law of Torts: Examples & Explanations .
This popular study guide provides clear, engaging introductions To The principles of tort law, along with interesting examples that illustrate how the principles apply in typical cases. These distinctive characteristics earned the book its reputation for effectiveness: highly respected author, whose best-selling Civil Procedure: Examples & Explanations uniquely entertaining writing style that captures and holds student interest coverage of the standard topics from most Torts courses - intentional torts, negligence, causation, duty, damages, liability of multiple defendants, And The effect of the plaintiff's conduct three-chapter section on Taking a Torts Essay Exam supplies guidance, tips, and sample exam questions and answers the Third Edition introduces important new material: two new chapters on Products Liability, one on theories of recovery in strict products liability cases and one on common defenses to strict products liability claims completely updated text, with citations reflecting the most current law.
With more balanced coverage of negligence and intentional Torts and in-depth coverage of products liability, Examples & Explanations: The Law of Torts, Fourth Edition, represents indispensable assistance to many law students taking Torts. Joseph W. Glannon's introductory exposition entertains as it teaches. His Examples & Explanations give students the opportunity to test their knowledge and gain valuable practice applying the law.
Table of Contents
Preface to Students
p. xiii
Acknowledgments
p. xv
Special Notice
p. xvii
Intentional Torts
Fundamental Protections: The Tort of Battery
p. 3
The Action for Assault: A Tort Ahead of Its Time
p. 23
Protecting the Right of Possession: Trespass to Land
p. 43
Dueling Remedies: Trespass to Chattels and Conversion
p. 61
False Imprisonment: Protecting Freedom of Movement
p. 77
The Far Side of the Coin: Classic Defenses to Intentional Torts
p. 91
The Concept Of Negligence
That Odious Character: The Reasonable Person
p. 117
Borrowing Standards of Care: Violation of Statute as Negligence
p. 143
A Phrase in Latin: Res Ipsa Loquitur
p. 163
The Causation Enigma
Reconstructing History: Determining "Cause in Fact"
p. 189
Risks Reconsidered: Complex Issues in Establishing Factual Cause
p. 211
Drawing a Line Somewhere Proximate Cause
p. 237
The Duty Element
The Elusive Element of Duty: Two Principles in Search of an Exception
p. 267
Vicarious Displeasure: Claims for Indirect Infliction of Emotional Distress and Loss of Consortium
p. 295
Caveat Actor: Strict Liability for Abnormally Dangerous Activities
p. 321
Strict Products Liability: Basic Theories of Recovery
p. 343
More Products Liability: Common "Defenses" to Strict Products Liability Claims
p. 371
Damages For Personal Injury
Personal Injury Damages: The Elements of Compensation
p. 399
Compensating Somebody: Wrongful Death and Survival Actions
p. 423
Interlude: Pleading a Personal Injury Case
Some Legal Anatomy: Thinking Like a Tort Lawyer
p. 447
Liability Of Multiple Defendants
Joint and Several Liability: The Classic Rules
p. 471
Honor Among Thieves: Basic Principles of Contribution
p. 489
Please Pass the Liability: Respondeat Superior and Nondelegable Duties
p. 509
The Effect Of Plaintiff's Conduct
The Once and Future Defense: Assumption of the Risk
p. 535
Casting the Second Stone: Comparative Negligence
p. 559
The Fracturing of the Common Law: Loss Allocation in the Comparative Negligence Era
p. 587
Taking a Torts Essay Exam
The Pot at the End of the Rainbow: Analyzing Torts Issues on an Essay Exam
p. 607
Dandelions in the Bluebook Garden: Six Classic Exam Writing Mistakes
p. 631
Practice Makes Perfect: Examples and Explanations
p. 645
Index
p. 661
Table of Contents provided by Ingram. All Rights Reserved.