Note: Supplemental materials are not guaranteed with Rental or Used book purchases.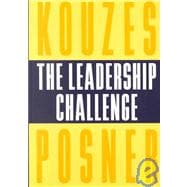 The Leadership Challenge: How to Keep Getting Extraordinary Things Done in Organizations, 2nd Edition
ISBN13:
9780787902698
by
Kouzes, James M.
;
Posner, Barry Z.
Related Products
Summary
"With scores of new case studies and a timeless and inspiring message, The Leadership Challenge is a "personal coach in a book," guiding readers through the Five Practices of Exemplary Leadership. When leaders understand that leadership is a relationship and they begin to engage in the Five Practices - Model the Way, Inspire a Shared Vision, Challenge the Process, Enable Others to Act, and Encourage the Heart - they are better able to embark on a lifetime of success and significance."--BOOK JACKET.
Author Biography
Barry Posner is Dean of the Leavey School of Business at Santa Clara University. James M. Kouzes is Dean's Executive Professor of Leadership, Leaver School of Business, Santa Clara University.
Table of Contents
Foreword
xv
Preface Everyone's Business: The New Realities of Leadership
xvii
PART 1 When Leaders Are at Their Best

| | |
| --- | --- |
| | The Practices and Commitments of Exemplary Leadership |

3
(16)

| | |
| --- | --- |
| | The Five Fundamental Practices of Exemplary Leadership |

| | |
| --- | --- |
| | Myths, Traditions, and Realities |

| | |
| --- | --- |
| | The Ten Commitments of Leadership |

| | |
| --- | --- |
| | What Constituents Expect of Leaders: Knowing the Other Half of the Story |

19
(16)

| | |
| --- | --- |
| | Leader Characteristics That Constituents Admire |

| | |
| --- | --- |
| | Putting It All Together: Credibility |

| | |
| --- | --- |
| | The Essence of Leadership |

PART 2 Challenging the Process

| | |
| --- | --- |
| | Search for Opportunities: Confronting and Changing the Status Quo |

35
(27)

| | |
| --- | --- |
| | Arousing Intrinsic Motivation |

| | |
| --- | --- |
| | Balancing the Paradox of Routines |

| | |
| --- | --- |
| | Conditions That Foster Leadership |

| | |
| --- | --- |
| | Committing to the Challenge: Moving Toward Opportunities |

| | |
| --- | --- |
| | Experiment and Take Risks: Learning from Mistakes and Successes |

62
(29)

| | |
| --- | --- |
| | The Importance of Taking Risks |

| | |
| --- | --- |
| | Promoting Psychological Hardiness and Fostering Risk Taking |

| | |
| --- | --- |
| | Committing to the Challenge: Learning the Lessons of Experimentation |

PART 3 Inspiring a Shared Vision

| | |
| --- | --- |
| | Envision the Future: Imagining Ideal Scenarios |

91
(30)

| | |
| --- | --- |
| | The Importance of Having a Vision |

| | |
| --- | --- |
| | Committing to the Challenge: Focusing the Vision |

| | |
| --- | --- |
| | Enlist Others: Attracting People to Common Purposes |

121
(30)

| | |
| --- | --- |
| | Developing a Shared Sense of Destiny |

| | |
| --- | --- |
| | Discovering a Common Purpose |

| | |
| --- | --- |
| | Demonstrating Personal Conviction |

| | |
| --- | --- |
| | Committing to the Challenge: Leading with Shared Vision |

PART 4 Enabling Others to Act

| | |
| --- | --- |
| | Foster Collaboration: Promoting Cooperative Goals and Mutual Trust |

151
(29)

| | |
| --- | --- |
| | Collaboration Improves Performance |

| | |
| --- | --- |
| | Developing Cooperative Goals |

| | |
| --- | --- |
| | Seeking Integrative Solutions |

| | |
| --- | --- |
| | Building Trusting Relationships |

| | |
| --- | --- |
| | Committing to the Challenge: Getting to Collaboration |

| | |
| --- | --- |
| | Strengthen Others: Sharing Power and Information |

180
(29)

| | |
| --- | --- |
| | Power in Service of Others |

| | |
| --- | --- |
| | Ensuring Self-Leadership: Putting People in Control of Their Own Lives |

| | |
| --- | --- |
| | Committing to the Challenge: Acting on the Paradox of Power |

PART 5 Modeling the Way

| | |
| --- | --- |
| | Set the Example: Doing What You Say You Will Do |

209
(33)

| | |
| --- | --- |
| | Clarifying Values: Beliefs Guide Choices and Actions |

| | |
| --- | --- |
| | Unifying Constituents: Shared Values Make a Difference |

| | |
| --- | --- |
| | Paying Attention: Actions Speak Louder Than Words |

| | |
| --- | --- |
| | Committing to the Challenge: Making Actions Count |

| | |
| --- | --- |
| | Achieve Small Wins: Building Commitment to Action |

242
(27)

| | |
| --- | --- |
| | Major Change Is a Process of Small Wins |

| | |
| --- | --- |
| | Leading the Small-Wins Process |

| | |
| --- | --- |
| | Committing to the Challenge: Small Wins Strengthen Commitment and People |

PART 6 Encouraging the Heart

| | |
| --- | --- |
| | Recognize Contributions: Linking Rewards with Performance |

269
(23)

| | |
| --- | --- |
| | Building Self-Confidence Through High Expectations |

| | |
| --- | --- |
| | Connecting Performance and Rewards |

| | |
| --- | --- |
| | Using a Variety of Rewards |

| | |
| --- | --- |
| | Being Positive and Hopeful |

| | |
| --- | --- |
| | Committing to the Challenge: Building Confidence and Courage |

| | |
| --- | --- |
| | Celebrate Accomplishments: Valuing the Victories |

292
(25)

| | |
| --- | --- |
| | Cheering About Key Values |

| | |
| --- | --- |
| | Being Personally Involved |

| | |
| --- | --- |
| | Creating Social Support Networks |

| | |
| --- | --- |
| | The Secret of Success Is Love |

| | |
| --- | --- |
| | Committing to the Challenge: Leading and Loving the Team |

PART 7 Beginning the Journey

| | |
| --- | --- |
| | Become a Positive Force: The Leader Who Makes a Difference |

317
(24)

| | |
| --- | --- |
| | Leaders Make a Difference |

| | |
| --- | --- |
| | Believing That You Can Lead |

| | |
| --- | --- |
| | Leadership Development as Self-Development |

Appendix Theory and Evidence Behind the Practice: The Leadership Practices Inventory (LPI)
341
(12)
Notes
353
(26)
Acknowledgments
379
(4)
The Authors
383
(4)
Index
387