Note: Supplemental materials are not guaranteed with Rental or Used book purchases.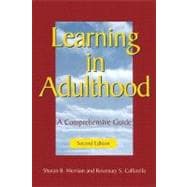 Summary
In this updated landmark book, the authors have gathered the seminal work and most current thinking on adult learning into one volume. Learning in Adulthood addresses a wide range of topics including: Who are adult learners? How do adults learn? Why are adults involved in learning activities? How does the social context shape the learning that adults are engaged in? How does aging affect learning ability?
Author Biography
SHARAN B. MERRIAM is professor of adult education at the University of Georgia, Athens. Her research and writing focus on the foundations of the adult education field, on adult development and learning, and on qualitative research methods. An acclaimed scholar in her field, she has served as author, coauthor, or editor of seventeen books and was coeditor of Adult Education Quarterly for five years. ROSEMARY S. CAFFARELLA is a professor in the Division of Educational Leadership and Policy Studies at the University of Northern Colorado. A preeminent authority on adult learning and development, training, and program development, Caffarella is author or coauthor of five books on adult and continuing education.
Table of Contents
Preface
xi
(6)
The Authors
xvii
Part One: The Context and Provision of Adult Learning
1
(88)

| | |
| --- | --- |
| | 1 Adult Learning and Contemporary Society |

5
(19)

| | |
| --- | --- |
| | 2 Learning Opportunities in Adulthood |

24
(21)

| | |
| --- | --- |
| | 3 Participation in Adult Education |

45
(27)

| | |
| --- | --- |
| | 4 Providing Learning Opportunities |

72
(17)
Part Two: Adult Development and Learning
89
(104)

| | |
| --- | --- |
| | 5 Biological and Psychological Development |

93
(24)

| | |
| --- | --- |
| | 6 Sociocultural and Integrative Perspectives on Development |

117
(21)

| | |
| --- | --- |
| | 7 Cognitive Development in Adulthood |

138
(30)
168
(25)
Part Three: The Learning Process
193
(74)

| | |
| --- | --- |
| | 9 Memory, Cognition, and the Brain |

195
(26)

| | |
| --- | --- |
| | 10 Experience and Learning |

221
(27)

| | |
| --- | --- |
| | 11 Key Theories of Learning |

248
(19)
Part Four: The Learning Transaction with Adults
267
(100)

| | |
| --- | --- |
| | 12 Andragogy and Other Models of Adult Learning |

271
(17)

| | |
| --- | --- |
| | 13 Self-Directed Learning |

288
(30)

| | |
| --- | --- |
| | 14 Transformational Learning |

318
(22)

| | |
| --- | --- |
| | 15 Critical Theory, Postmodern, and Feminist Perspectives |

340
(27)
Part Five: Reflections on Practice
367
(38)

| | |
| --- | --- |
| | 16 Ethics and Adult Learning |

369
(18)

| | |
| --- | --- |
| | 17 Integrating Theory and Practice |

387
(18)
References
405
(70)
Name Index
475
(8)
Subject Index
483