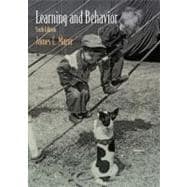 List Price: $177.40
Hurry!
Only two copies
in stock at this price.
In Stock Usually Ships in 24 Hours.

More New and Used
from Private Sellers
Questions About This Book?
Why should I rent this book?
Renting is easy, fast, and cheap! Renting from eCampus.com can save you hundreds of dollars compared to the cost of new or used books each semester. At the end of the semester, simply ship the book back to us with a free UPS shipping label! No need to worry about selling it back.
How do rental returns work?
Returning books is as easy as possible. As your rental due date approaches, we will email you several courtesy reminders. When you are ready to return, you can print a free UPS shipping label from our website at any time. Then, just return the book to your UPS driver or any staffed UPS location. You can even use the same box we shipped it in!
What version or edition is this?
This is the 6th edition with a publication date of 4/25/2005.
What is included with this book?
The Used copy of this book is not guaranteed to inclue any supplemental materials. Typically, only the book itself is included.
The Rental copy of this book is not guaranteed to include any supplemental materials. You may receive a brand new copy, but typically, only the book itself.
Summary
Widely acclaimed for its thoroughness and clarity, this contemporary survey of the field of learning offers comprehensive coverage of both classic studies and the most recent developments and trendswith an emphasis on the importance of learning principles in everyday life. Many real-world examples and analogies make the often abstract concepts and theories of the field more concrete and relevant, and most chapters include sections that describe how the theories and principles have been used in the applied field of behavior modification.Chapter topics include classical conditioning, operant conditioning, avoidance and punishment, theories and research on operant conditioning, stimulus control and concept formation, learning by observation, and much more.For individuals with an interest in psychology-especially learning, conditioning, and the experimental analysis of behavior.
Table of Contents
Preface
xv

| | |
| --- | --- |
| | The Psychology of Learning and Behavior |

1
(18)

| | |
| --- | --- |
| | The Search for General Principles of Learning |

2
(2)

| | |
| --- | --- |
| | The Nature of Scientific Theories |

4
(7)

| | |
| --- | --- |
| | An Example of a Theory about Behavior: Biorhythm Theory |

4
(1)

| | |
| --- | --- |
| | The Major Components of Scientific Theories |

5
(1)

| | |
| --- | --- |
| | Judging Scientific Theories |

6
(1)

| | |
| --- | --- |
| | Issues and Techniques in Comparing Theory with Data |

7
(4)

| | |
| --- | --- |
| | Behavioral and Cognitive Approaches to Learning |

11
(5)

| | |
| --- | --- |
| | The Use of Animal Subjects |

11
(2)

| | |
| --- | --- |
| | The Emphasis on External Events |

13
(3)

| | |
| --- | --- |
| | On Free Will, Determinism, and Chaos Theory |

16
(2)
18
(1)
18
(1)

| | |
| --- | --- |
| | Simple Ideas, Simple Associations, and Simple Cells |

19
(19)

| | |
| --- | --- |
| | Early Theories about the Association of Ideas |

19
(4)
19
(1)

| | |
| --- | --- |
| | The British Associationists: Simple and Complex Ideas |

20
(3)

| | |
| --- | --- |
| | Thomas Brown's Secondary Principles of Association |

23
(1)

| | |
| --- | --- |
| | Ebbinghaus's Experiments on Memory |

23
(4)

| | |
| --- | --- |
| | Ebbinghaus's Major Findings |

24
(2)

| | |
| --- | --- |
| | Ebbinghaus and the Associationists Compared to Later Learning Theorists |

26
(1)

| | |
| --- | --- |
| | Physiological Facts and Theories Related to Associationism |

27
(9)

| | |
| --- | --- |
| | The Basic Characteristics of Neurons |

27
(2)

| | |
| --- | --- |
| | Physiological Research on ``Simple Sensations'' |

29
(1)

| | |
| --- | --- |
| | Physiological Research on ``Complex Ideas'' |

30
(2)

| | |
| --- | --- |
| | Physiological Research on Learning |

32
(4)
36
(1)
37
(1)

| | |
| --- | --- |
| | Innate Behavior Patterns and Habituation |

38
(22)

| | |
| --- | --- |
| | Characteristics of Goal-Directed Systems |

39
(1)
40
(1)
41
(1)
41
(1)
42
(1)
42
(3)
42
(2)
44
(1)

| | |
| --- | --- |
| | Innate Human Abilities and Predispositions |

45
(2)
47
(12)

| | |
| --- | --- |
| | General Principles of Habituation |

49
(2)

| | |
| --- | --- |
| | Physiological Mechanisms of Habituation |

51
(2)

| | |
| --- | --- |
| | Habituation in Emotional Responses: The Opponent-Process Theory |

53
(6)
59
(1)
59
(1)

| | |
| --- | --- |
| | Basic Principles of Classical Conditioning |

60
(29)

| | |
| --- | --- |
| | Pavlov's Discovery and Its Impact |

60
(8)

| | |
| --- | --- |
| | The Standard Paradigm of Classical Conditioning |

61
(1)

| | |
| --- | --- |
| | The Variety of Conditioned Responses |

62
(3)

| | |
| --- | --- |
| | Pavlov's Stimulus Substitution Theory |

65
(2)
67
(1)

| | |
| --- | --- |
| | Basic Conditioning Phenomena |

68
(7)
68
(1)
69
(1)
70
(1)
71
(1)
72
(1)
72
(1)

| | |
| --- | --- |
| | Generalization and Discrimination |

73
(2)

| | |
| --- | --- |
| | The Importance of Timing in Classical Conditioning |

75
(3)
76
(2)

| | |
| --- | --- |
| | Higher Order Conditioning |

78
(1)

| | |
| --- | --- |
| | Classical Conditioning Outside the Laboratory |

79
(8)

| | |
| --- | --- |
| | Classical Conditioning and Emotional Responses |

79
(1)

| | |
| --- | --- |
| | Classical Conditioning and the Immune System |

80
(1)

| | |
| --- | --- |
| | Applications in Behavior Therapy |

81
(6)
87
(1)
88
(1)

| | |
| --- | --- |
| | Theories and Research on Classical Conditioning |

89
(29)

| | |
| --- | --- |
| | Theories of Associative Learning |

90
(9)
90
(1)

| | |
| --- | --- |
| | The Rescorla-Wagner Model |

91
(5)

| | |
| --- | --- |
| | Theories of CS Effectiveness |

96
(1)

| | |
| --- | --- |
| | Comparator Theories of Conditioning |

97
(2)
99
(1)
99
(3)

| | |
| --- | --- |
| | Associations in First-Order Conditioning |

99
(1)

| | |
| --- | --- |
| | Associations in Second-Order Conditioning |

99
(1)

| | |
| --- | --- |
| | Associations with Contextual Stimuli |

100
(1)
100
(1)
101
(1)
101
(1)

| | |
| --- | --- |
| | Biological Constraints on Classical Conditioning |

102
(6)

| | |
| --- | --- |
| | The Contiguity Principle and Taste-Aversion Learning |

102
(1)

| | |
| --- | --- |
| | Biological Preparedness in Taste-Aversion Learning |

103
(2)

| | |
| --- | --- |
| | Biological Preparedness in Human Learning |

105
(1)

| | |
| --- | --- |
| | Biological Constraints and the General-Principle Approach |

106
(2)

| | |
| --- | --- |
| | The Form of the Conditioned Response |

108
(4)

| | |
| --- | --- |
| | Drug Tolerance and Drug Cravings as Conditioned Responses |

108
(3)

| | |
| --- | --- |
| | Conditioned Opponent Theories |

111
(1)

| | |
| --- | --- |
| | Physiological Research on Classical Conditioning |

112
(4)

| | |
| --- | --- |
| | Research with Primitive Creatures |

112
(2)

| | |
| --- | --- |
| | Research with Mammals and Other Vertebrates |

114
(1)

| | |
| --- | --- |
| | Research with Human Subjects |

115
(1)
116
(1)
117
(1)

| | |
| --- | --- |
| | Basic Principles of Operant Conditioning |

118
(27)
119
(6)
119
(1)

| | |
| --- | --- |
| | Guthrie and Horton: Evidence for a Mechanical Strengthening Process |

120
(3)
123
(2)

| | |
| --- | --- |
| | The Procedure of Shaping, or Successive Approximations |

125
(5)

| | |
| --- | --- |
| | Shaping Lever Pressing in a Rat |

126
(1)

| | |
| --- | --- |
| | Shaping Behaviors in the Classroom |

127
(1)

| | |
| --- | --- |
| | Shaping as a Tool in Behavior Modification |

128
(1)

| | |
| --- | --- |
| | Making Shaping More Precise: Percentile Schedules |

129
(1)

| | |
| --- | --- |
| | Versatility of the Shaping Process |

130
(1)

| | |
| --- | --- |
| | The Research of B. F. Skinner |

130
(6)
131
(1)

| | |
| --- | --- |
| | The Three-Term Contingency |

132
(1)

| | |
| --- | --- |
| | Basic Principles of Operant Conditioning |

132
(1)
133
(1)

| | |
| --- | --- |
| | Conditioned Reinforcement |

133
(1)
134
(2)

| | |
| --- | --- |
| | Biological Constraints on Operant Conditioning |

136
(7)
136
(2)
138
(4)

| | |
| --- | --- |
| | Reconciling Reinforcement Theory and Biological Constraints |

142
(1)
143
(1)
144
(1)

| | |
| --- | --- |
| | Reinforcement Schedules: Experimental Analyses and Applications |

145
(25)

| | |
| --- | --- |
| | Plotting Moment-to-Moment Behavior: The Cumulative Recorder |

146
(1)

| | |
| --- | --- |
| | The Four Simple Reinforcement Schedules |

146
(7)
146
(2)
148
(1)
149
(2)
151
(1)

| | |
| --- | --- |
| | Extinction and the Four Simple Schedules |

151
(1)

| | |
| --- | --- |
| | Other Reinforcement Schedules |

152
(1)

| | |
| --- | --- |
| | Factors Affecting Performance on Reinforcement Schedules |

153
(4)
154
(1)

| | |
| --- | --- |
| | Contingency-Shaped versus Rule-Governed Behaviors |

154
(2)
156
(1)
156
(1)

| | |
| --- | --- |
| | The Experimental Analysis of Reinforcement Schedules |

157
(5)

| | |
| --- | --- |
| | Cause of the FR Postreinforcement Pause |

157
(2)

| | |
| --- | --- |
| | Comparisons of VR and VI Response Rates |

159
(3)

| | |
| --- | --- |
| | Applications of Operant Conditioning |

162
(6)

| | |
| --- | --- |
| | Teaching Language to Autistic Children |

162
(2)
164
(2)

| | |
| --- | --- |
| | Organizational Behavior Management |

166
(1)

| | |
| --- | --- |
| | Behavior Therapy for Marital Problems |

167
(1)
168
(2)
170
(1)
170
(30)
171
(10)
172
(1)

| | |
| --- | --- |
| | A Representative Experiment |

172
(1)
173
(1)

| | |
| --- | --- |
| | Evidence Supporting Two-Factor Theory |

174
(1)

| | |
| --- | --- |
| | Problems with Two-Factor Theory |

174
(1)
175
(2)
177
(1)

| | |
| --- | --- |
| | Biological Constraints in Avoidance Learning |

178
(2)

| | |
| --- | --- |
| | Conclusions about the Theories of Avoidance |

180
(1)

| | |
| --- | --- |
| | Flooding as Behavior Therapy |

180
(1)
181
(3)
184
(6)

| | |
| --- | --- |
| | Is Punishment the Opposite of Reinforcement? |

185
(1)

| | |
| --- | --- |
| | Factors Influencing the Effectiveness of Punishment |

186
(2)

| | |
| --- | --- |
| | Disadvantages of Using Punishment |

188
(2)
190
(1)

| | |
| --- | --- |
| | Behavior Decelerators in Behavior Therapy |

190
(9)
190
(2)

| | |
| --- | --- |
| | Negative Punishment: Response Cost and Time-Out |

192
(2)

| | |
| --- | --- |
| | Other Techniques for Behavior Deceleration |

194
(3)

| | |
| --- | --- |
| | The Aversives Controversy |

197
(2)
199
(1)
199
(1)

| | |
| --- | --- |
| | Theories and Research on Operant Conditioning |

200
(24)
201
(1)

| | |
| --- | --- |
| | The Role of the Reinforcer |

202
(7)

| | |
| --- | --- |
| | Is Reinforcement Necessary for Operant Conditioning? |

202
(1)

| | |
| --- | --- |
| | Expectations about the Reinforcer |

202
(2)

| | |
| --- | --- |
| | Is Reinforcement at Work in Classical Conditioning? |

204
(1)

| | |
| --- | --- |
| | Can Reinforcement Control Visceral Responses? |

205
(2)
207
(2)

| | |
| --- | --- |
| | How Can We Predict What Will Be a Reinforcer? |

209
(8)
210
(1)
211
(1)
211
(1)
212
(3)

| | |
| --- | --- |
| | Response Deprivation Theory |

215
(1)

| | |
| --- | --- |
| | The Functional Analysis of Behaviors and Reinforcers |

216
(1)
217
(6)

| | |
| --- | --- |
| | Optimization: Theory and Research |

218
(2)

| | |
| --- | --- |
| | Elasticity and Inelasticity of Demand |

220
(1)

| | |
| --- | --- |
| | Behavioral Economics and Drug Abuse |

221
(1)
222
(1)
223
(1)
223
(1)

| | |
| --- | --- |
| | Stimulus Control and Concept Formation |

224
(26)
225
(4)

| | |
| --- | --- |
| | Measuring Generalization Gradients |

225
(1)

| | |
| --- | --- |
| | What Causes Generalization Gradients? |

226
(3)

| | |
| --- | --- |
| | Is Stimulus Control Absolute or Relational? |

229
(5)

| | |
| --- | --- |
| | Transposition and Peak Shift |

229
(2)

| | |
| --- | --- |
| | Spence's Theory of Excitatory and Inhibitory Gradients |

231
(1)

| | |
| --- | --- |
| | The Intermediate--Size Problem |

232
(1)

| | |
| --- | --- |
| | Evaluating the Two Theories |

233
(1)
234
(2)

| | |
| --- | --- |
| | ``Errorless'' Discrimination Learning |

236
(3)

| | |
| --- | --- |
| | Transfer of Learning after Discrimination Training |

239
(2)
241
(5)

| | |
| --- | --- |
| | The Structure of Natural Categories |

241
(1)

| | |
| --- | --- |
| | Animal Studies on Natural Concept Formation |

242
(3)

| | |
| --- | --- |
| | Developing Stimulus Equivalence |

245
(1)

| | |
| --- | --- |
| | Stimulus Control in Behavior Modification |

246
(3)

| | |
| --- | --- |
| | Stimulus Equivalence Training |

246
(1)
247
(1)
247
(2)
249
(1)
249
(1)
250
(28)
251
(10)

| | |
| --- | --- |
| | Short-Term Memory, or Working Memory |

251
(5)
256
(3)

| | |
| --- | --- |
| | Long-Term Memory, or Reference Memory |

259
(2)

| | |
| --- | --- |
| | Time, Number, and Serial Patterns |

261
(8)

| | |
| --- | --- |
| | Experiments on an ``Internal Clock'' |

262
(2)
264
(2)
266
(1)
266
(3)
269
(8)

| | |
| --- | --- |
| | Teaching Language to Animals |

269
(4)
273
(4)
277
(1)
277
(1)
278
(22)
279
(7)
279
(2)

| | |
| --- | --- |
| | Imitation as an Operant Response |

281
(1)

| | |
| --- | --- |
| | Imitation as a Generalized Operant Response |

282
(1)

| | |
| --- | --- |
| | Bandura's Theory of Imitation |

282
(3)

| | |
| --- | --- |
| | Which Theory of Imitation Is Best? |

285
(1)

| | |
| --- | --- |
| | Factors That Affect the Likelihood of Imitation |

286
(1)

| | |
| --- | --- |
| | Interactions Between Observational Learning and Operant Conditioning |

287
(2)
287
(1)
288
(1)

| | |
| --- | --- |
| | Media Violence and Aggressive Behavior |

289
(2)

| | |
| --- | --- |
| | What Can Be Learned Through Observation? |

291
(3)
291
(1)
292
(1)
292
(1)

| | |
| --- | --- |
| | Moral Standards and Behavior |

293
(1)

| | |
| --- | --- |
| | Modeling in Behavior Therapy |

294
(4)

| | |
| --- | --- |
| | Facilitation of Low-Probability Behaviors |

294
(1)

| | |
| --- | --- |
| | Acquisition of New Behaviors |

295
(1)

| | |
| --- | --- |
| | Elimination of Fears and Unwanted Behaviors |

295
(2)
297
(1)

| | |
| --- | --- |
| | Conclusions: The Sophisticated Skill of Learning by Observation |

298
(1)
299
(1)
299
(1)
300
(23)

| | |
| --- | --- |
| | The Variety of Motor Skills |

301
(1)

| | |
| --- | --- |
| | Variables Affecting Motor Learning and Performance |

302
(8)

| | |
| --- | --- |
| | Reinforcement and Knowledge of Results |

302
(3)
305
(2)
307
(1)

| | |
| --- | --- |
| | Observational Learning of Motor Skills |

307
(1)

| | |
| --- | --- |
| | Transfer from Previous Training |

308
(1)

| | |
| --- | --- |
| | Ironic Errors in Movement |

309
(1)

| | |
| --- | --- |
| | Theories of Motor-Skill Learning |

310
(6)
310
(3)
313
(2)

| | |
| --- | --- |
| | Battig's Contextual Interference Theory |

315
(1)

| | |
| --- | --- |
| | Learning Movement Sequences |

316
(6)

| | |
| --- | --- |
| | The Response Chain Approach |

316
(1)
317
(5)
322
(1)
322
(1)
323
(30)
324
(7)
324
(1)

| | |
| --- | --- |
| | Other Experiments on Matching |

325
(1)
326
(2)

| | |
| --- | --- |
| | Varying the Quality and Amount of Reinforcement |

328
(1)

| | |
| --- | --- |
| | An Application to Single Schedules |

329
(2)

| | |
| --- | --- |
| | Theories of Choice Behavior |

331
(8)

| | |
| --- | --- |
| | Matching as an Explanatory Theory |

331
(1)
332
(1)

| | |
| --- | --- |
| | Optimization Theory as an Explanation of Matching |

333
(3)

| | |
| --- | --- |
| | Momentary Maximization Theory |

336
(2)
338
(1)
339
(7)

| | |
| --- | --- |
| | The Ainslie-Rachlin Theory |

341
(1)

| | |
| --- | --- |
| | Animal Studies on Self-Control |

342
(2)

| | |
| --- | --- |
| | Factors Affecting Self-Control in Children |

344
(1)

| | |
| --- | --- |
| | Techniques for Improving Self-Control |

345
(1)
346
(5)

| | |
| --- | --- |
| | Preference for Variability |

346
(2)
348
(1)

| | |
| --- | --- |
| | The Tragedy of the Commons |

349
(2)
351
(1)
352
(1)
Glossary
353
(14)
References
367
(44)
Acknowledgments
411
(4)
Author Index
415
(17)
Subject Index
432