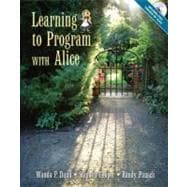 List Price: $75.00
Usually Ships in 2-3 Business Days
Questions About This Book?
What version or edition is this?
This is the 2nd edition with a publication date of 1/1/2009.
What is included with this book?
The Used copy of this book is not guaranteed to inclue any supplemental materials. Typically, only the book itself is included.
Summary
With the rise of object-oriented languages, computer science faculty must squeeze far more content-and far more challenging concepts-into introductory courses. The result: many novices find introductory programming courses extremely frustrating, and some even abandon computer science altogether. Alice was designed from the ground up to make contemporary programming concepts far easier to teach-and to learn. In this highly anticipated book, Alice's creators and key innovators offer a complete full-color introduction to the Alice 3D interactive graphics programming environment.
Author Biography
Randy Pausch is Professor of Computer Science, Human-Computer Interaction, and Design, Carnegie Mellon University.
Table of Contents
Foreword
ix
Preface
xi

| | |
| --- | --- |
| | Part I: Introduction to Alice |

1
(70)

| | |
| --- | --- |
| | Getting Started with Alice |

3
(16)
3
(4)
7
(12)

| | |
| --- | --- |
| | Tips & Techniques 1: Special Effects: Text and 2D Graphic Images |

13
(6)

| | |
| --- | --- |
| | Program Design and Implementation |

19
(32)

| | |
| --- | --- |
| | Scenarios and Storyboards |

19
(7)
26
(25)

| | |
| --- | --- |
| | Tips & Techniques 2: Orientation and Movement Instructions |

47
(2)
49
(2)

| | |
| --- | --- |
| | Programming: Putting Together the Pieces |

51
(20)

| | |
| --- | --- |
| | Built-in Functions and Expressions |

52
(4)

| | |
| --- | --- |
| | Simple Control Structures |

56
(15)

| | |
| --- | --- |
| | Tips & Techniques 3: Engineering Look and Feel |

64
(4)
68
(2)
70
(1)

| | |
| --- | --- |
| | Part II: Object-Oriented and Event-Driven Programming Concepts |

71
(74)

| | |
| --- | --- |
| | Classes, Objects, Methods, and Parameters |

73
(47)
75
(8)
83
(10)

| | |
| --- | --- |
| | Class-level Methods and Inheritance |

93
(27)

| | |
| --- | --- |
| | Tips & Techniques 4: Visible and Invisible Objects |

104
(5)
109
(9)
118
(2)

| | |
| --- | --- |
| | Interaction: Events and Event Handling |

120
(25)
120
(5)

| | |
| --- | --- |
| | Parameters and Event Handling Methods |

125
(20)

| | |
| --- | --- |
| | Tips & Techniques 5: Events |

134
(1)
135
(8)
143
(2)

| | |
| --- | --- |
| | Part III: Using Functions and Control Statements |

145
(86)
147
(36)
147
(7)

| | |
| --- | --- |
| | Execution Control with If/Else and Boolean Functions |

154
(29)

| | |
| --- | --- |
| | Tips & Techniques 6: Random Numbers and Random Motion |

167
(4)
171
(10)
181
(2)

| | |
| --- | --- |
| | Repetition: Definite and Indefinite Loops |

183
(22)
183
(6)

| | |
| --- | --- |
| | While---An Indefinite Loop |

189
(16)

| | |
| --- | --- |
| | Tips & Techniques 7: Events and Repetition |

194
(2)
196
(7)
203
(2)
205
(26)

| | |
| --- | --- |
| | Introduction to Recursion |

205
(5)

| | |
| --- | --- |
| | Another Flavor of Recursion |

210
(21)

| | |
| --- | --- |
| | Tips & Techniques 8: Camera and Animation Controls |

220
(3)
223
(5)
228
(3)
231
(52)

| | |
| --- | --- |
| | Lists and List Processing |

233
(17)
233
(6)
239
(11)

| | |
| --- | --- |
| | Tips & Techniques 9: Poses |

243
(1)
244
(5)
249
(1)

| | |
| --- | --- |
| | Variables and Revisiting Inheritance |

250
(28)
250
(11)

| | |
| --- | --- |
| | An Array Visualization Using an Index Variable |

261
(17)

| | |
| --- | --- |
| | Tips & Techniques 10: Bebugging with Watch and Text Output |

269
(3)
272
(5)
277
(1)
278
(5)
283
(19)

| | |
| --- | --- |
| | Part 1: Running Virtual Worlds in Alice |

283
(14)

| | |
| --- | --- |
| | Part 2: Using Popup Menus to Create an Initial Scene |

297
(5)

| | |
| --- | --- |
| | Appendix B: Managing the Alice Interface |

302
(8)
Index
310