Note: Supplemental materials are not guaranteed with Rental or Used book purchases.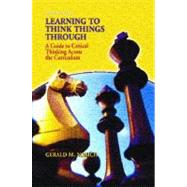 Learning to Think Things Through : A Guide to Critical Thinking Across the Curriculum
ISBN13:
9780131141520
by
Nosich, Gerald M.
Summary
Since the mid-1980s, Gerald Nosich has been committed to teaching Critical Thinking across the curriculum and throughout the disciplines. He believes that in the final analysis the only way for students to master content in any course is to think their way through it. And the only way to effectively control their own lives and choices is by learning to think more critically about them. Built on Richard Paul's model of critical thinking, Learning to Think Things Through was written to help students engage in critical thinking within the discipline or subject matter they are studying. In addition, students will better appreciate the power of the discipline they are studying, see its connections to other fields and to their day-to-day lives, maintain an overview of the field so they can see the parts in terms of the whole, and become active learners rather than passive recipients of information. Learning to Think Things Through is ideal for instructors addressing the critical thinking component in composition courses, sciences, humanities, the professions-in any field.
Table of Contents
What Is Critical Thinking?
Some Definitions of Critical Thinking
Some Prominent Features of Critical Thinking
Three Parts of Critical Thinking
What Critical Thinking Is Not
Impediments to Critical Thinking
Deeper, More Pervasive Impediments to Critical Thinking
How Deep Is Our Need for Critical Thinking? The Experience of Learning to Think Things Through
An Overview of the Book That Lies Ahead
The Elements of Reasoning
The Nuts and Bolts of Critical Thinking
The Elements of Reasoning
Three Additional Elements of Reasoning
How to Analyze a Piece of Reasoning Using the Elements
Example: Thinking Through the Logic of Getting Married
Trusting the Process
What Is Critical Thinking Within a Field or Discipline?
The Parts of Critical Thinking Within a Field
Thinking Biologically, Thinking Sociologically, Thinking Philosophically, Thinking Musically hellip; The Logic of the Field or Discipline
Learning the Vocabulary of the Discipline
Fundamental and Powerful Concepts
The Central Question of the Course as a Whole
The Point of View of the Discipline
Impediments to Thinking Critically Within a Discipline
Trusting the Discipline
Standards of Critical Thinking
Clearness
Accuracy
Importance, Relevance
Sufficiency
Depth and Breadth
Precision
Understanding and Internalizing Critical-Thinking Standards
Additional Critical-Thinking Standards
Non-Critical-Thinking Standards
Evaluating Around the Circle
A Note on Reading as a Critical-Thinking Process
Putting It All Together: Answering Critical-Thinking Questions
The Core Process of Critical Thinking
How Do You Fit into the Picture: Becoming a Critical Thinker
Thinking Through Important Critical-Thinking Questions
Responses to Starred Exercises
Notes
Index
Table of Contents provided by Publisher. All Rights Reserved.
Excerpts
To the Instructor This book is intended as a guide for learning to think critically in a discipline, a subject matter, an area, or a field of study. I use these terms more or less interchangeably throughout the book. The book applies to disciplines taught at any level of generality, at any educational level. This includes courses in humanities, social and natural sciences, business, arts, nursing, international studies, and so on. It includes multidisciplinary courses, but it is in no way confined to them. I specifically mean to include courses that emphasizedoingas well asunderstanding:composition courses stand out in particular. (There are exercises suitable for student writing, and the text promotes full integration of the composition course with other courses students are taking, across the curriculum.) But the book applies to any discipline that emphasizes mindfuldoing:physical education, nursing, business, math, veterinary science, agriculture, foreign languages. (In fact, in the purest sense, all courses emphasize doing: learning physics is learning todophysics--learning physics is learning how to engage actively in the process of thinking one's way through the physical world.) Although this book was not written to be the main text in a course specifically in critical thinking, I have used it that way in my own courses, and many teachers of critical thinking have used Richard Paul's model in their courses (see p. ix). In my critical-thinking courses, I have asked my students to use the model to analyze and evaluate newspaper editorials; to apply it to problems in their personal lives; to analyze their relationships with other people; to analyze, compare, and evaluate news sources and advertising; to evaluate their own study skills; to think through their own egocentric and sociocentric tendencies; to think through artworks and a wide variety of other topics. Several times I have taught my critical-thinking course where the only other texts required were the texts fromothercourses the student was taking. There, the goal was to help the students learn to think through the disciplines or subject matter they were studying in those other courses. What permits this diversity is the great flexibility of Paul's model of critical thinking. Ts book is a guide to critical thinking in the curriculum and is intend to be inexpensive, so that it can be used economically as an adjunct text in a course. I have tried to keep it short enough so that students can be required to read it all the way through near the beginning of the semester. That way they can refer to it again and again, applying specific critical-thinking concepts to different parts of the subject matter as the course roves along, gradually coming to integrate those parts.Learning to Think Things Throughworks best, I believe, when used in a course in conjunction with subject-matter texts, including readings brought in by the teacher or the students. "Readings" can include video or audio material of any sort, chapters, specific problems, case studies, primary sources, journal articles, virtually any outside material. Many questions in this book direct students to apply critical-thinking concepts to the texts in the course. Many teachers in a field or discipline want their students to learn to think critically about the subject matter they are studying, and to learn to think about the world in terms of that subject matter. They want their students not to be passive recipients of information absorbed from the teacher or the text. Rather, teachers want their students to become active learners who pay attention to crucial elements of reasoning, such as assumptions, purposes, implications, and consequences, and who do this in a way that meets high intellectual standards. This book is intended to help accomplish those goals. UsingLearning to Think Things Throughin a Course