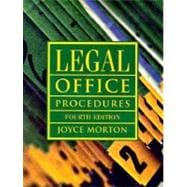 Legal Office Procedures
by
Joyce Morton
Prentice Hall Professional Technical Reference
Summary
Detailed explanations throughout this book combined with valuable projects and examples to form a total teaching program. The book presents two objectives: (1) To simplify a complicated subject into a logical, meaningful course that prepares readers/students for successful careers as law office support staff, and (2) To provide instructors with a total instructional program that is both interesting and easy to teach. The book presents basic legal concepts in various fields of law and outlines the preparation of documents commonly used in those fields.
Table of Contents
A total concepts/applications learning experience!
Learn basic legal concepts in various fields of law, prepare commonly used documents, and complete projects involving data from actual cases.
Build the skills for a successful career in a law office!
What's New?
New-Matter Forms preparation
The latest Office Technology
Ethics and the ABA Code of Professional Responsibility
And...
Practice supported by documents on disk - to save keying time
Ask For
Supplements or web sites with the forms for your state
Table of Contents provided by Publisher. All Rights Reserved.