Note: Supplemental materials are not guaranteed with Rental or Used book purchases.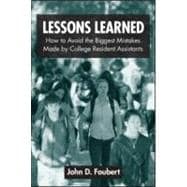 Lessons Learned : How to Avoid the Biggest Mistakes Made by College Resident Assistants
ISBN13:
9780415954686
by
Foubert
;
John D.
Summary
Lessons Learnedis designed for use in training programs for newly hired resident advisors or assistants (RAs). Its uncomplicated format allows users to select from among several dozen issues of importance to a particular campus. This volume is the ideal tool for residence life professionals who are responsible for training college Resident Assistants. Over three dozen common RA mistakes are discussed, chapter by chapter, in individual letters written by experienced RAs to new staff members. Each chapter includes resources and thought-provoking questions, allowing residence life professionals to choose which material they will cover to stimulate reflection and lively dialogue. This is an easy-to-use manual for an interactive, learning-centered RA training program at any level.
Author Biography
John D. Foubert, Ph.D. is an Assistant Professor of Higher Education at the College of William and Mary
Table of Contents
ABOUT THE AUTHOR
IX
PREFACE
XI
ACKNOWLEDGMENTS
XV
PART 1 BUILDING COMMUNITY: THE BASICS
1
(34)

| | |
| --- | --- |
| | CHAPTER 1 BEING AWAY A LOT FROM THE FLOOR DURING THE FIRST WEEK OF SCHOOL |

3
(4)

| | |
| --- | --- |
| | CHAPTER 2 WAITING UNTIL THE SECOND MONTH OF THE YEAR TO DO PROGRAMMING |

7
(4)

| | |
| --- | --- |
| | CHAPTER 3 PLANNING AN EVENT WITH YOUR HALL COUNCIL AND DOING ALL THE WORK YOURSELF |

11
(6)

| | |
| --- | --- |
| | CHAPTER 4 AVOIDING CONFLICT: SEEING IT AS HARMFUL TO COMMUNITY |

17
(6)

| | |
| --- | --- |
| | CHAPTER 5 JUMPING INTO SERVICE WITHOUT LEARNING |

23
(6)

| | |
| --- | --- |
| | CHAPTER 6 HELPING STUDENTS CHOOSE THEIR FRIENDS CAREFULLY: AVOIDING CULTS |

29
(6)
PART 2 BUILDING AN INCLUSIVE COMMUNITY
35
(32)

| | |
| --- | --- |
| | CHAPTER 7 ASSUMING STUDENTS IN A RACIAL MINORITY DON'T WANT TO PARTICIPATE IN HALL ACTIVITIES |

37
(6)

| | |
| --- | --- |
| | CHAPTER 8 TRYING TO HELP A STUDENT OF A DIFFERENT RACE AND MAKING THINGS WORSE |

43
(6)

| | |
| --- | --- |
| | CHAPTER 9 IGNORING RACIST COMMENTS |

49
(6)

| | |
| --- | --- |
| | CHAPTER 10 A CASE OF RELIGIOUS DISCRIMINATION |

55
(6)

| | |
| --- | --- |
| | CHAPTER 11 THE FACEBOOK NIGHTMARE |

61
(6)
PART 3 RESIDENT SUPPORT
67
(30)

| | |
| --- | --- |
| | CHAPTER 12 ASSUMING THAT A FIRST-YEAR STUDENT WHO OUTWARDLY SEEMS TO HAVE IT ALL TOGETHER DOESN'T NEED ANY HELP OR SUPPORT |

69
(4)

| | |
| --- | --- |
| | CHAPTER 13 NOT CONFRONTING A STUDENT WHO SERVES OTHERS SO MUCH THAT SHE HURTS HERSELF |

73
(4)

| | |
| --- | --- |
| | CHAPTER 14 NOT REACHING OUT TO A LONELY RESIDENT |

77
(6)

| | |
| --- | --- |
| | CHAPTER 15 TELLING A RESIDENT'S PARENT THAT IT IS OK TO CALL YOU |

83
(4)

| | |
| --- | --- |
| | CHAPTER 16 COMMUNICATING WITH A RESIDENT OVER INSTANT MESSENGER INSTEAD OF HAVING A CONVERSATION IN PERSON |

87
(4)

| | |
| --- | --- |
| | CHAPTER 17 KEEPING YOUR RELATIONSHIPS WITH RESIDENTS IN BALANCE |

91
(6)
PART 4 POLICY ENFORCEMENT
97
(34)

| | |
| --- | --- |
| | CHAPTER 18 "IF I CAN'T SEE IT, IT ISN'T THERE": A DANGEROUS WAY TO AVOID POLICY ENFORCEMENT |

99
(6)

| | |
| --- | --- |
| | CHAPTER 19 ENJOYING POLICY ENFORCEMENT TOO MUCH |

105
(6)

| | |
| --- | --- |
| | CHAPTER 20 ENFORCING POLICY SELECTIVELY: HOW TO REALLY ANNOY YOUR RESIDENTS |

111
(4)

| | |
| --- | --- |
| | CHAPTER 21 IGNORING ESCALATING DOMESTIC VIOLENCE |

115
(6)

| | |
| --- | --- |
| | CHAPTER 22 ASSUMING A RESIDENT WHO COMES HOME DRUNK FREQUENTLY CAN HANDLE THEIR ALCOHOL |

121
(4)

| | |
| --- | --- |
| | CHAPTER 23 ASSUMING THAT ALL STUDENTS WHO APPEAR INTOXICATED WERE DRINKING ALCOHOL AND NOT USING OTHER DRUGS |

125
(6)
PART 5 HELPING STUDENTS WITH PSYCHOLOGICAL DIFFICULTIES
131
(28)

| | |
| --- | --- |
| | CHAPTER 24 PROMISING A RESIDENT YOU WON'T TELL ANYONE WHAT YOU ARE ABOUT To BE TOLD |

133
(6)

| | |
| --- | --- |
| | CHAPTER 25 THINKING THAT THE SKINNY RESIDENT WHO KEEPS LOSING WEIGHT WILL BE OK |

139
(4)

| | |
| --- | --- |
| | CHAPTER 26 DOING NOTHING ABOUT A STUDENT WHO MAKES A SUICIDAL COMMENT |

143
(6)

| | |
| --- | --- |
| | CHAPTER 27 ASSUMING THAT THE STUDENT WHO MAKES SMALL CUTS ON DIFFERENT PARTS OF HER BODY WANTS TO KILL HERSELF |

149
(4)

| | |
| --- | --- |
| | CHAPTER 28 HELPING A RESIDENT, AND YOUR FLOOR, SURVIVE A PANIC ATTACK |

153
(6)
PART 6 THINGS THAT CAN SERIOUSLY COMPROMISE YOUR ROLE
159
(30)

| | |
| --- | --- |
| | CHAPTER 29 BEING CARELESS ABOUT SPENDING UNIVERSITY MONEY |

161
(4)

| | |
| --- | --- |
| | CHAPTER 30 DECIDING WHAT TO DO BASED ON WHAT EVERYONE ELSE DOES |

165
(4)

| | |
| --- | --- |
| | CHAPTER 31 DATING A RESIDENT |

169
(4)

| | |
| --- | --- |
| | CHAPTER 32 DRINKING ALCOHOL WITH UNDERAGE RESIDENTS |

173
(6)

| | |
| --- | --- |
| | CHAPTER 33 STAFF CONFLICT: DEALING WITH A SLACKING STAFF MEMBER |

179
(4)

| | |
| --- | --- |
| | CHAPTER 34 DEALING WITH PARENTS |

183
(6)
PART 7 SAFETY AND SECURITY
189
(24)

| | |
| --- | --- |
| | CHAPTER 35 NOT GETTING EVERYONE OUT DURING A FIRE ALARM |

191
(4)

| | |
| --- | --- |
| | CHAPTER 36 TRYING TO HELP A RAPE SURVIVOR BUT MAKING HER FEEL WORSE |

195
(6)

| | |
| --- | --- |
| | CHAPTER 37 DEALING WITH SOMEONE WHO IS NOT A STUDENT |

201
(6)

| | |
| --- | --- |
| | CHAPTER 38 EXCUSING VIOLENT BEHAVIOR AS "JUST BLOWING OFF STEAM" |

207
(6)
CONCLUSION: REFLECTING ON THE IMPORTANCE OF THE WORK WE DO
213
(6)
WHAT IS YOUR STORY?
219
(2)
ASK DR. JOHN
221
(2)
INDEX
223