Note: Supplemental materials are not guaranteed with Rental or Used book purchases.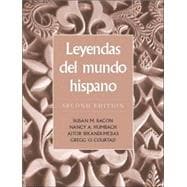 Related Products
Summary
Tal vez no haya otro texto tan completo como el presente, tan universal y que cubra la cultura tanto más que esas leyendas. En este amplio libro lector, la segunda edición del texto que ahora estás leyendo ofrece 12 leyendas hispanas de Argentina, Bolivia, Colombia, Cuba, El Salvador, México, Nuevo México (en Estados Unidos), Paraguay, Perú, España y Uruguay. Con abundantes actividades complementarias para antes y después de la lectura, las cuales acompañan cada historia y ayudan a los estudiantes en el trabajo de lectura, escritura y conversación sobre las leyendas tratadas. Te invitamos a introducirte en este mundo mágico con historias sobre Davy Crockett, Johnny Appleseed, Pocahontas, El rey Midas, The Cloud People, El origen del imperio inca, Yerba mate, Los amantes de Teruel, Los volcanes, El Abencerraje y la hermosa Jarifa; El Dorado y muchos más.
Table of Contents
La Casa de los Muñecos (México)
El Dorado (Colombia)
La leyenda de los cadejos (El Salvador)
Los amantes de Teruel (España)
Los novios (México)
Las once mil várgenes (Puerto Rico)
La leyenda de la yerba mate (Argentina/Paraguay)
El ñandutá (Paraguay)
La Llorona (México: versión colonial)
La Llorona (Estados Unidos: versión moderna)
Glosario español/inglés
Glosario inglés/español
Table of Contents provided by Publisher. All Rights Reserved.
Excerpts
Why legends? First, stories convey information and describe events and their consequences, which encourages us to react both intellectually and effectively. Second, stories stimulate our imagination, encouraging us to think about the possible, as well as the actual. Since the earliest times, stories have engaged us to imagine what it would be like to be someone else, thus we begin to treat others with as much respect as we would wish to be treated, as we learn more about others and ourselves. Finally, and for perhaps the most important reason, we offer these legends because everyone loves a good story. We only have to look at the success of such modern legends asHarry Potterto recognize that a fine story engages readers of all ages.Although American students are aware of legends and myths that they have heard since childhood, they may not be aware of their purpose or may not easily associate the lessons with legends from the Spanish-speaking world. Therefore, in the second edition, we have included a preliminary chapter with a few examples to refresh a student's memory. These include Davy Crockett, Johnny Appleseed, Pocahontas, King Midas, andGente nube,a moving story dating from the time of slavery in the U.S., and which is on the audio program. This preliminary chapter, in Spanish, sets the tone for those that follow.The following 12 chapters present a panorama of legends from the Hispanic world. In developing these legends for learners of Spanish, we sought illustrations of the blending of cultures (Spanish, Indigenous, Mestizo, Jewish, African, Arab), the creation of new legends, and the retention of old traditions. For example, the legend ofLa Lloronais known throughout the Spanish-speaking world, and the versions have a different message depending on the era and region in which they were popular. In many versions, a woman is driven to kill her children; the method may be by knife, drowning, or abandonment, but in all of them, the woman is either vilified or romanticized in her quest for revenge against men. The legend has been used to teach Christian values, to warn against crossing social classes, and/or to rearm the strength of the female figure. Her rebellion has made her the antithesis of the passive Virgin, yet most Spanish speakers will say they were warned to beware of La Llorona, who for many represents a female "bogeyman."The themes of legends are universal, such as inLa Casa de los Munecoswhere we see familiar questions of money, power, honor, and revenge. In the legend ofLos volcaneswe see the traits of fidelity and courage, which were important values in pre-Columbian culture and persist as such in modern Mexico. The story is complemented byLos Amantes de Teruel,the Spanish legend of star-crossed lovers.Los cadejosfrom El Salvador contrasts good and evil in a single familiar animal, the dog. An Argentine/Paraguayan legend explains the origin ofyerbamate as a symbol of friendship and good will. The Paraguayan legend,El nanduti,underscores again the power of friendship while also highlighting the merit of indigenous talents. The Colombian legend,El Dorado,demonstrates the futility of the search for imagined treasure. The colonial version ofLa Lloronaexemplifies the danger of falling in love with someone above one's station.New to this edition is a creation myth,El mito de la creacion Inca,which offers a glimpse at the level of development of the peoples of thealtaplanicieof South America before the arrival of the Spanish conquerors. We have also added three legends that represent the multicultural diversity of the Spanish-speaking world:El Abencerraje y la hermosa Jarifais a Moorish tale that stresses the sense of honor (pundonor) so characteristic of the Spanish people.El ano que llovieron tortillas,set in New Mexico, is a Sephardic legend carried there from Spain and other Je