Note: Supplemental materials are not guaranteed with Rental or Used book purchases.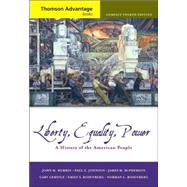 Questions About This Book?
What version or edition is this?
This is the 4th edition with a publication date of 4/14/2005.
What is included with this book?
The New copy of this book will include any supplemental materials advertised. Please check the title of the book to determine if it should include any CDs, lab manuals, study guides, etc.
Summary
Succeed in American history with THOMSON ADVANTAGE BOOKS: LIBERTY, EQUALITY, AND POWER, COMPACT EDITION! This history text shows how the pursuit of liberty and equality has shaped the nation, and how power has been used and abused in every aspect of American life between men and women, whites and blacks, and rich and poor. Features such as History through Film, chapter focus questions, chapter chronologies, charts, and tables help you master difficult concepts. The Book Companion Website contains additional study aids such as flashcards, tutorial quizzes, internet exercises, and links to the past designed to save you time and enhance your understanding of the material.
Table of Contents
xxii
History Through Film
xxiii
To the Student: Why Study History?
xxiv
Preface
xxvi

| | |
| --- | --- |
| | When Old Worlds Collide: Contact, Conquest, Catastrophe |

1
(41)
1
(1)
2
(5)

| | |
| --- | --- |
| | From Beringia to the Americas |

2
(2)

| | |
| --- | --- |
| | The Great Extinction and the Rise of Agriculture |

4
(2)

| | |
| --- | --- |
| | The Polynesians and Hawaii |

6
(1)
6
(1)

| | |
| --- | --- |
| | Europe and the World in the 15th Century |

7
(7)

| | |
| --- | --- |
| | China: The Rejection of Overseas Expansion |

7
(1)
8
(1)

| | |
| --- | --- |
| | The Legacy of the Crusades |

9
(1)

| | |
| --- | --- |
| | The Unlikely Pioneer: Portugal |

9
(2)

| | |
| --- | --- |
| | Africa, Colonies, and the Slave Trade |

11
(2)
13
(1)
13
(1)

| | |
| --- | --- |
| | Spain, Columbus, and the Americas |

14
(3)
14
(2)
16
(1)

| | |
| --- | --- |
| | The Emergence of Complex Societies in the Americas |

17
(13)

| | |
| --- | --- |
| | The Rise of Sedentary Cultures |

18
(1)

| | |
| --- | --- |
| | The Andes: Cycles of Complex Cultures |

19
(2)
21
(1)

| | |
| --- | --- |
| | Mesoamerica: Cycles of Complex Cultures |

22
(3)

| | |
| --- | --- |
| | The Aztecs and Tenochtitlan |

25
(1)

| | |
| --- | --- |
| | North American Mound Builders |

26
(2)

| | |
| --- | --- |
| | Urban Cultures of the Southwest |

28
(2)

| | |
| --- | --- |
| | Contact and Cultural Misunderstanding |

30
(2)
30
(1)

| | |
| --- | --- |
| | War as Cultural Misunderstanding |

31
(1)

| | |
| --- | --- |
| | Gender and Cultural Misunderstanding |

32
(1)
32
(7)

| | |
| --- | --- |
| | The Conquest of Mexico and Peru |

32
(2)

| | |
| --- | --- |
| | North American Conquistadores and Missionaries |

34
(2)

| | |
| --- | --- |
| | The Spanish Empire and Demographic Catastrophe |

36
(1)
37
(1)

| | |
| --- | --- |
| | Global Colossus, Global Economy |

37
(2)

| | |
| --- | --- |
| | Explanations: Patterns of Conquest, Submission, and Resistance |

39
(1)
40
(1)
41
(1)

| | |
| --- | --- |
| | The Challenge to Spain and the Settlement of North America |

42
(50)

| | |
| --- | --- |
| | The Protestant Reformation and the Challenge to Spain |

43
(1)
43
(2)
45
(2)
45
(1)
46
(1)

| | |
| --- | --- |
| | History Through Film: Black Robe |

47
(3)

| | |
| --- | --- |
| | New France under Louis XIV |

49
(1)

| | |
| --- | --- |
| | The Dutch and Swedish Settlements |

50
(3)

| | |
| --- | --- |
| | The East and West India Companies |

51
(1)

| | |
| --- | --- |
| | New Netherland as a Pluralistic Society |

52
(1)

| | |
| --- | --- |
| | Swedish and English Encroachments |

53
(1)

| | |
| --- | --- |
| | The Challenge from Elizabethan England |

53
(5)
54
(1)
54
(1)

| | |
| --- | --- |
| | Gilbert, Ireland, and America |

55
(1)

| | |
| --- | --- |
| | Ralegh, Roanoke, and War with Spain |

56
(2)

| | |
| --- | --- |
| | The Swarming of the English |

58
(1)

| | |
| --- | --- |
| | The Chesapeake and West Indian Colonies |

58
(11)
59
(1)

| | |
| --- | --- |
| | Reorganization, Reform, and Crisis |

60
(2)

| | |
| --- | --- |
| | Tobacco, Servants, and Survival |

62
(2)
64
(1)
65
(1)

| | |
| --- | --- |
| | The West Indies and the Transition to Slavery |

66
(1)

| | |
| --- | --- |
| | The Rise of Slavery in North America |

67
(2)
69
(9)

| | |
| --- | --- |
| | The Pilgrims and Plymouth |

70
(1)
70
(2)
72
(1)
73
(1)

| | |
| --- | --- |
| | Conversion, Dissent, and Expansion |

73
(2)

| | |
| --- | --- |
| | Congregations, Towns, and Colony Governments |

75
(1)

| | |
| --- | --- |
| | Infant Baptism and New Dissent |

76
(2)
78
(1)

| | |
| --- | --- |
| | The First Restoration Colonies |

78
(6)

| | |
| --- | --- |
| | Carolina, Harrington, and the Aristocratic Ideal |

79
(2)

| | |
| --- | --- |
| | New York: An Experiment in Absolutism |

81
(3)

| | |
| --- | --- |
| | Brotherly Love: The Quakers and America |

84
(6)
84
(2)
86
(1)
86
(1)
87
(3)
90
(1)
91
(1)

| | |
| --- | --- |
| | England Discovers Its Colonies: Empire, Liberty, and Expansion |

92
(43)
93
(1)

| | |
| --- | --- |
| | The Atlantic Prism and the Spectrum of Settlement |

94
(6)
94
(3)

| | |
| --- | --- |
| | Race, Ethnicity, and Economy |

97
(1)
97
(1)

| | |
| --- | --- |
| | Local and Provincial Governments |

98
(1)

| | |
| --- | --- |
| | Unifying Trends: Language, War, Law, and Inheritance |

99
(1)
100
(5)

| | |
| --- | --- |
| | Upheaval in America: The Critical 1640s |

100
(1)

| | |
| --- | --- |
| | Mercantilism as a Moral Revolution |

101
(1)
102
(1)

| | |
| --- | --- |
| | Restoration Navigation Acts |

103
(2)

| | |
| --- | --- |
| | Indians, Settlers, Upheaval |

105
(8)

| | |
| --- | --- |
| | Indian Strategies of Survival |

105
(1)
106
(1)

| | |
| --- | --- |
| | Metacom's (or King Philip's) War |

107
(3)
110
(1)
111
(2)

| | |
| --- | --- |
| | Crisis in England and the Redefinition of Empire |

113
(3)

| | |
| --- | --- |
| | The Popish Plot, the Exclusion Crisis, and the Rise of Party |

114
(1)

| | |
| --- | --- |
| | The Lords of Trade and Imperial Reform |

114
(2)

| | |
| --- | --- |
| | The Dominion of New England |

116
(1)
116
(8)

| | |
| --- | --- |
| | The Glorious Revolution in America |

117
(1)
118
(1)
119
(1)
120
(2)
122
(1)

| | |
| --- | --- |
| | The Mixed and Balanced Constitution |

122
(2)

| | |
| --- | --- |
| | Contrasting Empires: Spain and France in North America |

124
(4)
124
(1)

| | |
| --- | --- |
| | New France and the Middle Ground |

125
(2)

| | |
| --- | --- |
| | French Louisiana and Spanish Texas |

127
(1)

| | |
| --- | --- |
| | An Empire of Settlement: The British Colonies |

128
(5)

| | |
| --- | --- |
| | The Engine of British Expansion: The Colonial Household |

128
(2)

| | |
| --- | --- |
| | The Voluntaristic Ethic and Public Life |

130
(1)

| | |
| --- | --- |
| | Three Warring Empires, 1689--1716 |

130
(3)
133
(1)
134
(1)

| | |
| --- | --- |
| | Provincial America and the Struggle for a Continent |

135
(50)

| | |
| --- | --- |
| | Expansion versus Anglicization |

135
(1)
136
(3)

| | |
| --- | --- |
| | Threats to Householder Autonomy |

137
(1)

| | |
| --- | --- |
| | Anglicizing the Role of Women |

138
(1)

| | |
| --- | --- |
| | Expansion, Immigration, and Regional Differentiation |

139
(8)

| | |
| --- | --- |
| | Emergence of the Old South |

139
(4)

| | |
| --- | --- |
| | The Mid-Atlantic Colonies: The ``Best Poor Man's Country'' |

143
(1)
144
(1)

| | |
| --- | --- |
| | New England: A Faltering Economy and Paper Money |

145
(2)

| | |
| --- | --- |
| | Anglicizing Provincial America |

147
(6)
148
(2)

| | |
| --- | --- |
| | The Enlightenment in America |

150
(1)
150
(1)

| | |
| --- | --- |
| | Georgia: The Failure of an Enlightenment Utopia |

151
(2)
153
(5)
153
(2)

| | |
| --- | --- |
| | Whitefield Launches the Transatlantic Revival |

155
(1)
155
(1)

| | |
| --- | --- |
| | Long-Term Consequences of the Revivals |

156
(1)
157
(1)

| | |
| --- | --- |
| | The Denominational Realignment |

158
(1)

| | |
| --- | --- |
| | Political Culture in the Colonies |

158
(4)

| | |
| --- | --- |
| | The Rise of the Assembly and the Governor |

159
(1)

| | |
| --- | --- |
| | ``Country'' Constitutions: The Southern Colonies |

160
(1)

| | |
| --- | --- |
| | ``Court'' Constitutions: The Northern Colonies |

161
(1)

| | |
| --- | --- |
| | The Renewal of Imperial Conflict |

162
(9)

| | |
| --- | --- |
| | Challenges to French Power |

162
(2)

| | |
| --- | --- |
| | The Danger of Slave Revolts and War with Spain |

164
(3)

| | |
| --- | --- |
| | France versus Britain: King George's War |

167
(1)
168
(3)

| | |
| --- | --- |
| | The War for North America |

171
(12)

| | |
| --- | --- |
| | The Albany Congress and the Onset of War |

171
(2)

| | |
| --- | --- |
| | Britain's Years of Defeat |

173
(3)
176
(1)

| | |
| --- | --- |
| | Imperial Tensions: From Loudoun to Pitt |

177
(2)

| | |
| --- | --- |
| | The Years of British Victory |

179
(3)

| | |
| --- | --- |
| | The Cherokee War and Spanish Intervention |

182
(1)
182
(1)
183
(1)
184
(1)

| | |
| --- | --- |
| | Reform, Resistance, Revolution |

185
(41)
186
(1)
186
(6)
187
(1)
187
(1)

| | |
| --- | --- |
| | Indian Policy and Pontiac's War |

188
(2)
190
(1)

| | |
| --- | --- |
| | The Currency Act and the Quartering Act |

190
(1)
191
(1)
192
(4)
193
(1)
194
(2)
196
(10)
196
(2)

| | |
| --- | --- |
| | Resistance: The Politics of Escalation |

198
(2)

| | |
| --- | --- |
| | An Experiment in Military Coercion |

200
(1)
200
(1)
201
(2)
203
(1)
204
(2)

| | |
| --- | --- |
| | Internal Cleavages: The Contagion of Liberty |

206
(6)

| | |
| --- | --- |
| | The Feudal Revival and Rural Discontent |

206
(2)

| | |
| --- | --- |
| | The Regulator Movements in the Carolinas |

208
(2)
210
(2)
212
(7)
213
(1)

| | |
| --- | --- |
| | Britain's Response: The Coercive Acts |

214
(1)
215
(2)

| | |
| --- | --- |
| | The First Continental Congress |

217
(1)
218
(1)
219
(4)

| | |
| --- | --- |
| | The Second Continental Congress |

220
(1)

| | |
| --- | --- |
| | War and Legitimacy, 1775--1776 |

221
(1)
222
(1)

| | |
| --- | --- |
| | History Through Film: 1776 |

223
(1)
224
(1)
225
(1)

| | |
| --- | --- |
| | The Revolutionary Republic |

226
(45)
227
(1)

| | |
| --- | --- |
| | Hearts and Minds: The Northern War, 1776--1777 |

228
(3)
228
(3)

| | |
| --- | --- |
| | The Trenton-Princeton Campaign |

231
(1)

| | |
| --- | --- |
| | The Campaigns of 1777 and Foreign Intervention |

231
(2)
232
(1)

| | |
| --- | --- |
| | History Through Film: Mary Silliman's War |

233
(3)
234
(1)
234
(1)

| | |
| --- | --- |
| | Spanish Expansion and Intervention |

235
(1)

| | |
| --- | --- |
| | The Reconstitution of Authority |

236
(6)

| | |
| --- | --- |
| | John Adams and the Separation of Powers |

236
(1)

| | |
| --- | --- |
| | The Virginia Constitution |

237
(1)

| | |
| --- | --- |
| | The Pennsylvania Constitution |

238
(1)

| | |
| --- | --- |
| | Massachusetts Redefines Constitutionalism |

239
(2)
241
(1)

| | |
| --- | --- |
| | The Crisis of the Revolution, 1779--1783 |

242
(6)
242
(1)

| | |
| --- | --- |
| | Loyalist Refugees, Black and White |

243
(1)

| | |
| --- | --- |
| | The Indian Struggle for Unity and Survival |

244
(2)
246
(2)

| | |
| --- | --- |
| | The British Offensive in the South |

248
(8)
251
(1)
252
(1)

| | |
| --- | --- |
| | From the Ravaging of Virginia to Yorktown and Peace |

253
(3)
256
(8)

| | |
| --- | --- |
| | Religious Transformations |

256
(2)
258
(1)

| | |
| --- | --- |
| | The Challenge to Patriarchy |

259
(1)

| | |
| --- | --- |
| | Western Expansion, Discontent, and Conflict with Indians |

260
(1)
261
(3)
264
(5)

| | |
| --- | --- |
| | Commerce, Debt, and Shay's Rebellion |

264
(1)

| | |
| --- | --- |
| | Cosmopolitans versus Localists |

264
(2)

| | |
| --- | --- |
| | The Philadelphia Convention |

266
(2)
268
(1)
269
(1)
270
(1)

| | |
| --- | --- |
| | The Democratic Republic, 1790--1820 |

271
(36)
272
(1)
273
(1)
273
(1)

| | |
| --- | --- |
| | History Through Film: A Midwife's Tale |

274
(5)
276
(1)
276
(2)
278
(1)
278
(1)

| | |
| --- | --- |
| | From Backcountry to Frontier |

279
(5)

| | |
| --- | --- |
| | The Destruction of the Woodland Indians |

280
(1)

| | |
| --- | --- |
| | The Failure of Cultural Renewal |

281
(2)

| | |
| --- | --- |
| | The Backcountry, 1790--1815 |

283
(1)

| | |
| --- | --- |
| | The Plantation South, 1790--1820 |

284
(5)
284
(2)

| | |
| --- | --- |
| | The Recommitment to Slavery |

286
(1)

| | |
| --- | --- |
| | Race, Gender, and Chesapeake Labor |

287
(1)
288
(1)

| | |
| --- | --- |
| | The Seaport Cities, 1790--1815 |

289
(3)
289
(1)
290
(1)
291
(1)

| | |
| --- | --- |
| | The Withering of Patriarchal Authority |

292
(5)

| | |
| --- | --- |
| | Paternal Power in Decline |

293
(1)
293
(1)

| | |
| --- | --- |
| | The Democratization of Print |

294
(1)
295
(2)
297
(8)

| | |
| --- | --- |
| | The Decline of the Established Churches |

297
(1)

| | |
| --- | --- |
| | The Rise of the Democratic Sects |

298
(2)

| | |
| --- | --- |
| | The Christianization of the White South |

300
(1)
301
(1)

| | |
| --- | --- |
| | The Beginnings of African American Christianity |

302
(1)

| | |
| --- | --- |
| | Black Republicanism: Gabriel's Rebellion |

303
(2)
305
(1)
306
(1)

| | |
| --- | --- |
| | Completing the Revolution, 1789--1815 |

307
(39)

| | |
| --- | --- |
| | Establishing the Government |

308
(1)
308
(6)
309
(1)
310
(1)

| | |
| --- | --- |
| | Hamiltonian Economics: The National Debt |

311
(1)

| | |
| --- | --- |
| | Hamiltonian Economics: The Bank and the Excise |

312
(1)
313
(1)

| | |
| --- | --- |
| | Jefferson versus Hamilton |

313
(1)

| | |
| --- | --- |
| | The Republic in a World at War, 1793--1800 |

314
(11)

| | |
| --- | --- |
| | Americans and the French Revolution |

315
(1)
315
(1)
316
(2)
318
(1)
319
(1)
319
(1)

| | |
| --- | --- |
| | Troubles with France, 1796--1800 |

320
(2)

| | |
| --- | --- |
| | The Crisis at Home, 1798--1800 |

322
(1)

| | |
| --- | --- |
| | The Politicians and the Army |

323
(1)
324
(1)

| | |
| --- | --- |
| | The Jeffersonians in Power |

325
(8)
325
(2)
327
(1)

| | |
| --- | --- |
| | The Jeffersonians and the Courts |

328
(1)

| | |
| --- | --- |
| | The Impeachments of Pickering and Chase |

329
(1)
330
(1)
331
(2)

| | |
| --- | --- |
| | The Republic and the Napoleonic Wars, 1804--1815 |

333
(11)

| | |
| --- | --- |
| | The Dilemmas of Neutrality |

333
(1)
334
(1)
334
(2)
336
(1)

| | |
| --- | --- |
| | The War Hawk Congress, 1811--1812 |

337
(1)

| | |
| --- | --- |
| | War Hawks and the War of 1812 |

338
(1)

| | |
| --- | --- |
| | The War with Canada, 1812--1813 |

338
(3)
341
(1)

| | |
| --- | --- |
| | The British Offensive, 1814 |

342
(1)
343
(1)
344
(1)
344
(1)
345
(1)

| | |
| --- | --- |
| | The Market Revolution, 1815--1860 |

346
(36)
347
(1)
347
(4)

| | |
| --- | --- |
| | The American System: The Bank of the United States |

347
(1)

| | |
| --- | --- |
| | The American System: Tariffs and Internal Improvements |

348
(1)
349
(2)

| | |
| --- | --- |
| | The Transportation Revolution |

351
(5)
351
(1)

| | |
| --- | --- |
| | Improvements: Roads and Rivers |

351
(2)

| | |
| --- | --- |
| | Improvements: Canals and Railroads |

353
(1)
354
(2)
356
(1)

| | |
| --- | --- |
| | From Yeoman to Businessman: The Rural North and West |

356
(9)

| | |
| --- | --- |
| | Shaping the Northern Landscape |

357
(1)

| | |
| --- | --- |
| | The Transformation of Rural Outwork |

358
(1)
358
(1)

| | |
| --- | --- |
| | The Northwest: Southern Migrants |

359
(1)

| | |
| --- | --- |
| | The Northwest: Northern Migrants |

360
(2)
362
(2)

| | |
| --- | --- |
| | Neighborhoods: The Landscape of Privacy |

364
(1)

| | |
| --- | --- |
| | The Industrial Revolution |

365
(7)

| | |
| --- | --- |
| | Factory Towns: The Rhode Island System |

365
(2)

| | |
| --- | --- |
| | Factory Towns: The Waltham System |

367
(2)
369
(1)

| | |
| --- | --- |
| | Metropolitan Industrialization |

370
(2)

| | |
| --- | --- |
| | History Through Film: Gangs of New York |

372
(1)

| | |
| --- | --- |
| | The Market Revolution in the South |

373
(7)

| | |
| --- | --- |
| | The Organization of Slave Labor |

374
(1)
375
(1)
376
(1)
377
(1)

| | |
| --- | --- |
| | A Balance Sheet: The Plantation and Southern Development |

378
(2)
380
(1)
381
(1)

| | |
| --- | --- |
| | Toward an American Culture |

382
(33)

| | |
| --- | --- |
| | The Northern Middle Class |

382
(1)
383
(8)
383
(2)
385
(1)
386
(2)
388
(1)
389
(1)

| | |
| --- | --- |
| | Scenic Tourism: Niagara Falls |

390
(1)

| | |
| --- | --- |
| | The Plain People of the North |

391
(5)

| | |
| --- | --- |
| | Religion and the Common Folk |

391
(1)
392
(2)
394
(1)
395
(1)

| | |
| --- | --- |
| | The Rise of Popular Culture |

396
(6)
396
(1)
396
(1)
397
(2)
399
(1)

| | |
| --- | --- |
| | Novels and the Penny Press |

400
(2)

| | |
| --- | --- |
| | Family, Church, and Neighborhood: The White South |

402
(5)
402
(1)
403
(1)

| | |
| --- | --- |
| | The Camp Meeting Becomes Respectable |

404
(1)
405
(1)
406
(1)

| | |
| --- | --- |
| | The Private Lives of Slaves |

407
(6)
407
(2)
409
(1)
410
(1)
411
(1)
412
(1)
413
(1)
414
(1)

| | |
| --- | --- |
| | Society, Culture, and Politics, 1820s--1840s |

415
(33)
416
(1)
416
(3)
416
(2)
418
(1)

| | |
| --- | --- |
| | The Politics of Economic Development |

419
(4)

| | |
| --- | --- |
| | Government and Its Limits |

419
(2)
421
(2)
423
(1)

| | |
| --- | --- |
| | The Politics of Social Reform |

423
(6)
424
(1)

| | |
| --- | --- |
| | Ethnicity, Religion, and the Schools |

425
(1)
426
(1)
427
(1)

| | |
| --- | --- |
| | The South and Social Reform |

428
(1)

| | |
| --- | --- |
| | Excursus: The Politics of Alcohol |

429
(5)
429
(2)

| | |
| --- | --- |
| | The Origins of Prohibition |

431
(1)

| | |
| --- | --- |
| | The Democratization of Temperance |

432
(1)
433
(1)
434
(1)
434
(8)
435
(1)
435
(2)
437
(1)

| | |
| --- | --- |
| | Conceptions of Racial Difference |

438
(1)

| | |
| --- | --- |
| | The Beginnings of Antislavery |

439
(1)
440
(1)
441
(1)

| | |
| --- | --- |
| | The Politics of Gender and Sex |

442
(4)
442
(1)
443
(1)
444
(2)
446
(1)
447
(1)
448
(37)
448
(1)
449
(4)
449
(1)

| | |
| --- | --- |
| | The Argument over Missouri |

450
(1)
451
(1)
452
(1)
453
(5)

| | |
| --- | --- |
| | Martin Van Buren Leads the Way |

454
(1)
454
(2)
456
(1)
457
(1)
458
(6)

| | |
| --- | --- |
| | Nationalism in an International Arena |

458
(1)
459
(1)

| | |
| --- | --- |
| | The Birth of the Democratic Party |

460
(1)
460
(2)
462
(1)
463
(1)

| | |
| --- | --- |
| | Jacksonian Democracy and the South |

464
(2)
464
(1)
465
(1)

| | |
| --- | --- |
| | History Through Film: Amistad |

466
(8)

| | |
| --- | --- |
| | Southerners and the Tariff |

467
(1)
468
(2)
470
(1)
471
(1)

| | |
| --- | --- |
| | Petitions, the Gag Rule, and the Southern Mails |

472
(2)

| | |
| --- | --- |
| | Jacksonian Democracy and the Market Revolution |

474
(5)

| | |
| --- | --- |
| | The Second Bank of the United States |

474
(1)
475
(2)

| | |
| --- | --- |
| | The Beginnings of the Whig Party |

477
(1)
478
(1)

| | |
| --- | --- |
| | The Second American Party System |

479
(4)
480
(1)
481
(2)
483
(1)
483
(1)
484
(1)

| | |
| --- | --- |
| | Manifest Destiny: An Empire for Liberty---or Slavery? |

485
(31)

| | |
| --- | --- |
| | Growth as the American Way |

485
(1)
486
(9)

| | |
| --- | --- |
| | Manifest Destiny and Slavery |

487
(1)
488
(1)
488
(1)

| | |
| --- | --- |
| | The Oregon and California Trails |

489
(3)
492
(1)
492
(1)

| | |
| --- | --- |
| | The Annexation Controversy |

493
(2)

| | |
| --- | --- |
| | Acquisition of Texas and Oregon |

495
(1)
495
(6)

| | |
| --- | --- |
| | Military Campaigns of 1846 |

496
(1)

| | |
| --- | --- |
| | Military Campaigns of 1847 |

497
(1)
498
(2)
500
(1)
501
(4)
502
(1)

| | |
| --- | --- |
| | The Gold Rush and California Statehood |

503
(2)
505
(7)
505
(2)

| | |
| --- | --- |
| | Passage of the Compromise |

507
(1)
508
(1)
509
(2)
511
(1)
512
(2)

| | |
| --- | --- |
| | The Gray-Eyed Man of Destiny |

513
(1)
514
(1)
515
(1)

| | |
| --- | --- |
| | The Gathering Tempest, 1853--1860 |

516
(36)

| | |
| --- | --- |
| | Kansas and the Rise of the Republican Party |

516
(1)
517
(3)
518
(1)
519
(1)
520
(5)
522
(1)

| | |
| --- | --- |
| | The Rise of the Know-Nothings |

523
(1)
524
(1)
525
(3)
527
(1)
528
(5)
531
(1)

| | |
| --- | --- |
| | The Lecompton Constitution |

532
(1)
533
(13)

| | |
| --- | --- |
| | ``The American System of Manufactures'' |

534
(2)
536
(1)

| | |
| --- | --- |
| | The Sovereignty of King Cotton |

537
(2)

| | |
| --- | --- |
| | Labor Conditions in the North |

539
(1)
540
(1)

| | |
| --- | --- |
| | Sectionalism and the Panic |

541
(1)
542
(2)
544
(1)
544
(2)

| | |
| --- | --- |
| | The Lincoln-Douglas Debates |

546
(4)
547
(1)

| | |
| --- | --- |
| | John Brown at Harpers Ferry |

548
(2)
550
(1)
550
(2)

| | |
| --- | --- |
| | Secession and Civil War, 1860--1862 |

552
(37)
552
(1)
553
(4)

| | |
| --- | --- |
| | The Republicans Nominate Lincoln |

555
(1)
556
(1)
557
(6)

| | |
| --- | --- |
| | Northerners Affirm the Union |

558
(1)
559
(1)

| | |
| --- | --- |
| | Establishment of the Confederacy |

560
(1)
561
(2)
563
(3)
564
(1)

| | |
| --- | --- |
| | The Creation of West Virginia |

565
(1)

| | |
| --- | --- |
| | Indian Territory and the Southwest |

566
(1)
566
(2)
567
(1)

| | |
| --- | --- |
| | History Through Film: The Red Badge of Courage |

568
(6)
569
(2)
571
(1)
572
(1)
573
(1)

| | |
| --- | --- |
| | Navies, the Blockade, and Foreign Relations |

574
(4)
574
(1)
575
(1)
576
(1)

| | |
| --- | --- |
| | The Monitor and the Virginia |

576
(2)

| | |
| --- | --- |
| | Campaigns and Battles, 1861--1862 |

578
(7)
578
(2)
580
(1)

| | |
| --- | --- |
| | Fort Henry and Fort Donelson |

580
(2)
582
(1)
583
(1)
584
(1)

| | |
| --- | --- |
| | Confederate Counteroffensives |

585
(2)

| | |
| --- | --- |
| | The Second Battle of Bull Run |

585
(2)
587
(1)
588
(1)

| | |
| --- | --- |
| | A New Birth of Freedom, 1862--1865 |

589
(38)
589
(1)
590
(7)
591
(1)
591
(1)

| | |
| --- | --- |
| | The Decision for Emancipation |

592
(1)
593
(1)
594
(2)

| | |
| --- | --- |
| | The Emancipation Proclamation |

596
(1)
597
(5)

| | |
| --- | --- |
| | The Rise of the Copperheads |

598
(1)

| | |
| --- | --- |
| | Economic Problems in the South |

599
(1)

| | |
| --- | --- |
| | The Wartime Draft and Class Tensions |

600
(2)
602
(1)

| | |
| --- | --- |
| | Blueprint for Modern America |

602
(2)
603
(1)

| | |
| --- | --- |
| | The Confederate Tide Crests and Recedes |

604
(6)

| | |
| --- | --- |
| | The Battle of Chancellorsville |

604
(1)
605
(2)
607
(1)

| | |
| --- | --- |
| | Chickamauga and Chattanooga |

608
(2)
610
(2)
610
(2)
612
(1)
612
(7)
613
(1)

| | |
| --- | --- |
| | Spotsylvania and Cold Harbor |

614
(1)
615
(1)
615
(1)
616
(2)

| | |
| --- | --- |
| | The Prisoner-Exchange Controversy |

618
(1)

| | |
| --- | --- |
| | The Issue of Black Soldiers in the Confederate Army |

619
(1)

| | |
| --- | --- |
| | Lincoln's Reelection and the End of the Confederacy |

619
(6)
619
(1)
620
(1)
620
(1)

| | |
| --- | --- |
| | The Battles of Franklin and Nashville |

621
(1)

| | |
| --- | --- |
| | Fort Fisher and Sherman's March through the Carolinas |

621
(2)
623
(1)

| | |
| --- | --- |
| | The Assassination of Lincoln |

624
(1)
625
(1)
626
(1)

| | |
| --- | --- |
| | Reconstruction, 1863--1877 |

627
(33)
627
(1)
628
(2)

| | |
| --- | --- |
| | Radical Republicans and Reconstruction |

629
(1)

| | |
| --- | --- |
| | Andrew Johnson and Reconstruction |

630
(6)
631
(1)
632
(1)
633
(1)

| | |
| --- | --- |
| | Land and Labor in the Postwar South |

633
(1)
634
(1)
634
(2)
636
(1)

| | |
| --- | --- |
| | The Advent of Congressional Reconstruction |

636
(4)

| | |
| --- | --- |
| | Schism between President and Congress |

636
(1)
637
(1)
637
(1)

| | |
| --- | --- |
| | The Reconstruction Acts of 1867 |

638
(2)

| | |
| --- | --- |
| | The Impeachment of Andrew Johnson |

640
(3)

| | |
| --- | --- |
| | The Completion of Formal Reconstruction |

640
(1)
641
(1)
642
(1)
643
(5)
643
(1)
644
(1)

| | |
| --- | --- |
| | Reconstruction in the South |

645
(1)
646
(1)
647
(1)
647
(1)
647
(1)

| | |
| --- | --- |
| | History Through Film: The Birth of a Nation |

648
(4)
651
(1)
651
(1)

| | |
| --- | --- |
| | The Retreat from Reconstruction |

652
(6)

| | |
| --- | --- |
| | The Mississippi Election of 1875 |

652
(2)

| | |
| --- | --- |
| | The Supreme Court and Reconstruction |

654
(1)
655
(1)
655
(2)
657
(1)

| | |
| --- | --- |
| | The End of Reconstruction |

657
(1)
658
(1)
659
(1)

| | |
| --- | --- |
| | Frontiers of Change, Politics of Stalemate, 1865--1898 |

660
(24)
661
(1)

| | |
| --- | --- |
| | Agencies of Westward Expansion |

662
(4)
663
(1)
663
(3)
666
(2)
667
(1)

| | |
| --- | --- |
| | History Through Film: Fort Apache |

668
(5)

| | |
| --- | --- |
| | Suppression of Other Plains Indians |

668
(3)
671
(1)
672
(1)
673
(5)
674
(1)
675
(1)

| | |
| --- | --- |
| | Race Relations in the New South |

676
(2)

| | |
| --- | --- |
| | The Politics of Stalemate |

678
(4)

| | |
| --- | --- |
| | Knife-Edge Electoral Balance |

679
(1)
680
(1)
681
(1)
682
(1)
683
(1)

| | |
| --- | --- |
| | Economic Change and the Crisis of the 1890s |

684
(32)
684
(1)
685
(2)
685
(2)
687
(1)

| | |
| --- | --- |
| | The American Middle Class |

687
(10)

| | |
| --- | --- |
| | The Philadelphia Centennial Exposition |

687
(1)
688
(1)
689
(1)

| | |
| --- | --- |
| | The Department Store and Mail-Order Catalogs |

690
(1)

| | |
| --- | --- |
| | Advertising and Magazines |

691
(1)

| | |
| --- | --- |
| | African American Middle-Class Culture |

692
(1)
693
(2)

| | |
| --- | --- |
| | The World's Columbian Exhibition |

695
(2)
697
(2)
698
(1)
699
(7)

| | |
| --- | --- |
| | The Great Railroad Strike of 1877 |

700
(1)
700
(1)
701
(1)
702
(1)
703
(1)
704
(1)

| | |
| --- | --- |
| | The Depression of 1893--1897 |

704
(1)
705
(1)
706
(4)
707
(1)

| | |
| --- | --- |
| | The Greenback and Silver Movements |

708
(1)
709
(1)

| | |
| --- | --- |
| | The Rise and Fall of the People's Party |

710
(4)
712
(1)
712
(2)
714
(1)
714
(2)

| | |
| --- | --- |
| | An Industrial Society, 1890--1920 |

716
(35)
717
(1)

| | |
| --- | --- |
| | Sources of Economic Growth |

717
(7)
718
(1)
718
(1)

| | |
| --- | --- |
| | Mass Production and Distribution |

719
(1)
719
(2)
721
(1)

| | |
| --- | --- |
| | Scientific Managemention the Factory Floor |

721
(3)

| | |
| --- | --- |
| | ``Robber Barons'' No More |

724
(1)

| | |
| --- | --- |
| | Obsession with Physical and Racial Fitness |

725
(2)
727
(1)
727
(7)
728
(2)

| | |
| --- | --- |
| | Chinese and Japanese Immigration |

730
(2)
732
(2)
734
(1)

| | |
| --- | --- |
| | Building Ethnic Communities |

734
(4)

| | |
| --- | --- |
| | A Network of Institutions |

735
(1)

| | |
| --- | --- |
| | The Emergence of an Ethnic Middle Class |

735
(1)

| | |
| --- | --- |
| | Political Machines and Organized Crime |

736
(2)

| | |
| --- | --- |
| | African American Labor and Community |

738
(2)
740
(4)

| | |
| --- | --- |
| | Samuel F. Gompers and the AFL |

741
(2)

| | |
| --- | --- |
| | ``Big Bill'' Haywood and the IWW |

743
(1)
744
(1)

| | |
| --- | --- |
| | The New Sexuality and the Rise of Feminism |

745
(1)

| | |
| --- | --- |
| | History Through Film: The Great White Hope |

746
(3)
747
(2)
749
(1)
749
(2)
751
(37)
752
(1)

| | |
| --- | --- |
| | Progressivism and the Protestant Spirit |

752
(1)

| | |
| --- | --- |
| | Muckrakers, Magazines, and the Turn toward ``Realism'' |

753
(2)

| | |
| --- | --- |
| | Increased Newspaper and Magazine Circulation |

754
(1)

| | |
| --- | --- |
| | The Turn toward ``Realism'' |

754
(1)

| | |
| --- | --- |
| | Settlement Houses and Women's Activism |

755
(4)
756
(1)

| | |
| --- | --- |
| | The Cultural Conservatism of Progressive Reformers |

757
(1)
758
(1)

| | |
| --- | --- |
| | Socialism and Progressivism |

759
(2)

| | |
| --- | --- |
| | The Many Faces of Socialism |

759
(1)

| | |
| --- | --- |
| | Socialists and Progressives |

760
(1)
761
(1)
761
(1)
762
(1)
762
(1)

| | |
| --- | --- |
| | Political Reform in the States |

762
(6)

| | |
| --- | --- |
| | Restoring Sovereignty to ``the People'' |

763
(1)

| | |
| --- | --- |
| | Creating a Virtuous Electorate |

763
(1)
764
(1)

| | |
| --- | --- |
| | Personal Registration Laws |

764
(1)
764
(2)

| | |
| --- | --- |
| | Disillusionment with the Electorate |

766
(1)
766
(2)

| | |
| --- | --- |
| | Economic and Social Reform in the States |

768
(2)

| | |
| --- | --- |
| | Robert La Follette and Wisconsin Progressivism |

768
(1)

| | |
| --- | --- |
| | Progressive Reform in New York |

769
(1)

| | |
| --- | --- |
| | A Renewed Campaign for Civil Rights |

770
(3)

| | |
| --- | --- |
| | The Failure of Accommodationism |

770
(1)

| | |
| --- | --- |
| | From the Niagara Movement to the NAACP |

771
(2)
773
(5)
773
(1)
774
(1)
774
(1)

| | |
| --- | --- |
| | Expanding Government Power: The Economy |

775
(1)

| | |
| --- | --- |
| | Expanding Government Power: The Environment |

775
(2)

| | |
| --- | --- |
| | Progressivism: A Movement for the People? |

777
(1)

| | |
| --- | --- |
| | The Republicans: A Divided Party |

777
(1)
778
(1)
778
(1)

| | |
| --- | --- |
| | The Ballinger-Pinchot Controversy |

778
(1)
779
(1)
780
(1)

| | |
| --- | --- |
| | The Rise of Woodrow Wilson |

780
(1)
781
(1)
782
(4)

| | |
| --- | --- |
| | Tariff Reform and a Progressive Income Tax |

782
(1)
782
(2)

| | |
| --- | --- |
| | From the New Freedom to the New Nationalism |

784
(2)
786
(1)
786
(2)

| | |
| --- | --- |
| | Becoming a World Power, 1898--1917 |

788
(30)
789
(1)

| | |
| --- | --- |
| | The United States Looks Abroad |

789
(4)
790
(1)
790
(1)
791
(2)
793
(6)

| | |
| --- | --- |
| | ``A Splendid Little War'' |

795
(4)

| | |
| --- | --- |
| | The United States Becomes a World Power |

799
(7)

| | |
| --- | --- |
| | The Debate over the Treaty of Paris |

800
(1)

| | |
| --- | --- |
| | The American-Filipino War |

801
(1)

| | |
| --- | --- |
| | Controlling Cuba and Puerto Rico |

802
(2)

| | |
| --- | --- |
| | China and the ``Open Door'' |

804
(2)

| | |
| --- | --- |
| | Theodore Roosevelt, Geopolitician |

806
(2)
806
(1)
807
(1)

| | |
| --- | --- |
| | History Through Film: Tarzan, the APE Man |

808
(5)

| | |
| --- | --- |
| | Keeping the Peace in East Asia |

811
(2)

| | |
| --- | --- |
| | William Howard Taft, Dollar Diplomat |

813
(1)

| | |
| --- | --- |
| | Woodrow Wilson, Struggling Idealist |

814
(2)
816
(1)
817
(1)

| | |
| --- | --- |
| | War and Society, 1914--1920 |

818
(34)
819
(1)

| | |
| --- | --- |
| | Europe's Descent into War |

819
(3)
822
(5)
823
(1)
824
(1)

| | |
| --- | --- |
| | Wilson's Vision: ``Peace without Victory'' |

825
(1)
826
(1)
827
(2)

| | |
| --- | --- |
| | Mobilizing for ``Total'' War |

829
(10)
829
(1)

| | |
| --- | --- |
| | Securing Workers, Keeping Labor Peace |

830
(2)
832
(2)
834
(1)
835
(1)
836
(3)

| | |
| --- | --- |
| | The Failure of the International Peace |

839
(6)

| | |
| --- | --- |
| | The Paris Peace Conference and the Treaty of Versailles |

840
(1)
841
(1)

| | |
| --- | --- |
| | Wilson versus Lodge: The Fight over Ratification |

841
(3)

| | |
| --- | --- |
| | The Treaty's Final Defeat |

844
(1)

| | |
| --- | --- |
| | The Postwar Period: A Society in Convulsion |

845
(5)
845
(1)

| | |
| --- | --- |
| | Radicals and the Red Scare |

846
(2)

| | |
| --- | --- |
| | Racial Conflict and the Rise of Black Nationalism |

848
(2)
850
(1)
851
(1)
852
(41)
853
(1)
853
(12)
854
(1)
855
(1)

| | |
| --- | --- |
| | The Rise of Advertising and Mass Marketing |

856
(2)

| | |
| --- | --- |
| | Changing Attitudes toward Marriage and Sexuality |

858
(1)
858
(1)

| | |
| --- | --- |
| | Celebrating Business Civilization |

859
(1)
860
(2)
862
(1)

| | |
| --- | --- |
| | The Women's Movement Adrift |

863
(2)
865
(5)

| | |
| --- | --- |
| | Harding and the Politics of Personal Gain |

865
(2)

| | |
| --- | --- |
| | Coolidge and Laissez-Faire Politics |

867
(1)

| | |
| --- | --- |
| | Hoover and the Politics of Associationalism |

867
(1)

| | |
| --- | --- |
| | The Politics of Business Abroad |

868
(2)

| | |
| --- | --- |
| | Farmers, Small-Town Protestants, and Moral Traditionalists |

870
(9)
870
(1)
871
(2)
873
(1)
873
(2)
875
(2)

| | |
| --- | --- |
| | Fundamentalism versus Liberal Protestantism |

877
(1)
878
(1)

| | |
| --- | --- |
| | Ethnic and Racial Communities |

879
(3)

| | |
| --- | --- |
| | European American Ethnics |

879
(2)
881
(1)

| | |
| --- | --- |
| | History Through Film: The Jazz Singer |

882
(7)
885
(1)
886
(3)

| | |
| --- | --- |
| | The ``Lost Generation'' and Disillusioned Intellectuals |

889
(2)

| | |
| --- | --- |
| | Democracy on the Defensive |

890
(1)
891
(1)
892
(1)

| | |
| --- | --- |
| | The Great Depression and the New Deal, 1929--1939 |

893
(42)
894
(1)

| | |
| --- | --- |
| | Causes of the Great Depression |

895
(2)
895
(1)

| | |
| --- | --- |
| | Mistakes by the Federal Reserve Board |

895
(1)
896
(1)

| | |
| --- | --- |
| | A Maldistribution of Wealth |

896
(1)

| | |
| --- | --- |
| | Hoover: The Fall of a Self-Made Man |

897
(3)
897
(1)
898
(2)
900
(1)
901
(2)

| | |
| --- | --- |
| | An Early Life of Privilege |

902
(1)
902
(1)

| | |
| --- | --- |
| | The First New Deal, 1933--1935 |

903
(10)
905
(1)
906
(1)
906
(3)
909
(1)

| | |
| --- | --- |
| | Rebuilding the Nation's Infrastructure |

910
(1)
911
(1)

| | |
| --- | --- |
| | The New Deal and Western Development |

911
(2)

| | |
| --- | --- |
| | Political Mobilization, Political Unrest, 1934--1935 |

913
(3)

| | |
| --- | --- |
| | Populist Critics of the New Deal |

913
(1)
914
(1)
915
(1)
916
(1)

| | |
| --- | --- |
| | The Second New Deal, 1935--1937 |

916
(10)

| | |
| --- | --- |
| | Philosophical Underpinnings |

917
(1)
917
(2)

| | |
| --- | --- |
| | Victory in 1936: The New Democratic Coalition |

919
(1)
920
(1)
921
(3)

| | |
| --- | --- |
| | Labor in Politics and Culture |

924
(2)

| | |
| --- | --- |
| | America's Minorities and the New Deal |

926
(4)

| | |
| --- | --- |
| | Eastern and Southern European Ethnics |

927
(1)
927
(1)
928
(1)
929
(1)
930
(2)
932
(1)
932
(1)

| | |
| --- | --- |
| | The Recession of 1937--1938 |

933
(1)
933
(1)
934
(1)

| | |
| --- | --- |
| | America during the Second World War |

935
(41)
936
(1)

| | |
| --- | --- |
| | The Road to War: Aggression and Response |

936
(10)

| | |
| --- | --- |
| | The Rise of Aggressor States |

937
(1)

| | |
| --- | --- |
| | Isolationist Sentiment and American Neutrality |

937
(1)

| | |
| --- | --- |
| | Growing Interventionist Sentiment |

938
(1)
938
(1)

| | |
| --- | --- |
| | The Outbreak of War in Europe |

939
(1)

| | |
| --- | --- |
| | America's Response to War in Europe |

940
(3)

| | |
| --- | --- |
| | An ``Arsenal of Democracy'' |

943
(1)
944
(2)

| | |
| --- | --- |
| | Fighting the War in Europe |

946
(4)

| | |
| --- | --- |
| | Campaigns in North Africa and Italy |

947
(1)
948
(2)
950
(4)

| | |
| --- | --- |
| | Seizing the Initiative in the Pacific |

950
(1)
951
(1)
951
(3)
954
(3)

| | |
| --- | --- |
| | Atomic Power and Japanese Surrender |

954
(3)

| | |
| --- | --- |
| | The War at Home: The Economy |

957
(5)

| | |
| --- | --- |
| | Government's Role in the Economy |

957
(1)
958
(2)
960
(1)
961
(1)

| | |
| --- | --- |
| | Assessing Economic Change |

962
(1)

| | |
| --- | --- |
| | The War at Home: Social Issues |

962
(8)
963
(1)
964
(1)
965
(2)
967
(3)
970
(4)

| | |
| --- | --- |
| | International Organizations |

970
(1)

| | |
| --- | --- |
| | Spheres of Interest and Postwar Settlements |

971
(3)
974
(1)
975
(1)

| | |
| --- | --- |
| | The Age of Containment, 1946--1954 |

976
(36)

| | |
| --- | --- |
| | Creating a National Security State, 1945--1949 |

976
(1)
977
(7)
977
(1)

| | |
| --- | --- |
| | Containment Abroad: The Truman Doctrine |

978
(2)
980
(1)

| | |
| --- | --- |
| | The National Security Act, the Marshall Plan, and the Berlin Crisis |

981
(2)
983
(1)

| | |
| --- | --- |
| | The Korean War Era, 1949--1952 |

984
(6)

| | |
| --- | --- |
| | NATO, China, and the Bomb |

984
(1)
985
(1)
986
(3)
989
(1)
990
(4)

| | |
| --- | --- |
| | Anticommunism and the Labor Movement |

991
(1)

| | |
| --- | --- |
| | HUAC and the Loyalty Program |

992
(2)

| | |
| --- | --- |
| | History Through Film: High Noon |

994
(5)
995
(1)
996
(2)
998
(1)
999
(6)

| | |
| --- | --- |
| | The Employment Act of 1946 and the Promise of Economic Growth |

1000
(1)
1001
(2)
1003
(2)
1005
(4)

| | |
| --- | --- |
| | Jackie Robinson and the Baseball ``Color Line'' |

1005
(1)
1006
(2)

| | |
| --- | --- |
| | Allure and Danger: Women on Film |

1008
(1)

| | |
| --- | --- |
| | From Truman to Eisenhower |

1009
(1)
1009
(1)
1010
(1)
1010
(1)
1011
(1)

| | |
| --- | --- |
| | Affluence and Its Discontents, 1953--1963 |

1012
(44)

| | |
| --- | --- |
| | Foreign Policy, 1953--1960 |

1012
(1)
1013
(4)
1013
(1)

| | |
| --- | --- |
| | The New Look and Summitry |

1014
(2)

| | |
| --- | --- |
| | Covert Action and Economic Leverage |

1016
(1)

| | |
| --- | --- |
| | America and the Third World |

1017
(3)
1017
(1)

| | |
| --- | --- |
| | Nasserism and the Suez Crisis of 1956 |

1018
(1)
1019
(1)

| | |
| --- | --- |
| | Affluence---A ``People of Plenty'' |

1020
(8)
1021
(2)
1023
(2)
1025
(1)
1026
(1)
1027
(1)
1028
(4)

| | |
| --- | --- |
| | Conformity in an Affluent Society |

1028
(1)
1029
(2)
1031
(1)
1032
(2)

| | |
| --- | --- |
| | The New Suburbs and Gender Ideals |

1032
(1)
1033
(1)

| | |
| --- | --- |
| | The Fight against Discrimination, 1953--1960 |

1034
(8)

| | |
| --- | --- |
| | The Brown Cases, 1954--1955 |

1035
(2)

| | |
| --- | --- |
| | The Montgomery Bus Boycott and Martin Luther King, Jr. |

1037
(1)

| | |
| --- | --- |
| | The Domestic and International Politics of Civil Rights |

1037
(2)
1039
(1)

| | |
| --- | --- |
| | The Growth of Spanish-Speaking Populations |

1040
(1)
1041
(1)

| | |
| --- | --- |
| | Debating the Role of Government |

1042
(3)
1042
(1)

| | |
| --- | --- |
| | Advocates of a More Active Government |

1043
(2)

| | |
| --- | --- |
| | The Kennedy Years: Foreign Policy |

1045
(4)
1045
(2)

| | |
| --- | --- |
| | Kennedy's Foreign Policy Goals |

1047
(1)
1047
(2)

| | |
| --- | --- |
| | Southeast Asia and ``Flexible Response'' |

1049
(1)

| | |
| --- | --- |
| | The Kennedy Years: Domestic Policy |

1049
(5)

| | |
| --- | --- |
| | Policy Making under Kennedy |

1049
(1)

| | |
| --- | --- |
| | The Civil Rights Movement, 1960--1963 |

1050
(2)
1052
(1)

| | |
| --- | --- |
| | The Assassination of John F. Kennedy |

1053
(1)
1054
(1)
1055
(1)

| | |
| --- | --- |
| | America during Its Longest War, 1963--1974 |

1056
(38)
1057
(1)
1057
(6)
1058
(1)
1059
(2)

| | |
| --- | --- |
| | Lyndon Johnson's Great Society |

1061
(1)

| | |
| --- | --- |
| | Evaluating the Great Society |

1062
(1)
1063
(5)

| | |
| --- | --- |
| | The Gulf of Tonkin Resolution |

1063
(2)
1065
(1)
1066
(2)
1068
(4)
1068
(2)
1070
(1)

| | |
| --- | --- |
| | From Civil Rights to Black Power |

1071
(1)

| | |
| --- | --- |
| | History Through Film: Malcolm X |

1072
(6)

| | |
| --- | --- |
| | 1968: The Violence Overseas |

1074
(1)

| | |
| --- | --- |
| | 1968: The Violence at Home |

1075
(1)
1076
(2)

| | |
| --- | --- |
| | The Nixon Years, 1969--1974 |

1078
(6)
1078
(1)
1079
(1)
1080
(1)

| | |
| --- | --- |
| | Controversies over Rights |

1081
(3)

| | |
| --- | --- |
| | Foreign Policy under Nixon and Kissinger |

1084
(4)
1084
(1)
1085
(2)
1087
(1)

| | |
| --- | --- |
| | Expanding the Nixon Doctrine |

1087
(1)
1088
(4)
1089
(1)
1090
(1)
1091
(1)
1092
(1)
1093
(1)

| | |
| --- | --- |
| | Economic and Social Change in the Late 20th Century |

1094
(40)
1094
(1)
1094
(1)
1095
(7)
1096
(1)
1097
(3)

| | |
| --- | --- |
| | Urbanization and Suburbanization |

1100
(2)
1102
(6)
1103
(1)
1104
(2)

| | |
| --- | --- |
| | Postindustrial Restructuring |

1106
(2)
1108
(5)
1108
(2)
1110
(1)

| | |
| --- | --- |
| | The Changing Media Environment |

1111
(1)

| | |
| --- | --- |
| | The New Mass Culture Debate |

1112
(1)
1113
(5)
1114
(2)
1116
(2)

| | |
| --- | --- |
| | Race, Ethnicity, and Social Activism |

1118
(10)

| | |
| --- | --- |
| | African American Activism |

1119
(2)
1121
(2)

| | |
| --- | --- |
| | Activism in Spanish-Speaking Communities |

1123
(2)
1125
(2)

| | |
| --- | --- |
| | The Dilemmas of Antidiscrimination Efforts |

1127
(1)
1128
(4)

| | |
| --- | --- |
| | New Conservative Institutions |

1128
(1)
1129
(1)
1130
(2)
1132
(1)
1133
(1)

| | |
| --- | --- |
| | Power and Politics since 1974 |

1134
(44)
1135
(1)

| | |
| --- | --- |
| | The Caretaker Presidency of Gerald Ford (1974--1977) |

1136
(2)

| | |
| --- | --- |
| | Trying to Whip Stagflation |

1136
(1)
1137
(1)
1137
(1)

| | |
| --- | --- |
| | Jimmy Carter's One-term Presidency (1977--1981) |

1138
(7)

| | |
| --- | --- |
| | Welfare and Energy Initiatives |

1138
(2)
1140
(1)

| | |
| --- | --- |
| | Negotiating Foreign Disputes |

1141
(1)

| | |
| --- | --- |
| | Campaigning for Human Rights Abroad |

1142
(1)

| | |
| --- | --- |
| | Confronting Problems in Iran and Afghanistan |

1143
(1)
1143
(2)

| | |
| --- | --- |
| | Ronald Reagan's ``New Morning in America'' (1981--1989) |

1145
(5)

| | |
| --- | --- |
| | Pursuing Supply-Side Economics |

1145
(2)

| | |
| --- | --- |
| | Broadening the New Right Agenda |

1147
(2)

| | |
| --- | --- |
| | Routing the Democrats, 1984 |

1149
(1)

| | |
| --- | --- |
| | History Through Film: The First Movie-Star President |

1150
(2)
1150
(2)
1152
(4)
1153
(1)
1154
(1)

| | |
| --- | --- |
| | The Iran-Contra Controversy |

1155
(1)

| | |
| --- | --- |
| | The Beginning of the End of the Cold War |

1156
(1)

| | |
| --- | --- |
| | The First Bush Presidency (1989--1993) |

1156
(6)
1157
(1)
1158
(2)
1160
(1)
1161
(1)

| | |
| --- | --- |
| | The Presidency of Bill Clinton (1993--2001) |

1162
(9)

| | |
| --- | --- |
| | Clinton's First Two Years |

1163
(1)

| | |
| --- | --- |
| | A Republican Congress, a Democratic White House |

1164
(2)
1166
(2)
1168
(1)

| | |
| --- | --- |
| | Post--Cold War Foreign Policy |

1169
(2)
1171
(1)

| | |
| --- | --- |
| | The Presidency of George W. Bush (2001--) |

1171
(7)
1172
(1)

| | |
| --- | --- |
| | A Conservative Domestic Agenda |

1173
(1)

| | |
| --- | --- |
| | Foreign Policy Changes Course |

1174
(3)
1177
(1)
1178
(1)
1179