Note: Supplemental materials are not guaranteed with Rental or Used book purchases.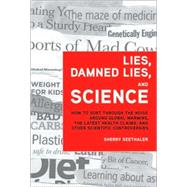 Lies, Damned Lies, and Science : How to Sort Through the Noise Around Global Warming, the Latest Health Claims, and Other Scientific Controversies
ISBN13:
9780137155224
by
Seethaler, Sherry
Summary
Don't get hoodwinked: make sense of news...and make smarter decisions for yourself, your family, and the world! Objective, balanced techniques for thinking about everything from diet and drugs to climate change. Identifying and getting past the biases of politicians, lobbyists, marketers...and even some scientific and medical professionals. By scientist Dr. Sherry Seethaler, one of the world's most respected and innovative science educators.
Table of Contents
Preface
p. xvii
Introduction
p. xix
Potions, Plot, Personalities: Understand How Science Progresses and Why Scientists Sometimes Disagree
p. 1
Who's Who?: Identify Those Who Hold Stake in an Issue and What Their Positions Are
p. 29
Decisions, Decisions: Elucidate All the Pros and Cons of a Decision
p. 43
Compare and Contrast: Place Alternatives in an Appropriate Context to Evaluate Tradeoffs
p. 59
What Happens If...?: Distinguish Between Cause and Coincidence
p. 73
Specific or General: Recognize How Broadly the Conclusions from a Study May Be Applied
p. 89
Fun Figures: See Through the Number Jumble
p. 99
Society's Say: Discern the Relationships Between Science and Policy
p. 113
All the Tricks in the Book: Get Past the Ploys Designed to Simply Bypass Logic
p. 139
Fitting The Pieces Together: Know How to Seek Information to Gain a Balanced Perspective
p. 161
Conclusions: Twenty Essential Applications of the Tools
p. 177
Acknowledgments
p. 183
About the Author
p. 184
Index
p. 185
Table of Contents provided by Ingram. All Rights Reserved.
Excerpts
Praise for Lies, Damned Lies, and Science: How to Sort through the Noise around Global Warming, the Latest Health Claims, and O Praise for Lies, Damned Lies, and Science"Comprehensive, readable, and replete with current, useful examples, this book provides a much-needed explanation of how to be a critical consumer of the scientific claims we encounter in our everyday lives." April Cordero Maskiewicz , Department of Biology, Point Loma Nazarene University"Seethaler's book helps the reader look inside the workings of science and gain a deeper understanding of the pathway that is followed by a scientific findingfrom its beginnings in a research lab to its appearance on the nightly news." Jim Slotta , Ontario Institute for Studies in Education, University of Toronto"How I wish science was taught this way! Seethaler builds skills for critical thinking and evaluation. The book is rich with examples that not only illustrate her points beautifully, they also make it very interesting and fun to read." Julia R. Brown , Director, Targacept, Inc. PrefaceBe very, very careful what you put into that head, because you will never, ever get it out. Thomas Cardinal Wolsey (1471-1530)My goal in writing this book is to help people make sense of the science-related issues that impact their daily lives. Lies, Damned Lies, and Science provides an enlightening approach for contemplating scientific issues, and brings these issues into focus the way new glasses sharpen one's vision. In other words, the book is a new lens through which to view the world. Each chapter reveals a unique set of elements that need to be taken into consideration when reasoning about a complex science-related issue. In addition to bringing these elements into focus, the book shows how they fit together into something greater than a sum of parts.Most of the messages that bombard us everyday are carefully selected to present just one of a kaleidoscope of possible perspectives on technological, environmental, economic, and health issues such as global warming, mad cow disease, nanotechnology, genetically engineered food, who should take cholesterol-lowering drugs, and what are the merits of banning plastic bags. Oversimplified black-and-white perspectives of issues come from those who have a vested interest in convincing others of their point of view, or who are simply relaying information without thinking critically about it. This book explores ways to achieve more nuanced and balanced perspectives on a wide range of issues.In a society in which science and technology drive the economy and infiltrate every aspect of daily life, it is dangerous for an elite few to make the decisions about how technology is used, who will be given access to it, and how money is spent to research scientific solutions to societal problems. Ironically, those with the power to make these decisions rarely have any background in science. Therefore, they are especially vulnerable to being hoodwinked by those who hold stake in an issue and have the money to get their voices heard. Yet, we too can make our voices heard through sound, evidence-based political, consumer, and medical decision